Relatively affordable and easy to convert, SKS Bullpup conversion kits offer an accessible entry to the unique configuration.
Who Offers SKS Bullpup Conversion Kits:
At one time, you could buy a batch of Soviet-era Cosmoline and they'd throw in an SKS for free. Greatly missed, the days of sub-$100 Samozaryadny Karabin sistemy Simonovas went out with the CD player.
Still, a savvy and determined gun buyer can scratch up the Cold-War icon at bargain-basement prices if, they're willing to look. Not at late 1990s early 2000s rates mind you, but cheap nonetheless.
Nowadays if you find a rock-bottom SKS you don't have to settle for its original wood or fiberglass stocks. Heck, you don't even have to keep the semi-auto in its traditional configuration. Not with the rise of the SKS bullpup conversion kit.
While the options for reconfiguring your Simonova are exactly legion, they exist and endow the tried-and-true military relic with some interesting assets. We'll look at some of the top SKS bullpup conversion kits in a moment, but we should take a moment to touch on some other points first.
Why A SKS Bullpup Conversion?
If "Why not?" isn't a good enough answer for you, we've written on the pros and cons of the configuration in our best bullpup rifle options post. For a more in-depth look at the design this is worth a read. But the SKS bullpup conversion has some benefits particular to itself and in comparison to other bullpups.
Inexpensive: While there are affordable bullpup rifles on the market, few are as thrifty as an SKS conversion. Without much effort I dug up a used SKS going for $245. With more work I'm certain I could have found more economical options. Though by and large, the going price of the rifle seems to fall somewhere between $300 to $450.
The average conversion kit will run you another $350 (at the high end $650). In turn, on average you're in anywhere from $600 to $800 total for a SKS bullpup. Not exactly chicken scratch, but far less than the nearly $2,000 most bullpup rifles demand off the shelf.
Box Magazine: Not that the stripper clip isn't effective and quick, but this is the 21st Century. Box magazines are the standard and a world more efficient to carry and load. Magazine modification is a stable of SKS bullpup conversions and a good one at that. Why settle for 10-rounds when you potential can have three times as much on tap?
(Fairly) Easy Installation: An SKA bullpup conversion isn't as simple as swapping stocks. At the same time, it isn't as intricate rechambering a rifle.
What's being done to the rifle is fairly dramatic, requiring some major modifications to how it operates. The trigger in particular. That said, shooters with a modicum of mechanical prowess and patients should be capable of switching the rifle over at home.
If the thought of banging around the inside of your rifle spooks you, fear not. Most gunsmiths are well verse in SKSs and can jimmy together your conversion at a fair price.
---
Get More Bullpup Info:
---
The Downside
As with everything firearms, there are pitfalls to SKS bullpups. Among these, many conversions lack in fore-end real estate, their not left-hand friendly and the typical bullpup cons such as tail-heavy design and sometimes less than desirable trigger loom large. Deal breakers? Most likely not. More like tradeoffs—but it also depends on the shooter.
The explicit downside of the SKS conversion—particularly measured against any off-the-shelf gun—is you're flying into the unknown. Unless you have a buddy that has one there's no chance to test fire the configuration. In turn, you're going by faith its how you want your Simonova.
Top Bullpup Conversion Kits
Shernic Gun Works
Going on around of decade of producing SKS bullpup conversions, Shernic Gun Works (SG) has a good handle on what they produce. It shows. Coming with everything you need to convert your rifle, the SG kit has you covered in one felled swoop and is relatively simple to execute.
As to what you get out of it, an SKS that fairly comparable to a Travor in size and configuration. Lacking somewhat is a Travor-esque fore-end, it's much more abbreviated on the SG conversion. Still, with the addition of vertical grip, it proves just as nimble.
Constructed of shock-resistant polymer, the bullpup's body is rugged enough for anything the real world throws at it. An extended magazine release hastens reloads. And extra space for extended-capacity magazines ensures you have plenty of firepower on tap.
MSRP: $280, sgworks.com
Center Balance Systems
Innovating the bullpups ergonomics and handling characteristics, Center Balance Systems (CBS) puts a twist on the already unique configuration. The most notable aspect is right in the company's name—balance.
Much more to the center of the rifle, there more equilibrium to the conversion. In turn, it's more responsive in the hands with less muzzle rise when shot. Good things.
In all, CBS offers four different kits—the SKSAR, Pug I, Pug II and Pug III. Across the board, the conversions offer plenty of rail space, twin-bar trigger linkage and support-side bolt-release mechanism CBS calls a slam bolt.
Nice as that last point is, eliminating the need to crane around to reach the charging handle, it's the fore-end that wins points with these bullpups. There's plenty of it on all but the Pug I, allotting the utmost control over the rifle without the addition of another accessory.
MSRP: Starting at $280; cbrps.com
Rifle Tech
Distinctive and solidly made, Rifle Tech's Hitech SKS bullpup conversion offers one of the best fits on the market. Mainly, because the company pre-fits all the components to your particular model. Can't beat that.
Precision has it's payoffs, aside from a quality fit. It also makes for one of the least painful conversion processes of the available kits. Is it drop-in, as Rifle Tech claims? Not quite. But it's as close as you'll get going bullpup.
As to the bullpup itself, it's a trim affair—which is good and bad. On the one hand, the Hitech bullpup is quick to the shoulder and deftly transitions targets. On the other hand, you'll most certainly require a vertical grip given the fore-end is nearly non-existent.
Spend the money and the Hitech is available with all sorts of extras—deflector, muzzle brake, rails, etc. But it's à la carte and can add up quickly.
MSRP: Starting at $240, rifletech.net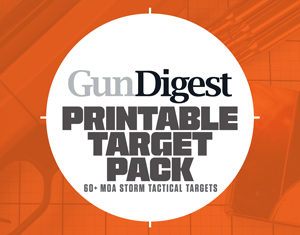 Next Step: Get your FREE Printable Target Pack
Enhance your shooting precision with our 62 MOA Targets, perfect for rifles and handguns. Crafted in collaboration with Storm Tactical for accuracy and versatility.
Subscribe to the Gun Digest email newsletter and get your downloadable target pack sent straight to your inbox. Stay updated with the latest firearms info in the industry.