These micro 9mm handguns are more than ready for everyday carry and backup-gun duty.
The top micro 9mm handguns available today:
Nothing beats a micro 9mm pistols and revlovers when it comes to capacity, concealment and power. Richard Mann gives us his top 6 picks when it comes to these small and stout self-defense guns.
SIG Sauer P365

Groundbreaking, SIG squeezed full-sized capacity into a micro 9mm pistol's concealable package with the P365. The 10+1 capacity with its flush-fit magazine and the option to up it to 13 round with an extended mag. It has XRAY3 Day/Nights sights, comes in at 1-inch in width and weighs 17.8 ounces. Hard to beat with a price tag of $599.
---
Best Starter Kit for Concealed Carry:
Disclosure: Some of these links are affiliate links. Caribou Media Group may earn a commission from qualifying purchases. Thank you!
---
Smith & Wesson M&P9 Shield 2.0

Smith & Wesson has refreshed the Shield with a refined trigger and a more aggressively textured grip. The slide's edges have a softer bevel and fish-scale-like serrations. It has a maximum capacity of 8+1, weighs 18.3 ounces and it's offered with or without a thumb safety. A version with a Crimson Trace laser is also available for only $499.


Ruger LCRx

This revolver's monolithic frame is made from aerospace grade, 7000-series aluminum. It also has a stainless-steel cylinder and, at 17.4 ounces, it's not all that heavy for a six-shot 9mm revolver. It comes with three full-moon clips to make reloads easy and has a suggested retail of $669.
Ruger EC9s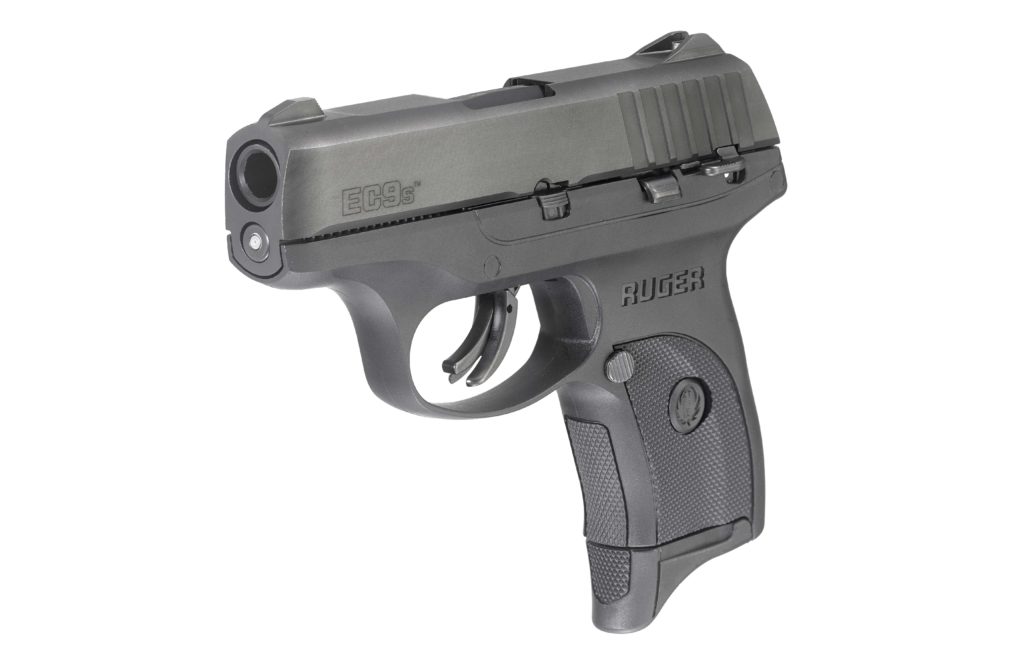 This very affordable polymer-framed semi-automatic has a capacity of 7+1 and weighs 17.2 ounces. It's 6 inches long, less than 1 inch wide and the sights are integral to the slide. It comes with a finger extension you can add to the magazine, but its most attractive feature is that it's less than $300.
Ruger SP 101

For those who like the feel of steel, Ruger's SP 101 is right up your alley. This five-shot, all stainless-steel, double-action revolver has enough weight to tame the recoil of the hottest 9mm +P loads. It ships with three full-moon clips, and though a bit heavy, that weight and the cushioned rubber grips make it extremely comfortable to shoot at $719.
Glock 43

Among the most anticipated Glocks ever produced, the G43 lived up to expecations. At 6.26 inces in overall length and 17.95 ounces unloaded, the 6+1 pistol runs on the larget side of micro pistols, yet is concealable as ever. Aggressive grip texturing makes it easy to shoot, large magazine catch helps lightning-fast magazine reloads and is more than affordable at $449.
For more micro 9mm information check out:
Which Is Best: Kimber Micro 9 Or SIG P938?
Editor's Note: This article originally appeared in the 2018 Shooter's Guide issue of Gun Digest the Magazine.
---
---
---
NEXT STEP: Download Your Free Storm Tactical Printable Target Pack
62 Printable MOA Targets with DOT Drills - Rifle Range in YARDS
This impressive target pack from our friends at Storm Tactical contains
62 printable targets
for rifle and handgun range use. Target grids and bullseye sizes are in MOA. Ideal for long-range shooting!
Get Free Targets
---