A new 9mm optics-ready pistol from Poland, the FB Radom VIS-100 M1 is now being imported and will be available later this month.
Developed as the next service pistol for the Polish military, the FB Radom VIS 100 was finalized in 2017 and sold to the Polish government over the following years. Originally called the PR-15 Ragun, it is a fairly typical 9mm double-stack hammer-fired service pistol with a DA/SA trigger and aluminum alloy frame. Now that Poland has seemingly ordered enough of these to fulfill their handgun needs, FB Radom can finally begin focusing on the export market. What that means for us in the U.S. is that a civilian variant will soon be available for purchase as the VIS-100 M1, with the importer Arms Of America promising them to be for sale later this month (July 2022).
The name change is obviously a reference to the Polish FB Vis pistol of WWII fame, but the designs themselves don't have much in common besides being semi-automatic and 9mm. While it's a new design, the overall profile and features of the VIS-100 M1 are reminiscent of a SIG P226. Its standard 15-round magazine capacity of 9mm suggests some influence as well. Otherwise, the VIS-100 M1 features a 4.3-inch barrel, fiber optic iron sights and a standard Picatinny rail segment beneath the dust cover. The pistol is also fully ambidextrous thanks to the inclusion of a mag release, thumb safety and slide release on each side, and the slide is milled to be optics-ready as well (the footprint pattern is not currently known).
The product page on Arms Of America's website suggests that once available, the VIS-100 M1 will be able to be purchased with either a black, Inox or Cobalt Cerakote finish. Spare magazines will also be available in the standard 15-round, compliant 10-round and extended 17-round capacities. Depending on options, the MSRP of the pistol will range from $939 to $1,149. This is the least exciting part about the announcement, as when the VIS-100 M1 was originally teased it was advertised as having a significantly lower price of $739.
For more information, please visit the importer's website at armsofamerica.com.
---
More Polish Guns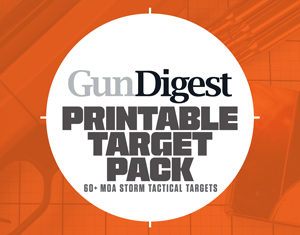 Next Step: Get your FREE Printable Target Pack
Enhance your shooting precision with our 62 MOA Targets, perfect for rifles and handguns. Crafted in collaboration with Storm Tactical for accuracy and versatility.
Subscribe to the Gun Digest email newsletter and get your downloadable target pack sent straight to your inbox. Stay updated with the latest firearms info in the industry.