Rugged and formidable yet handsome and small, the new milled Mini Jack from WBP Poland is innovating on the AK in ways most haven't considered.
Thanks to the arbitrary and capricious legislation that controls our nation's firearm laws, braced pistols have become the hottest thing since sliced bread. And thanks to the AR-15's supreme popularity in the United States, the aftermarket of pistol braces has been dominated by AR buffer tube-style designs. With far fewer options available for AK pistols, WBP in Poland went back to the drawing board. The result was the new Mini Jack AK pistol, now featuring a milled receiver capable of accepting AR-15 buffer tubes and compatible braces and stocks.
Milled Mini Jack Features
If you don't know about WBP, they're one of the newer names in the AK game. Based in Poland, they lack the tenure of established state military factories like Cugir and Arsenal, but they do have a working relationship with FB Radom who have been cranking out AKs longer than anyone outside of Russia.
So far, WBP AKs have seen success on both the international commercial market as well as in the defense industry, having sold their guns to some undisclosed military and police groups around the world. Despite not having the same experience level as factories like FB Radom, WBP has managed to build guns that live up to the Kalashnikov's famed reliability. Besides being great shooters, WBP AKs look good while doing it too. Featuring what I would consider the best factory furniture of any current AK import, and possibly the best finish as well, WBP's guns have been turning heads of those in the know since the first models started hitting American shores.
Once the guns have been imported, they're distributed stateside by Atlantic Firearms and Arms Of America. While these guys have to do some conversion work on AK rifles after they come in, due to the idiosyncrasies of our import laws there is very little they need to do to pistols like the Milled Mini Jack. Coming into the country essentially just as they're sold, as pistols Milled Mini Jacks are not subject to 922R regulations and can be comprised of entirely foreign-made components. That means that parts that are typically American on imported AKs like the trigger, piston and furniture are all 100% Polish on the Mini Jack pistol. That of course also includes the pistol's 10-inch hammer-forged chrome-lined barrel from FB Radom. The Milled Mini Jack is currently only available in 7.62×39, but more caliber options may be seen in the near future.
The new Mini Jack also features a milled receiver, making it the only other milled AK pistol on the market besides the Arsenal SAM7K. Many people argue over whether a milled or stamped receiver is best, but the truth is that both styles have their pros and cons. The short of it is that milled receivers are typically durable enough to outlast the barrels they're attached to, but the extra strength comes at the cost of a higher weight (and also a higher price tag). WBP also has a stamped AK pistol that they also call the Mini Jack, and while it's lighter and cheaper than the new milled version it's also missing several of its nice features. Those features include an extended magazine release and safety selector, a beveled rear receiver and the ability to easily mount AR-style buffer tubes.
Setting Up The Mini Jack
The most innovative new feature on the Milled Mini Jack is its ability to accept AR buffer tubes, and it would be a waste not to take advantage of it. There are some AK-specific pistol braces that exist, but they're typically designed to be mounted on AKs that have no provisions for mounting anything to begin with. Because of the abundance of options for AR-style pistol braces, retrofitting the Milled Mini Jack to accept AR buffer tubes greatly expands one's choices.
As the pistol comes out of the box, the buffer tube hole in the rear of the receiver is occupied by a threaded plug. By cutting a notch in the plug using a Dremel, one can use a screwdriver to back the plug out. Once completed, any standard AR buffer tube can then be threaded into the rear of the receiver. Doing so allows one to mount any compatible pistol brace, or after paying proper dues to the ATF, a real stock. The whole process is quick and easy and will net you one of the most comfortable-shooting AK pistol setups available.
Atlantic sent me an SBA3 brace to go along with the Mini Jack, a popular and good quality choice, but if I were configuring my own Jack that I didn't have to send back I would have gone a different route. Since AKs do not require a buffer tube to function, there is nothing stopping the Mini Jack from having a folding brace, something that a standard buffer tube/brace setup will not accommodate. Using something like a KNS buffer tube to Picatinny rail adaptor instead, one could mount a folding brace without issue and reduce the gun's overall length by another six inches (when folded).
The next modification required as part of the trick-out process is to remove the welded-on muzzle cap thread protector. As a pistol, the Milled Mini Jack is not allowed to be imported with a threaded muzzle, but this is worked around by "permanently" covering the threading with the welded-on cap. Thankfully, however, once purchased it is fully legal to break the weld and remove the protector, giving access to standard AK 14×1 LH threads. The weld can also be broken using a Dremel. Once you have access to the threading any standard AK brake of your choosing can be attached. I tried the Mini Jack with both a Definitive Arms Fighter Brake and a Tapco 74-style brake for the sake of variety. I also tried attaching a standard slant brake, but interestingly the Jack's detent pin would not index it in the proper position. This was the only device I was unable to mount to the Jack, and I'm unsure whether it's a quirk of the gun or of my specific brake.
The Milled Mini Jack also comes with a standard AKM-style side rail for mounting optics, and the pistol can accept standard AK handguards and pistol grips. The furniture that came on the Jack was so nice, however, that I opted not to change those parts. If you're looking to make your Milled Mini Jack as tactical as possible though, it will have no problem accepting Zenitco or other modern AK accessories.
The final nice feature on the Milled Jack, and another small departure from the original design, is its beveled rear receiver. What would normally be left square, the edges near the gun's pistol grip have been shaved and rounded to not only save weight, but to provide a more comfortable shooting experience. It's a minor change, but it feels great in the hand.
Impressions Of The Mini Jack
The Milled Mini Jack performed great at the range. I was unable to test a high volume of ammunition, but I was able to test a wide variety of different kinds. Steel-cased or brass, FMJs or hollow points, fancy lacquered stuff or cheapo grey Tulammo, it cycled it all without a hiccup. That was from feeding from a variety of magazines too, including the polymer WBP mag it came with as well as a plethora of old surplus ones. No fitting was required for any of the magazines, and all had a great, positive lockup. The extended magazine paddle release made reloads much smoother than normal as well. This WBP mag release can actually be purchased separately, and it would make for a great upgrade to any kind of Kalashnikov you may already have.
I zeroed the red dot at home with a bore laser and got it dialed in enough to ring steel out to fifty yards with ease. The gun certainly has enough mechanical accuracy to be utilized beyond that distance, but its short length makes it more ideal for CQB-oriented work. It's compact and handy, it transitions between targets without any overtravel and it's still lightweight enough despite having a milled receiver. While I appreciate how short the Mini Jack is, for optimal ballistic performance I would have preferred a 12.5-inch barrel instead. That being said, 7.62×39 out of a 10-inch barrel is still nothing to scoff at.
This caliber fired out of a barrel this short does produce a lot of concussion, however, and a brake should be considered an almost necessary addition. I tried firing the Milled Mini Jack with no brake installed for a few shots, and while very fun, was also loud and disruptive enough for one to not want to use it like this in an indoor defensive scenario.
Final Thoughts
Admittedly, when I first saw the announcement for the Milled Mini Jack, my first thought was "who asked for this?" The SAM7K is another popular AK pistol option, but the fact that it has a milled receiver seems more because that's just what Arsenal does rather than it being what the market demanded. Regardless, there are plenty of people out there who prefer their AKs milled and also want an AK pistol, and the Milled Mini Jack accomplishes that for over $500 less than the Arsenal ($1,799.99 MSRP vs. $1,249 MSRP). Besides the better price, the WBP also comes with more versatile features out of the box, as well as having better furniture and an arguably better finish. The Jack also has greater compatibility with standard AKM components.
Some have complained that the receiver's lightning cut shape, beveled rear-end and ability to accept AR pistol braces are too much of an aesthetic departure from classic milled AKs, but classic isn't what WBP was trying to accomplish with the Milled Mini Jack. If you want your AK pistol to look as "classic AK" as possible, then this gun probably isn't for you. Even the stamped Mini Jack would do a better job of that. The Milled Mini Jack prioritized function over form and still managed to achieve both handily, it just has its own unique, slightly modernized style instead. For anyone looking for a completely solid new-production AK that can be easily modified into a formidable defensive tool or impressive little range toy, the Milled Mini Jack is currently one of the best choices on the market.
For more information on the manufacturer or American distributors, please visit wbprogow.com, atlanticfirearms.com, and armsofamerica.com.
---
More Currently Imported AKs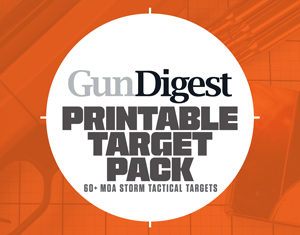 Next Step: Get your FREE Printable Target Pack
Enhance your shooting precision with our 62 MOA Targets, perfect for rifles and handguns. Crafted in collaboration with Storm Tactical for accuracy and versatility.
Subscribe to the Gun Digest email newsletter and get your downloadable target pack sent straight to your inbox. Stay updated with the latest firearms info in the industry.