.44 Smith & Wesson Special has been an accuracy leader in big-bore revolver cartridges for over 100 years.
With the coming of bulkier smokeless powders, the .44 Russian cartridge case proved too small to permit efficient use of full charges of the new propellants. Though originally a blackpowder cartridge, the .44 Special—which is about 0.2-inch longer than the Russian—eliminated this problem and provided more power, while using the same bullets as the older .44 Russian.
This cartridge was introduced about 1907. Both Colt and Smith & Wesson made revolvers in this chambering, and a few Spanish and other European revolvers were also made to handle it. There has been a rebirth of interest in the .44 Special in the past few decades.
General Comments
The .44 Smith & Wesson Special is one of the most accurate and powerful big-bore revolver cartridges. However, it was never factory-loaded to its full potential. It was left to the handloader to develop truly effective hunting loads.
Experiments to maximize .44 Special's big-game hunting potential by men like Elmer Keith, culminated in the .44 Magnum. The .44 S&W Special is still popular for target and field use. Revolvers for the .44 Special aren't strong enough to handle loads as heavy as those used in Magnum guns. Winchester, Remington, Federal, Black Hills, CorBon, and others load this ammunition.
Editor's Note: This article is an excerpt of Cartridge's Of The World, 16th Edition.
---
Raise Your Ammo IQ: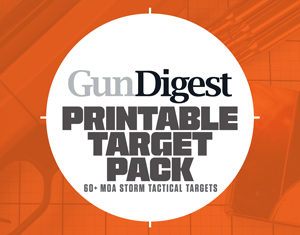 Next Step: Get your FREE Printable Target Pack
Enhance your shooting precision with our 62 MOA Targets, perfect for rifles and handguns. Crafted in collaboration with Storm Tactical for accuracy and versatility.
Subscribe to the Gun Digest email newsletter and get your downloadable target pack sent straight to your inbox. Stay updated with the latest firearms info in the industry.