Boasting a tough-as-nails nitride finish, Springfield's new 911 .380 ACP is ready for the toughest duty.
Back in black:
The nitride finish gives the pistol both corrosion and abrasion resistance.
Additionally, the process of applying the finish hardens the gun's frame and slide.
The new model has just been released to retailers and has an MSRP of $599.
Hold a 1911 in your hand and two words can't help but come to mind "rock-solid." Not only a scrapper, the style of pistol is battle tough, with a metal frame and slide ready to tackle whatever is thrown at it. In short, it's prepared for action the minute it's out of its holster and your finger is on the trigger — rain, snow, muck be damned.
However, there's a hitch to the single-action semi-automatic's giddyap, part and parcel to its tough-as-nails construction. For all its pros, a full-sized 1911 is a bit much gun for some armed citizens, particularly those who require a more streamlined fit to their garb and carry profile. Luckily, Springfield Armory had exactly these shooters in mind with the release of its 911 .380 Auto this past January.
The made-to-carry pistol scales down the 1911, making it the perfect everyday concealment option or a potent backup insurance plan. And the company has gone a step further, recently releasing the 911 in a black nitride finish. The color of pitch, the micro pistol not only has a striking appearance, but also the ability to endure any potential damage — be it rust, dings or scratches.
Tough as the pistol itself, the nitride finish is corrosion and abrasion resistant, withstanding hard wear and tear, while maintaining the 911's function and accuracy. Additionally, the nitriding process improves the stainless steel frame, hardening it, thus making it more resilient to strenuous use and inclement weather. Furthermore, it tacks on an attractive choice to the line alongside the original two-tone model.
The pistol offers impressive features, chief among them a frame-to-slide-to-trigger guard relationship that creates handling characteristics unique among small pistols. Designed to enhance comfort, the Springfield .380 ACP is among the most controllable and easy-to-shoot small pistols to hit the market in recent years.
To boot, the gun isn't short on extras, including a G10 short-reset pivoting trigger (5-pound pull), an extended ambidextrous safety and a hammer. This last point provides peace of mind with both visual and tactile cues for various modes of carry. The pistol also comes with tritium low-profile tactical sights, G10 Octo-Grip on the mainspring housing, Octo-Grip front strap texturing and two magazines (flush 6-round magazine and 7-round extended). The MSRP on the new black nitride 911 from Springfield Armory is $599. The pistol is also available factory outfitted with a green Viridian laser for $789.
For more information on Springfield Armory's 911 .380 ACP pistol, please visit: www.springfield-armory.com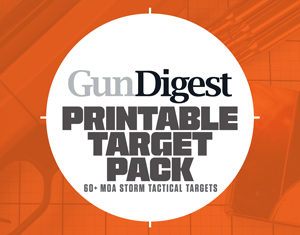 Next Step: Get your FREE Printable Target Pack
Enhance your shooting precision with our 62 MOA Targets, perfect for rifles and handguns. Crafted in collaboration with Storm Tactical for accuracy and versatility.
Subscribe to the Gun Digest email newsletter and get your downloadable target pack sent straight to your inbox. Stay updated with the latest firearms info in the industry.