Browning's X-Bolt Pro gives hunters magnum firepower in an attractive, lightweight, go-anywhere package. It might just be Browning's best turn-bolt hunting rifle yet.
How this Browning proves a backcountry pro:
The X-Bolt pro, regardless of caliber, comes in at below 7 pounds.
Much of the weight reduction is achieved from its fluted sporter-profile barrel.
Additionally, a spiral fluted three-lug bolt shaves an ounce or two.
Finally, a carbon-fiber stock keeps things light.
Opposed to using strips, the X-Bolt Pro's stock is built by weave wrapping carbon fiber.
The gun comes outfitted with a muzzle brake and its bore is lapped.
The Browning Feather trigger breaks at 3.5 to 4 pounds.
The best group of the .300 Win. Mag. tested was .82 inch with Browning BXR 155-grain loads.
The MSRP of the X-Bolt Pro runs from $2,069 to $2,129 depending on caliber.
Unless you've spent the last decade or two in a gun-knowledge-free zone, such as the headquarters of the major American TV news networks, you've probably noticed that hunting rifles have been getting lighter. Just as there has been a race to the bottom — in regard to price — between the most economical bolt-action rifle models, there has been a corresponding race to produce guns that are light enough to blow away in anything more than a stiff breeze.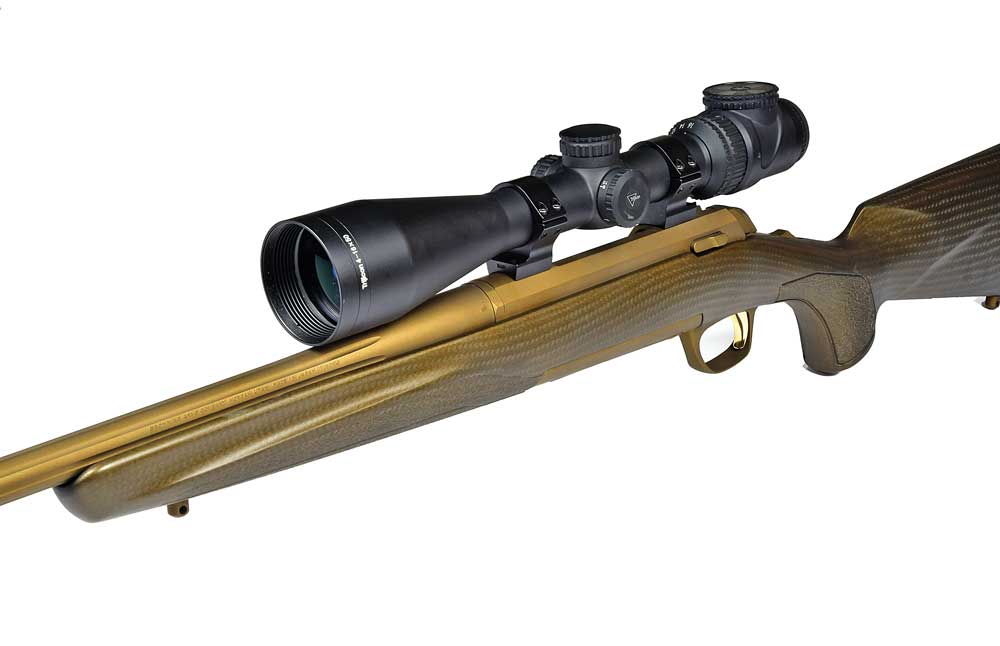 This is widely heralded as a great thing for those who hunt vertical country, and it is — to a point. As with most good intentions, things can get carried to extremes, and there's a price to be paid for that. Some manufacturers offer lightweight factory rifles that sacrifice bullet velocity for modest weight savings by the simple expedient of using thin, chopped-off barrels, often paired with flimsy synthetic stocks and cheap components.
At the other end of the spectrum are custom ultralight rifles priced at $4,000 or more. These ultralight rifles can be a joy to carry, but they're not necessarily a joy to shoot. Many people find ultralight rifles more difficult to shoot accurately due to increased recoil, and that challenge only increases with rifles chambered for the thumper magnums.
To my way of thinking, the nearly perfect go-anywhere, do-anything backcountry rifle occupies the "light-enough" category — meaning it's light enough to carry all day but not so light that it kicks like a mule on steroids or requires me to modify my shooting technique to place bullets where I want them to go. It should have a barrel long enough to achieve optimal velocities for chosen cartridges, to include magnums, and it should have an excellent trigger to aid in making accurate long-range shots. It should also be nearly impervious to the elements.
The good news is that there's an emerging class of rifles that check all these boxes, and more, by taking advantage of the latest gun-making technologies and materials while refusing to compromise on things that matter most. A great example is the new Browning X-Bolt Pro. It is, as its name implies, a seriously well-designed tool for serious hunters.
Semi-Custom Features
Weighing in at a svelte 6 pounds, 9 ounces, in the .300 Win. Mag. version I tested (rifles chambered in 6.5 Creedmoor shed an additional 8 ounces of weight), the X-Bolt Pro can be thought of as a semi-custom factory rifle. A lot of that has to do with the finishing touches and high-end design elements that elevate the rifle above the level of the already well-regarded basic X-Bolt platform, all while shedding unnecessary weight from the rifle.
With the Pro, a lot of that weight reduction has been accomplished by removing a fair amount of metal from the gun. The rifle has a lightweight sporter-profile fluted barrel, but it still measures a full 26 inches in length in guns chambered for .300 Win. Mag., 28 Nosler, 26 Nosler and 7mm Rem. Mag. It is, happily, adorned with an effective muzzle brake and comes with a thread protector. In another nod to custom guns, the 1:10 twist barrel has been given a proprietary lapping treatment, minimizing the need for break-in. While shooting up a considerable amount of ammo with the rifle, I was amazed at how little fouling accumulated in the barrel.
The three-lug bolt is spiral fluted, as is the bolt knob, cutting additional weight and adding to the rifle's considerable aesthetic appeal. It proved to be a real head-turner at the range, judging by the number of people who felt compelled to interrupt my testing by inquiring about the rifle.
That's partly due to the rifle's distinctive, true carbon-fiber stock, which is constructed with the carbon-fiber weave wrapped 360 degrees around a sound-dampening foam core. This use of what Browning calls a "second generation" carbon-fiber weave, versus individual strips of carbon-fiber joined at seams, further reduces weight while significantly adding to the rigidity of the stock. It's exceptionally difficult to make this stock bend. Trust me, I tried.
The rifle's good looks — and resistance to inclement weather — are further enhanced with a well-executed Cerakote treatment of the stainless-steel barrel and action as well as the bolt and all exterior metal. This rifle shrugs off the elements as a result, and the "burnt bronze" color of the abrasion-resistant Cerakote finish complements the dark brown hues of the stock, which mute any potential game-spooking reflective glare.
Accuracy-enhancing measures include glass bedding of the action to the stock, and the barrel is free floated along its entire length. Fit and finish on this rifle is excellent, right down to the ubiquitous Buckmark logo on the bottom of the trigger guard and the gold-plated trigger blade. The Pro simply exudes quality from the moment you pick the rifle up, in a way that too few factory rifles do these days.
Beyond The Basics
The X-Bolt Pro retains all of the unique characteristics of a standard X-Bolt which, taken together, equate to a lot more than a run-of-the-mill bolt-action rifle. These features include a 60-degree bolt throw, a tang-mounted safety with a cocking indicator, the Browning Feather trigger, a bolt unlock button and the Inflex recoil pad. I especially like the X-Bolt's signature X-Lock scope-base mounting system, which doubles the standard number of mounting screws from four to eight. It's a rock-solid base-mounting system like few I've ever seen.
The excellent Browning Feather trigger is supposed to be pre-set at the factory to a pull weight of about 3½ to 4 pounds, and I measured the break on my test rifle at a consistent 3 pounds, 9 ounces. The trigger is adjustable within a range of 3 to 5 pounds, but I left it where it was because it broke so cleanly, with absolutely no take-up, no creep and minimal overtravel, that it felt lighter than it really was.
One distinctive feature of X-Bolt rifles is the unique bolt-unlock button, situated atop the portion of the bolt handle that mates into a recess in the action. Engaging the safety locks the bolt down, but you can use this button to unlock the bolt and cycle the action without disengaging the safety. The bolt itself cycles smoothly, with no binding, unlike some spiral-fluted bolts I've encountered.
Bottom metal is — wonder of wonders — actually made of metal, while the detachable magazine is a tough polymer design that sits flush with the bottom of the action. The rotary magazine drops freely into your hand when you trip the magazine release lever, which is protected within a recess in the bottom metal, and it feeds rounds straight in line with the chamber. Capacity is three rounds for magnum cartridges and four rounds for standard cartridges.
The rifle is actually made by Miroku, in Japan, but that matters little from a practical viewpoint. Miroku long ago established a very well-earned reputation for producing some excellent firearms, including Browning shotguns and some rifles licensed by Winchester Firearms.
Convincing Performance
Given the rather slender profile of the Pro's barrel, I wasn't really expecting tack-driving accuracy from the rifle at the range because groups typically open up as such barrels heat up — and heat up they do in my hands. It's not that I'm impatient, mind you, but I do have to deal with such pesky things as deadlines, and I often want to see how well a gun shoots when it's running a little hot and dirty. Of course, you would never run a barrel hot when hunting unless you're doing something inordinately wrong. It's the first shot or two that counts, rather than how a gun groups after a lot of ammo goes down the tube.
I found that groups did open up a bit as the barrel heated up, as anticipated, but I was pleased at how well the X-Bolt Pro performed at the range. Most tested loads produced average groups of around 1½ inches, which will convincingly accomplish just about any mission for which you might choose to employ a .300 Win. Mag. cartridge.
Interestingly, the rifle showed a bit of a preference for lighter bullets, with the best performance turned in with Browning's BXR (rapid expansion) 155-grain load. This was also the hottest factory round tested, with the matrix-tip bullet stepping out at 3,257 fps, and it produced an average-group size of 1.12 inch and a best-group size of 0.82 inch.


The next-tightest groups were with 180- and 185-grain bullets, which did slightly better than bullets in the 190-200 weight class. Velocities for most of the tested loads exceeded or were quite close to factory-stated velocities, which are, in many cases, achieved with longer barrels.
I consider that excellent overall performance for such a light rifle, let alone one that punches with magnum persuasion. When you consider that it's also designed to handle the harshest environmental conditions, the rifle's price tag ($2,099 MSRP for the version tested) starts to look a lot less steep than the mountains you'll be climbing with the Pro slung over your shoulder.
For more information on the Browning X-Bolt, please visit: www.browning.com
Editor's Note: This article originally appeared in the May 2018 issue of Gun Digest the Magazine.
---
NEXT STEP: Download Your Free Storm Tactical Printable Target Pack
62 Printable MOA Targets with DOT Drills - Rifle Range in YARDS
This impressive target pack from our friends at Storm Tactical contains
62 printable targets
for rifle and handgun range use. Target grids and bullseye sizes are in MOA. Ideal for long-range shooting!
Subscribe to the Gun Digest email newsletter and we'll send your print-at-home target pack right away.
Just enter your email address below.
---