While in a marginal concealed carry caliber, U.S. Armament nonetheless has created a Colt 1903 fit for everyday carry.
How the 1903 Pocket Hammerless Is Fit For Concealed Carry:
Increased the hammer hook depth and sear surface to create a sharper angle
Patterned to match original's size, weight and snag-free design
Holds 8+1 rounds of .32 ACP
Gun proves very accuracy at close range, even in rapid fire
Let's start with this premise: The Colt Model 1903 Pocket Hammerless is a viable concealed carry handgun. Yes, even though there are more powerful personal-defense calibers available. And, yes, even though there are lighter, more compact, higher-capacity concealed-carry handguns available. And, even though there are more contemporary handguns than John Browning's 115-year-old design.
Concealed carry was clearly Browning's intent for the Model 1903, with its sleek, rounded design, not to mention "pocket" in its name — which is but one of the many names by which it's known. It's referred to by many names, including Model M, Pocket Hammerless and General Officer's Pistol.
The Model 1903 wasn't Browning's first semi-automatic pocket pistol. His first was the Model 1900, produced by Fabrique Nationale in Belgium, which was based on an 1897 Browning patent and was the first chambered for the .32 ACP (7.65mm) round, designed by Browning for the gun.
Browning's design underwent tweaking and became Colt's first successful semi-auto handgun, the Colt 1900 in .38 ACP (another Browning-designed caliber) and the .38 ACP 1902 Sporting Automatic Pistol, then a reworked military version of the 1902, then an exposed-hammer 1903, also in .38 and presented as a pocket pistol, though it was boxy, somewhat heavy and not particularly easily concealed.
The 1903 Hammerless, chambered for the Browning-designed .32 ACP, corrected much of that, with a more compact and sleek design with rounded edges, 8+1 capacity and weighing 10 ounces less than the Hammer version. By the way, the Hammerless wasn't hammerless; the hammer was just concealed under the closed, rounded slide.
The 1903 was an immediate success. The caliber was considered adequate and was highly regarded in its day, though it has slid in favor behind today's more potent offerings. The simple design, easy disassembly and reliability added to its appeal as an easy-to-carry hideaway pistol. Civilians snapped them up, as did some law-enforcement agencies. And so did the criminal element. Al Capone was said to have toted a 1903. John Dillinger reportedly was carrying one when he was gunned down in Chicago by FBI agents and Bonnie reportedly broke Clyde out of jail by taping a 1903 to her thigh and, according to reports, two were found in their bullet-riddled car when Frank Hamer and the boys caught up with them.
The 1903 also saw service in the military as early as World War I, purchased for British forces, and during World War II the U.S. military purchased numerous 1903s, some for the Office of Strategic Services, the precursor of the CIA, and by 1944, the 1903 (and its descendent, the .38 ACP Model 1908, which is outwardly identical, except for caliber) were widely issued to officers, including Eisenhower, Patton and MacArthur, along the way picking up the moniker of "General Officer's Pistol."
Dad's Model 1903
And that brings us to my father's 1903. My father was a World War II Army Air Corps pilot and co-piloted the Glory Bee, a B-24 Liberator bomber, over Europe. As kids, we used to go through his footlocker stored in an upstairs storage room, trying on his pilot's cap, fingering medals, including his Purple Heart. He didn't keep his 1903 in there.
I always assumed Dad had been issued the pistol during the war, but my brother, Roley, thinks he picked it up after returning home. I could get additional clues by contacting Colt's archive department and learning, among other things, if it was shipped to a U.S armory, but sometimes it's better to just leave well enough alone. From looking up the serial number, I know it was manufactured in 1915, which maybe makes it less likely to have been issued 25 or 30 years later during WWII. Maybe not. Like I said: For now I'll just leave it alone.
---
Learn More About Legendary Firearms:
---
One downside of the 1903 from a carry-weapon standpoint is the fixed sights, front blade and drift-adjustable notched rear, which are not high visibility. The .32 ACP is light for carry duty, but I'm fine with that.
Short story long, I looked around and discovered 1903s are still rather plentiful and available so, like anyone smitten with a particular firearm, I bought one. It had some exterior pitting, but it's otherwise solid and functional. I've shot the heck out of it since with no hitches.
Spot-checking a few places shows them still plentiful and available. Cabela's Gun Library had a handful, ranging from $710 to $1,599. Gunbroker.com showed a variety of models, quality and conditions with prices such as $549 and $2,750. Similar price ranges popped up on GunsInternational.com.
But, we wondered, could a 100-year-old-plus pistol be relied on for personal protection? From these two examples, we couldn't see any reason why not. And that led to another observation: How many things can you list that still function more than 100 years after they were designed and manufactured?
Taking it a step further, of those 100-year-old-plus designs still functioning, how many are Browning's? I don't know either, but I do know Browning's list would be long and impressive, including the Winchester 1885, Winchester 1894, Browning A-5, Browning Hi-Power Winchester 1897, 1903 and 1908 Hammerless and, of course, the 1911.
But, if you don't want to trust your personal protection to a century-old handgun, how about a brand new pistol of the same proven design?
What's Old Is New
The Model 1903 got a new lease on life in 2015 when U.S. Armament came out with their Colt-licensed 1903 Hammerless General Officer's Pocket Pistol. The project was the brainchild of company owner Curtis Wolf.
Wolf purchased about 125 surplus 1903s, which were dismantled and measured by hand and a coordinate-measuring machine. So true to the originals, most of the new parts will transition directly into originals.
The only changes were to incorporate improved manufacturing techniques and improve safety beyond the originals' turn-of-the-century standards, said Brent Turchi, a former Colt employee who Wolf brought in to oversee the 1903 project. One safety improvement was to the sear and hammer hook, which on the originals appeared hand-polished or stoned to a small, essentially rounded surface so they had light trigger pulls, Turchi said.
And that gave them the idea of drop-testing the originals. "Every one of them fired," Turchi said. "If we dropped the gun, it was going off." (As a concern for carrying an original today, I'm already looking into U.S. Armament replacement parts.) So, U.S. Armament increased the hammer hook depth and sear surface to create a sharper angle, and the new models passed drop-fire tests.
Colt 1903s are generally categorized into four types (some say five) based on production dates. U.S. Armament's most closely approximates the Type III model, except it has no magazine disconnect safety, which was omitted from the final design. Turchi said other improvements came from changes to the production process, including improvements to the heat-treating process. There were also other changes, changes only Colt purists are likely to notice, Turchi said. The new version "feels a little more like an original — but with the safety of modern touches we have added."
Production numbers of the originals vary a bit, depending on the source, but I defer to firearms expert Jerry Lee who reported in Gun Digest's Standard Catalog of Firearms that more than 572,000 Model 1903s were produced between 1903 and 1945 (and another 134,500 of the 380 ACP Model 1908s). Lee also notes that Colt 1903 values today range from $1,200 new in box; $1,000 for excellent condition; $600 for very good; $450 for good; $300 for fair and $200 for poor.
The .32-caliber version was a lot more prolific than the .380, Turchi added, probably mostly because it had a 5-year head start on the larger-caliber twin and the U.S. government choice of them for officers.
But it wasn't designed as a military sidearm. "Browning designed the 1903 to be a small, flat, packable firearm that did lend itself to nice side-holster carry, which is what most officers in the military do," Turchi said. "But I don't think the initial design intent was that 32 ACP was a military caliber. I think it was more that he was looking for size and functionality."
And that, he said, led to its popularity with such a diverse population. It was a sign of the times that Capone, Dillinger and the like carried them," Turchi added. "The 1903 was popular at the time, but I also think because th ese guys at the time, for the lack of a term, were a 'classier' class of criminals. The gangsters wore suits and jackets, so it was easy to conceal a 1903 in a holster or pocket."
"It's an amazing thing to be able to design something with functionality and fit — and a use that can continue to be viable 100 years after its inception," he said. "To me, that says the guy who designed it must have been some kind of genius."
And, U.S. Armament has more good news for those interested in carrying a classic: Their next project, expected to be available in late spring or early summer of 2019, is a reintroduction of the 1908, the .380 version of the Colt Pocket Hammerless. Ready your holsters.
For more information on the U.S. Armament Colt 1903, please visit www.usarmcorp.com.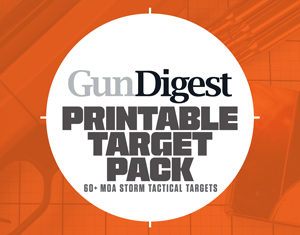 🎯 Exclusive Offer: Get Your FREE Printable Target Pack!
Dive into precision shooting with our 62 Exclusive MOA Targets featuring DOT Drills. Perfect for both rifle and handgun enthusiasts, these targets are designed for accuracy, especially for long-range shots.
Why You'll Love This Pack:
🎯 Expertly Crafted: Brought to you in partnership with the renowned Storm Tactical.
🎯 Versatile Use: Suitable for both rifle and handgun range sessions.
🎯 Precision Design: Target grids and bullseyes meticulously measured in MOA for the best shooting experience.
Bonus: By grabbing this offer, you'll also be subscribing to the Gun Digest email newsletter, keeping you updated with the latest in the world of firearms.
Don't miss out!
Simply enter your email below, and we'll send your downloadable target pack straight to your inbox.