Designed for explosive performance, CCI's VNT .17 Mach 2 and .22 WMR are designed to put varmints in check.
How VNT .17 Mach 2 and .22 WMR Excell Against Varmints:
Muzzle velocities in excess of 2,000 fps
Extreme terminal performance of Speer VNT bullets
Nickel-plated cases to resist corrosion
The thaw of summer is finally here and the suns out. No better time to put varmints in check. And CCI has you covered with two new hot rounds certain to get rock chucks and prairie dogs hopping.
Billed as explosive rounds by the ammo maker, VNT .17 Mach 2 and .22 WMR certainly appear to have what it takes to put varmints in check. Both rounds leave the muzzle in excess of 2,000 fps and are topped with the thin jacketed Speer VNT bullet, which features a polymer tip. This final feature flattens the trajectory of the bullet, as well as initiates expansion once it reaches the target. Also, nickel-plated cases, so the ammo is a bit more corrosion resistant.
---
Fire Away With More Rimfire Content:
---
The CCI VNT .17 Mach 2 (17 grain) and .22 WMR (30 grain) are available in boxes of 50, with the MSRP on the .17 running $10.95 and the .22 15.95.
More from CCI:
LEWISTON, Idaho – – CCI Ammunition introduces new VNT loads in 17 Mach 2 and 22 WMR, offering precision performance for varmint hunters and target shooters. Shipments are being delivered to dealers.

In 2018, CCI extended the range and devastation of magnum rimfire with the VNT bullet design. Now, it's offering VNT loads in 17 Mach 2 and 22 WMR. The new loads feature a Speer bullet with an extremely thin jacket and polymer tip that team up to offer flat trajectories, superb long-range accuracy and explosive terminal performance on impact.

Features & Benefits
•New 17 Mach 2 and 22 WMR loads
•Speer VNT bullet design
•Very thin jacket combined with precision-built polymer tip
•Devastating terminal effect on varmints
•Flat shooting and highly accurate to maximize effective range
•Consistent CCI priming
•Nickel-plated cases

Part No. / Description / MSRP
948CC / 17 Mach 2 17 grain, 2010 fps, 50-count / $10.95
969CC / 22 WMR 30 grain, 2200 fps, 50-count / $15.95
For more information on CCI Ammunition, go to www.cci-ammunition.com.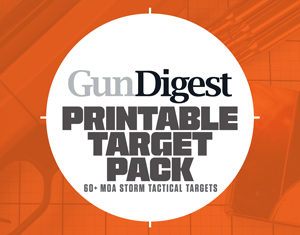 Next Step: Get your FREE Printable Target Pack
Enhance your shooting precision with our 62 MOA Targets, perfect for rifles and handguns. Crafted in collaboration with Storm Tactical for accuracy and versatility.
Subscribe to the Gun Digest email newsletter and get your downloadable target pack sent straight to your inbox. Stay updated with the latest firearms info in the industry.