Engineered for the utmost precision, the CVA Paramount Pro muzzleloader goes the distance and then some.
Muzzleloaders are steeped in tradition. That said, this isn't your granddaddy's muzzleloader. Heck, one quick look at the CVA Paramount Pro would tell you that in spades.
Completely rethinking the age-old game getter, the muzzleloader experts at CVA created the next generation of the gun. From buttstock to muzzle brake, the Paramount Pro completely rethinks what a muzzleloader is and how it should perform. As to the latter end, minimum, this baby is on target out to 300 yards. That's impressive.
Designed much like a precision hunting rifle, the CVA Paramount Pro boasts many of the same features. Starting from the ground up, the muzzleloader boasts a Grayboe fiberglass stock, providing not only the rigidity a precision firearm requires but also the lightweight system hunters look for in a field gun. Amazingly, the Pro weighs a full pound lighter than its predecessor—the CVA Paramount—tipping the scales at a svelte 8.75 pounds. Moreover, if you look at the underside of the gun you'll notice something missing—a ramrod. Still part of the kit, and collapsible carbon fiber, it isn't attached to the barrel and stock, given the Grayboe completely free-floats the barrel to maintained pristine harmonics.
Given the muzzleloader can accept magnum charges, you'd figure the Paramount Pro has the disposition of a cross mule. Far from it, since CVA incorporates a muzzle brake (3/4×20 thread), which tames down felt recoil considerably, thus eliminates the potential of developing a flinch. Other notable on the Paramount Pro include CVA's VariFlame Ignition system, self-headspacing bolt assembly, TriggerTech Trigger, primer storage, Cerakote finished stainless-steel barrel and Nitride treated bore. That's a tidy package for a muzzleloader (available in .45 and .50 caliber) and it even comes with a sling.
The Paramount Pro runs a pretty penny, with an MSRP of $1,668, but promises to live up to its price tag with unparalleled performance. Welcome to muzzleloading 2020.
For more information on the Paramount Pro, please visit https://cva.com/.
---
Tune In More Gun Digest TV: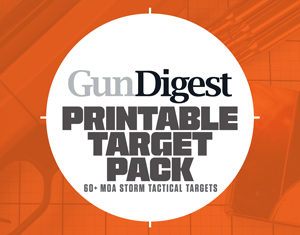 Next Step: Get your FREE Printable Target Pack
Enhance your shooting precision with our 62 MOA Targets, perfect for rifles and handguns. Crafted in collaboration with Storm Tactical for accuracy and versatility.
Subscribe to the Gun Digest email newsletter and get your downloadable target pack sent straight to your inbox. Stay updated with the latest firearms info in the industry.