A one-of-a-kind looks, the Savage Minimalist is an eye-catching rimfire rifle that produces out-of-sight downrange results.
If you haven't noticed, rimfires are taking off these days—both pistols and rifles. While this might complicate your selection somewhat, the abundance of plinkers does have an extremely bright side. Perhaps at no other time has there been more quality made rimfire guns at better price points. Who can argue with that?
Leading the way in both of these departments, at least when it comes to long guns, is the Savage Minimalist. Unique looking and tuned to own the bullseye, the slick little shooter comes in at a very affordable $359, making it among the most economical options out there today. Just because Savage is taking it easy on your pocketbook, don't think for a second they're shorting you on features. Amazing for the price, the Savage Minimalist comes decked out with assets you'd expect to find a much more expensive gun.
Right off the bat, the rifle's stock is the most eye-catching aspect, and its unusual profile isn't just there for looks. Working with Boyds Gunstocks to design it, Savage aim at not only managing the rifle's weight, but also making it more ergonomic, thus more intuitive and comfortable. Additionally, it's decked out with laser stippling on the fore-end and grip, ensuring a solid grip on the gun, no matter the conditions.
Other notable of the Savage Minimalist include:
10-round removable box magazine
Sporter taper barrel
½-28 threaded muzzle with cap
User-adjustable AccuTrigger
Three caliber choices: .22 LR, .22 WMR and .17 HMR
2-Piece Weaver bases
Rimfires are on the rise, but as the Savage Minimalist proves you don't have to break the bank to put a top-end plinker in your safe
For more information on the Savage Arms Minimalist, please visit savagearms.com.
---
Tune In More Gun Digest TV:
---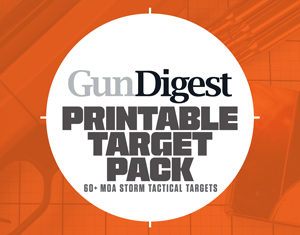 Next Step: Get your FREE Printable Target Pack
Enhance your shooting precision with our 62 MOA Targets, perfect for rifles and handguns. Crafted in collaboration with Storm Tactical for accuracy and versatility.
Subscribe to the Gun Digest email newsletter and get your downloadable target pack sent straight to your inbox. Stay updated with the latest firearms info in the industry.