Among the most important fundamentals, a proper handgun grip ensures you'll put rounds on target.
Next to sight alignment and trigger control, a proper handgun grip is among the most important fundamentals of accurate shooting. And contrary to popular belief, there's more to it than simply grabbing your heater.
Essentially, a fundamental handgun grip has four parts to it:
Strong Hand Placement – High as possible on the handgun's grip.
Alignment – The bore should line up with your forearm.
Support Hand Placement – Wrapped around your strong hand and applying 80 percent of the pressure to your grip.
Thumb Placement – Stack strong hand over support with a pistol or support hand lapping strong with a revolver.
Nothing too tough and, when done properly, it gives you complete control over your pistol or revolver while managing recoil. Yet, for some, there might still be a hitch in their giddyap. The grip might be textbook, proper finger placement on the trigger impossible. It happens more often than you'd figure. Generally, it means you'll either have to swap out for smaller backstraps (if that's an option on your pistol) or go hunting for a better fitting gun.
If this isn't an issue, your still not out of the wood in developing a proper handgun grip. The next step is practice, practice and some more practice. Getting a handle on your gun takes programming your grip to muscle memory. It needs to become second nature. The good news is, it simply means spending more time with your firearm.
For more information on Walther, please visit www.waltherarms.com.
For more information Panteao Productions, please visit www.panteao.com.
---
Learn How To Run Your Defensive Pistol: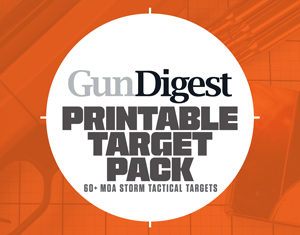 🎯 Exclusive Offer: Get Your FREE Printable Target Pack!
Dive into precision shooting with our 62 Exclusive MOA Targets featuring DOT Drills. Perfect for both rifle and handgun enthusiasts, these targets are designed for accuracy, especially for long-range shots.
Why You'll Love This Pack:
🎯 Expertly Crafted: Brought to you in partnership with the renowned Storm Tactical.
🎯 Versatile Use: Suitable for both rifle and handgun range sessions.
🎯 Precision Design: Target grids and bullseyes meticulously measured in MOA for the best shooting experience.
Bonus: By grabbing this offer, you'll also be subscribing to the Gun Digest email newsletter, keeping you updated with the latest in the world of firearms.
Don't miss out!
Simply enter your email below, and we'll send your downloadable target pack straight to your inbox.