Boyds expands its customizable stock line with the introduction of the At-One Thumbhole stock.
There's a misconception among some shooters that it takes big-bucks and a highly skilled gunsmith to obtain custom gun performance. Certainly, this formula can reap you the accuracy you're after. But there's a much simpler and economical way to get the most out of your cherished long-gun. This is where Boyds Hardwood Gunstocks comes in.
For more than 30 years, the stock maker has produced precision platforms that milk the most out of rifles and shotguns. Better yet, their wares are configured that – in all but the most extreme circumstances – you can install them yourself with minimal effort and few specialized tools. If you know how to torque a screw, you know how to benefit from Boyds.
---
More Gunsmithing Articles:
---
One of Boyds' highest performers is the At-One stock. A highly configurable and fully adjustable system, it's just the thing to bring out the most in a long gun. And the company has continued to evolve the system. Following up on the traditional rifle stock and shotgun models, the company introduced a new high-control configuration to its lineup – the At-One Thumbhole stock.
As its name suggests, the stock features a prominent thumbhole grip, allowing you to get a full purchase on your rifle.At the same tick, the new addition features everything that made the At-One system popular in the first place:
Push-button cheek rest and length of pull adjustment
Interchangeable forend grip
Choice of hundreds of finishes
Low price
Given the At-One Thumbhole stock's design, it does not have an interchangeable hand grip. However, that should be moot, given the real estate available. And like the other Boyds At-One gunstocks, the thumbhole version's price can't be beat, starting around $200.
For more information, please visit www.boydsgunstocks.com.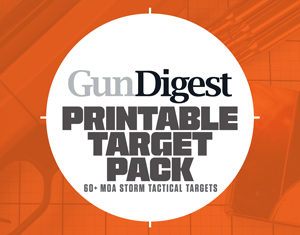 Next Step: Get your FREE Printable Target Pack
Enhance your shooting precision with our 62 MOA Targets, perfect for rifles and handguns. Crafted in collaboration with Storm Tactical for accuracy and versatility.
Subscribe to the Gun Digest email newsletter and get your downloadable target pack sent straight to your inbox. Stay updated with the latest firearms info in the industry.