The only thing more noteworthy than the accuracy of the feature-rich Ruger Precision Rifle is its price tag, making extreme range accuracy accessible to more shooters.
Given Ruger's aggressive rate of innovation as of late it was only a matter of time until its engineers released a dedicated long-range rifle. And with an MSRP of $1399, Ruger pulled it all off at a price range that most shooters can afford.
The tack-driver is built on the company's American Rifle action, but as the video below explains that action is not just dropped into a cool-looking modern "sniper" chassis. Instead, the recoil path is in-line with the AR-style (and side folding!) stock.
From Ruger's Press Release:
The Ruger Precision Rifle incorporates an in-line recoil path directly from the rear of the receiver to the buttstock, eliminating the need for traditional bedding or a "chassis" system, and provides maximum accuracy potential by simplifying the rifle's response to recoil.  The Ruger® Precision MSR stock is adjustable for length of pull and comb height, offering a proper fit over a wide range of shooter sizes, outerwear, and shooting positions.   While easily adjusted, the length of pull and comb height changes lock solidly in place and will not move while firing.  The stock also features multiple QD sling attachment points, a bottom Picatinny rail for monopod attachment, and a soft rubber buttpad. The left-folding stock hinge (which provides access to the bolt) is attached to an AR-style buffer tube and accepts AR-style stocks.

The Ruger Precision Rifle features a Multi-Magazine Interface, a patent-pending system that functions interchangeably with side-latching M110/SR25/DPMS/Magpul® magazines and front-latching AI-style magazines.  Two, 10-round Magpul PMAG® magazines are shipped with each rifle.

The highly accurate, free-floated barrel is cold hammer-forged from 4140 chrome-moly steel, and features 5R rifling for minimum bullet upset.  The rifle is specified with minimum bore and groove dimensions, minimum headspace, and a centralized chamber.  The medium contour (.75" at the muzzle) barrel features a thread protector over the 5/8"-24 threads, which allow for the fitment of muzzle accessories such as sound suppressors.  Barrels can be replaced easily by a competent gunsmith using AR-style wrenches and headspace gauges.

The Ruger Precision Rifle's "upper" receiver and one-piece bolt are precision CNC-machined from pre-hardened 4140 chrome-moly steel to minimize distortion. The three-lug bolt with 70-degree throw is easily manipulated and features dual cocking cams, and a smooth-running, full-diameter bolt body. An oversized bolt handle is fitted for positive bolt manipulation and features 5/16"- 24 threads for easy customization. The "lower" receiver is precision CNC-machined from aerospace-grade 7075-T6 aluminum forging and is Type III hard-coat anodized for maximum durability.  The magazine well front is contoured for a positive grip for bracing against shooting supports. The rifle also sports a 20-MOA Picatinny rail secured with four, #8-40 screws for increased long-range elevation capabilities.

The Ruger Precision Rifle can easily be configured with AR-style grips, safety selectors, and handguards. The rifle is equipped with a Ruger extended trigger-reach AR-style grip, a left-side, 45-degree safety selector, and a Samson Evolution Keymod handguard.  A short section of Picatinny rail is provided with the rifle for the fitment of accessories such as a bipod, and a QD sling cup also is included.

The Ruger Marksman Adjustable™ trigger provides a crisp let-off and is externally adjustable with a pull weight range of 2.25 to 5.0 pounds.  The hex wrench for the pull weight adjustment provided with the rifle is stored in the bolt shroud, as is a bolt disassembly tool for accessing the striker and striker channel.

The Ruger Precision Rifle is available in three models: .308 Win. with 1:10 twist, 20" barrel weighing, 9.7 lbs.; 6.5 Creedmoor with a 1:8 twist, 24" barrel, weighing 10.6 pounds; and .243 Win. with a 1:7.7 twist, 26" barrel, weighing 11.0 pounds.
For more information on the Ruger Precision Rifle or to learn more about the extensive line of award-winning Ruger firearms, visit Ruger.com or Facebook.com/Ruger. To find accessories for the Ruger Precision Rifle or other Ruger firearms, visit ShopRuger.com or your local independent retailer of Ruger firearms.
Video: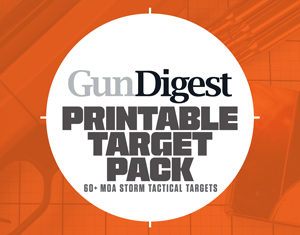 Next Step: Get your FREE Printable Target Pack
Enhance your shooting precision with our 62 MOA Targets, perfect for rifles and handguns. Crafted in collaboration with Storm Tactical for accuracy and versatility.
Subscribe to the Gun Digest email newsletter and get your downloadable target pack sent straight to your inbox. Stay updated with the latest firearms info in the industry.