Updated 4/14/2023
Over/Under shotguns tend to cost a lot of money. But there are some affordable double-barreled gems available nearly any shooter can work into their budget.
What are some economical over/unders?
There are over/under shotguns out there that cost more than I paid for our three-bedroom brick ranch house in 1961. These would be the likes of Krieghoff, Kolar, Perazzi and others. Similarly, there are used side-by-sides, especially old English types, that in current-day prices can cost as much as a Southern California fixer-upper. This is not about such double guns.
The game plan here is to tell you about several over/unders and a side-by-side that won't break your bank, melt your plastic or get you in too much Dutch with your spouse. There aren't too many hunters, upland specialists and waterfowlers who wouldn't love to see a nice double gun in their gun safe — as well as be proud to carry one come November. So, let's start with CZ-USA and their flagship hunting over/under shotgun.
CZ Redhead Premier

CZ is short for the Czech Republic company that the "C" and the "Z" in the company name are too hard for Americans to pronounce, so this is made simple with CZ — with CZ-USA the American importer of their many products. This company's most traditional and most long-term products have to be their bolt-action centerfire rifles. But CZ also makes a complete line of rifles, plus Dan Wesson handguns and other firearms-related products. CZ's many shotgun models are imported from Turkey.
But let's get back to that CZ flagship over/under — the Redhead Premier. Of special interest, this model is not only available in 12, 20, 28 and .410 — each of these gauge receivers is delivered in their own size frame, which means the 12 gauge is made on one size receiver, the 20 on a smaller receiver and on down the line with the 28 and .410.
The CZ Redhead Premier features a bright satin receiver, a bit of engraving, as well as a classic-style Turkish walnut stock. Both the 12- and 20-gauge guns come in either 26- or 28-inch barrels, and five flush-mounted screw-in chokes are included — all at a suggested retail of about a grand!
I missed the SHOT Show when the Turkish-made double guns were first introduced, then imported by a company called Armsco — the doubles made by Huglu in Turkey — the same maker that CZ now uses for their double-gun imports. But I did make the next SHOT Show, and the Armsco booth was the first I visited because I had been told of these over/unders and side-by-sides. I was so impressed that I eventually bought five of these doubles.
There's fine laser-cut checkering on today's CZ Redhead, a solid 8mm mid-rib (so no brush can accumulate while bulling thickets), a top rib, extractors and pistol grip that does not have a lot of re-curve. Thus, Prince of Wales style on that grip. There are 3-inch chambers in the 12, 20 and .410 CZ Redhead Premiers, with 2¾-inchers in the 28 bore. Both the 28 and the .410 come only with 28-inch barrels (probably CZ's most popular length in all four gauges).
There's a single extractor instead of ejectors on all gauges — plus the 12, 20 and 28 come with screw chokes, and the .410 with fixed Modified and Full. Those tight chokes, I think, are a mistake. Screw-in chokes or more open ones are required in the .410 for most shooters. Otherwise patterns are too tiny, especially at regular upland distances.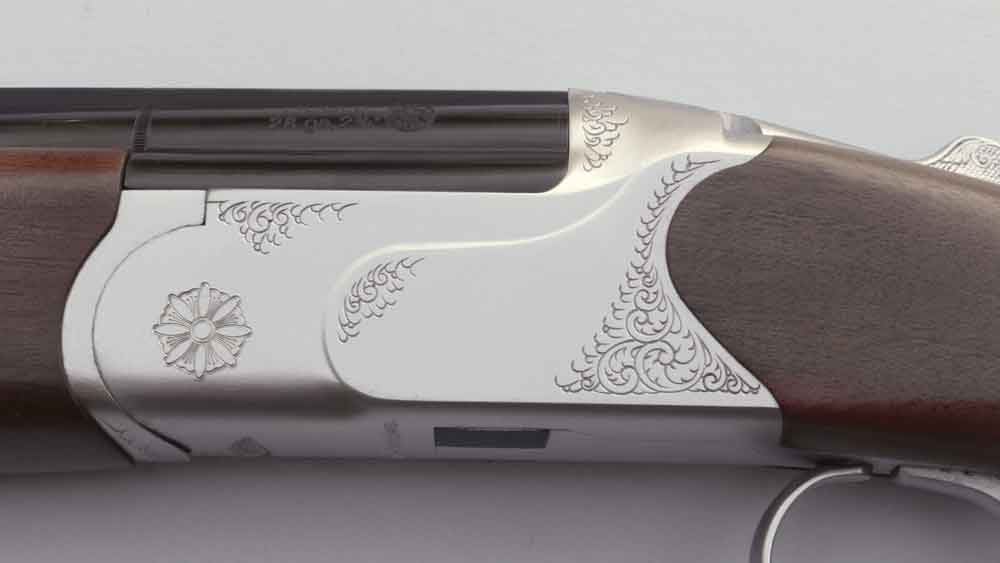 The length of pull has been updated at 14.5 inches, the drop at comb 1⅜ inches and the drop at heel is 2¼ inches. Triggers are mechanical, and the thumb safety is manual. Weight in the 12 gauge runs an average of 7.7 pounds, depending a bit on density of the walnut. Don't expect a lot of walnut figure, but do expect wood strength.
What does a $12,000 over/under have over one like the CZ Redhead Premier that costs about $1,000? The Redhead is a hunting gun, though it can be used plenty on any clay target field. Hunting guns are simply not shot all that much when compared to a competition over/under that might be shot 20,000 times per year for decades! I doubt the Redhead will hold up to that type of long-term punishment.
Plus, on a $14,000 shotgun, there tends to be better fit and finish — a higher grade of walnut — as well as many other factors that increase costs. Still, if you're looking for a double gun that you want to hunt with, this CZ Redhead Premier and the others that will follow are definitely worth your consideration.
---
Draw A Bead On Shotguns:
---

CZ Sharp-Tail Side-By-Side


While over/unders outsell side-by-sides by a large margin in America, there are those who feel that the side-by-side is the ultimate hunting gun. Many of the old English doubles can sell for over $100,000 — and they're over 100 years old — so they weren't made with modern stronger steels. This Sharp-Tail model is made with high-strength steel, and it sells for a pittance in comparison. Regardless, the gun comes with classic lines and classic appeal.

Further, the CZ Sharp-Tail is offered in 12, 20, 28 and .410 — each gauge built on its own size frame. Thus, the 28 gauge weighs only a whisper compared to the 12 gauge. But, even the 12 gauge is no heavyweight at 7 pounds, 3 ounces. All Sharp-Tails come with a 28-inch barrel only and extractors that lift both shells out for easy removal.

There's a classic feel to these guns with splinter fore-end (though CZ calls it a semi-beavertail) and a semi-pistol grip stock of Turkish walnut. Swing one on an upland bird and your mind will maybe take you back into history 100 years. The 20 gauge and 28 gauge weigh 6.3 and 5.9 pounds, respectively. In my view, these are the gauges to select for upland shooting, and the 12 for waterfowl and turkeys. The .410 CZ Sharp-Tail also weighs in at 5.9 pounds. List price is just under $1,000.

Adding to this model's appeal is the color case-hardened receiver finish. This is a new receiver compared to CZ side-by-sides of some years back — smaller and lighter, and probably stronger as well — and is forged in one piece. Trigger springs are now coil type. The trigger is a single, selectable one. Fine laser-cut checkering adorns the grip and slender fore-end. Five screw-in chokes are a part of the Sharp-Tail package (though fixed Modified and Full in the .410), and don't forget the plastic protective case.

Three-inch chambers reside in the 12, 20 and .410, and a 2¾-inch in the 28 gauge. Barrels of both the CZ Sharp-Tail and CZ Redhead are black chromed on the outside (great for corrosion resistance), and inside there's full-length chrome protection. Stock dimensions are 14.5 x 1.5 x 2.25 inches. There's a raised rib, and the mechanical trigger has a selector for barrel choice. So, if a side-by-side has long been on your "I wanna" list, maybe you better check out a CZ dealer.

Mossberg International Silver Reserve


While this over/under no longer has a touch of engraving and bright coin-finish receiver, the Mossberg International Silver Reserve is still a blast in the field. Once known as the Silver Reserve II, now the International Silver Reserve is an import from Turkey. Yes, the scrollwork is gone, in it place a matte silver receiver. But at the shoulder it remains equally as pleasant and responsive. In my mind, it brings up dreamy ideas of chasing native chukers somewhere in the Middle East.

However, this Mossberg over/under will be right at home whether you're chasing ruffed grouse, Hungarian partridge, pheasants, woodcock, quail, doves — even pest pigeons. Gauge choices run the gamut here — though no 16 bores are offered. May I suggest a 20 gauge? All gauges come with five flush-mounted screw-in chokes that are compatible with Benelli and original Beretta Mobilechokes.

Checkering on the pistol grip and slim fore-end of the over/under is the cut type. The website suggests 7 pounds for the 20 gauge with 26-inch barrels. However, my test 20 hefts 6 pounds, 9 ounces on my digital postal scale. Chambers are 3 inches in the 12, 20 and .410, and 2¾ inches for the 28 gauge. Length of pull is only 14 inches, which is a little short for most of today's new guns but maybe just right for you. The stock is select Turkish walnut. There's a vent rib with a front bead. All models models come with extractors, a bit of a regressions in the line, given the Sporting Silver Reserve II 12 gauge came with ejectors.

Full retail price starts at $756, but who pays full retail for most anything these days? I've already mentioned melted plastic credit cards and empty cookie jars, but neither need take place with this series of Mossberg International Silver Reserve over/unders.

Lockup is similar to the CZ Redhead Premier — with barrels pivoting on trunnions and a full-width locking bolt that slides forward upon closing to engage lugs milled into the bottom of the monobloc. Further, two recoil lugs milled into the base of the monobloc dovetail into milled-out areas in the bottom of the receiver upon closing, resulting in a very strong lockup. A barrel selector on the safety switch allows choice of the top or bottom barrel. Picture yourself in a field of South Dakota CRP, a Minnesota tangle of wrist-thick aspens, approaching an old apple tree in New England, or watching a pointer quarter back and forth on a Southern plantation of pines with the undergrowth burned over the previous spring — in each scenario you are carrying a Mossberg International Silver Reserve over/under.

Savage/Stevens Model 555


Lightweight is the byword when it comes to the Savage/Stevens model 555 over/under because the receiver is not steel but high-strength aluminum alloy — but with a strength-enhancing steel insert at the breechface. Even the 12 gauge hefts only 6 pounds, the 20, 28 and .410 — 5.5 pounds — and each gauge is made to its own specific receiver size. These are the types of guns grouse and woodcock hunters seem to like because they want to carry their upland ordnance in a ready, somewhat port arms position full time … or at least for hours on end. Most of us can't do that with a 7.5-pound shotgun. The heft of the smaller gauge 5.5-pound Stevens 555 makes such ready carrying easy.

The 12 gauge comes with a 28-inch barrel — the other three with a 26-incher. Barrels are rigged for flush-mounted screw chokes, with five of them included. The stock is Turkish walnut in a matte finish and the trigger is mechanical. There are extractors instead of ejectors, and there's a manual safety — meaning the safety does not engage automatically when you open the gun. Lockup is similar to the previously described over/unders; barrels pivoting on trunnions — plus that full bolt based in the bottom of the receiver, and the strength-enhancing recoil lug. MSRP for the Stevens 555 starts at around $770.

There's a vent rib with white bead at the muzzle; there are vented side panels, and the barrel wears a matte finish. The receiver and the fore-end iron are deeply blued — almost black. There's cut checkering on the pistol grip and the fore-end — the latter Schnabel in style.

Mearns quail habitat in southern Arizona is some steep and thick cover. In my experience, they erupt with almost blinding speed — just the situation where a very lightweight shotgun can pay dividends. Why? Because in shooting scenarios like this, the bird's jump has them already ahead of the barrels. So, the shooter must catch up — thus, the swing-through shooting technique is almost universally required here. The low weight of the Stevens 555 makes catching up easier.

Experienced swing-through shotgunners have a mantra as they are swinging to catch up: "Bum, Belly, Beak," and "beak" is when they hit the trigger.

Browning Citori


Yes, we are moving up in price range with Browning's Citori, but this over/under is a worthy consideration as the cost is relatively low compared to the quality, and so many of them have been sold that Citoris are readily available on the used market at less than retail prices. Further, these guns have performed on all the clay target stages — many of them for hundreds of thousands of rounds. So, you can rely on a Citori to hold up long term whether it's new or used.

I've visited a number of firearms factories over the years, and most are basically sophisticated machine shops that turn out high-quality firearms. Visiting the Browning factory in Japan, I saw things differently. Sure, there was plenty of "machining" going on there, but what impressed me in that factory was the inordinate amount of handwork that goes into making a Citori.

The Citori is, in many ways, a knockoff of the Browning Superposed. It was made in Belgium for decades. In the early 1970s Browning brass saw the financial handwriting on the wall. Belgian labor costs were mushrooming, and who knows how much the machinery there was aging and in need of replacement. Thus, the move was made to Japan, and the model name went from Superposed to Citori.

For decades now the Browning Citori has become available in a near unimaginable series of models — mainly specialized renditions for trap, sporting clays and skeet. These are more expensive than the basic Citori, but the ensuing paragraphs are devoted only to the Citori.

Today's basic model is the Citori Lightning — in style similar to the Superposed Lightning — with Lightning-style rounded fore-end and semi-pistol grip. The Lightning model Citori is offered in 12 gauge — and on a smaller, lighter receiver in 20, 28 and .410 — all three smaller gauges based on the 20-gauge receiver and thus of similar weight.

Further, there are Citori models with a steel receiver and those with an aluminum alloy, the latter offering almost a pound in weight reduction — this one dubbed the Citori Superlight. There's even a White Lightning model with a bright silver nitride receiver. The basic Lightning receiver is richly blued. The current full retail starts at around $2,200. You also get good quality engraving on the receiver and fore-end, engraving that closely resembles the engraving on the old Superposed.

The semi-pistol grip (again think Prince of Wales style) seems to offer quicker, surer gun mounting. Tight re-curve pistol grips are more suited to an already-mounted gun — as in clay target busting. The stock is gloss finished, and the checkering is cut very fine at 24 lines-to-the-inch. There is no recoil pad, which is important to a hunting gun, as less weight is involved with the Citori's black plastic buttplate. Better balance is maintained, with the average balance point right at the hinge.

That "hinge" is also different in the Browning Citori compared to most all current-day over/unders. Barrels don't pivot on trunnions but instead pivot on a full-width hinge pin. There's also the full-width locking bolt and a recoil lug milled into the base of the monobloc that dovetails into a matching milled-out area in the bottom of the receiver — that recoil lug going all the way through the base of the receiver. Check out this square notch in the accompanying photo. This lockup design is extremely strong.

The 12 gauge tends to weigh a tad over 8 pounds with 28-inch barrels. Three screw chokes are included. Barrels are overbored to .74 inch. Chambers are 3 inches in the 12, 20 and .410, and 2¾ inches for the 28. The 12-bore Citori is also offered with 26-inch barrels, but the 20-gauge barrel possibilities are most interesting — 26, 28, 30 and 32 inches! With a 28-inch barrel, the 20 gauge goes 6 pounds, 9 ounces. Both the .410-bore and 28-gauge guns come with either 26- or 28-inch barrels. How about the 12-gauge in Mississippi at one of Nash Buckingham's favorite waterfowl haunts? If the birds aren't flying, you can always look down and admire the fit and finish of your Citori.

Want lighter weight? Then go with the Browning Citori Superlight models. These come with the alloy receiver, but the grip is straight and the fore-end features a bit of the Schnabel flare. More money is demanded here, but still a full retail of under $2,400. Other specs include: 26-inch barrels and 6 pounds, 12 ounces for the 12 gauge; and 5 pounds, 11 ounces for the 20 gauge. There are no 28s or .410s in the Superlight renditions. Receivers are bright silver nitride like the White Lightning — so expect even better corrosion resistance than a blued receiver.

This article is an excerpt from Gun Digest 2018 available at GunDigestStore.com.

Editor's Note: Elwood Shelton contributed to this article.

Next Step: Get your FREE Printable Target Pack

Enhance your shooting precision with our 62 MOA Targets, perfect for rifles and handguns. Crafted in collaboration with Storm Tactical for accuracy and versatility.

Subscribe to the Gun Digest email newsletter and get your downloadable target pack sent straight to your inbox. Stay updated with the latest firearms info in the industry.