Updated 4/6/2023
Economical over/unders and side-by-sides … might as well ask for bargain diamonds. Except for these 10 affordable double-barrel shotguns that definitely buck the trend.
What Are The Affordable Double-Barrel Shotgun Options:
Crisp autumn air in your face, the crunch of dry grass underfoot, the sound of pounding wings filling your ears — bird season is unparalleled bliss. Even more so if you're in the corn stubble or cattails with a shotgun you're truly proud of.
This, for many, generally means a scattergun with a couple of barrels and plenty of class —a double-barrel shotgun, in short. Unfortunately, for many budget-minded hunters, side-by-side and over/under options are little more than wistful dreams. A great deal of the engraved steel and high-grade walnut runs more than a down payment on a new pickup truck, in some cases a house. Unless you do your shopping. Which we're trying to give you a hand with here, offering up nine affordable double-barrel shotgun options fit for your next wingshooting adventure.
What we're shooting for are doubles that come in below the $1,000 mark that are worth the money. Not an easy task. True enough, most don't have coin finishes or gold quail motifs. But they're plenty good at knocking birds out of the sky and building memories along the way. In the end, that's what will make them a classic to you.
But, before we get to that …
Why A Double-Barrel Shotgun?
Pump-action and semi-automatic shotguns have ruled the roost for more than a half-century, for a logical reason — firepower. Bare minimum, they're capable of loading up one more shell than a double, which potentially gives you one more goose in the bag or shot at a particularly wily rooster. Not to mention, in most circumstances, they're a heck of a lot cheaper than over/unders and side-by-sides.
So why revert to old technology? There are plenty of reasons, but to my mind, the double-barrel shotgun's edge boils down to four factors:
Reliability: Doubles have few moving parts, so there's less that can go wrong. Overall, they're more impervious to the elements, so there is little worry about fouling. And they'll never misfeed. This adds up to a gun that's ready the second you flush a bird. Additionally, they're easy to maintain. And if you do, your double-barrel shotgun — even an inexpensive one — will likely outlive you.
Flexibility: There's no worry about if a low-brass load will cycle through your double-barrel. It will shoot anything that fits its chamber. Plus, you can choke each barrel differently, giving the option for a looser pattern for close shots and a tighter pattern for more distant ones.
Shootability: While not a hard-and-fast rule, double-barrel shotguns — particularly over/unders — are much better balanced than semis and pumps. In turn, you have a more responsive gun at your disposal, something easier to swing and follow through with, which (fingers crossed) should add up to more birds.
Tradition: Honestly, this reason outdoes the others for me. While there are many fine pumps and semis out there, plum few bring the nostalgia of a double-barrel shotgun in the field — even an economy model.
What You Should Know About Budget Doubles
If you're looking to buy American, this isn't the class of shotguns for you. Even if it sports your favorite gunmaker's name across the receiver, it was most certainly made somewhere else. Most likely Turkey.
It's the go-to country for economy shotguns presently. And has a mixed reputation for the quality of its products. Some shooters swear they're tough as wang leather and the best deals going. Others claim they'll fall apart if you narrow your eyes in their general direction. The truth probably lies somewhere in the middle.
If you're shopping for a reputable brand, most likely they're going to demand quality assurance from the factory from which they import. They don't want their good name tarnished, so they'll keep tight reigns on how the guns are made. More fly-by-night operations, selling guns at rock-bottom prices (below what's shown here) … well, those might require a wee bit more consideration.
A "trust, but verify" mentality is a good way to approach a budget double-barrel shotgun purchase (honestly, any gun purchase). That is to say, don't go in and just buy something off the shelf. Go over the gun with a fine-tooth comb. Make certain it looks well manufactured — the machining is smooth, removable chokes fit properly, each barrel fires and there are no flaws in the stock. A good warranty isn't a bad thing to have backing up the gun either.
---
Draw A Bead On Shotguns:
---
Also, if at all possible, get out and test shoot the model you're interested in. Not only will this give you an idea of how the gun functions, but you'll also see if you even like it in the first place. If you don't feel you're qualified to do all this, employ a more gun-savvy buddy to give you a hand in your evaluation.
Certainly, these guns aren't going to put you in the poorhouse if you get a lemon. That said, this is your cold, hard cash, so don't flush it down the drain.
The fine points out of the way let's get to the good stuff.
Best Double-Barrel Shotgun

Pointer O/U
Over the years, Pointer has kicked a firm toehold in the affordable shotgun market. There's a simple reason for this. The Turkish import, sold through Legacy Sports International, over-delivers in about every way. Its Field Over/Under is a testament to this. Long on ornamentation, walnut and performance, the double-barrel shotgun punches well above its entry-level price.
It's very much an all-around gun, despite its name and case coloring on the receiver. At 7.5 pounds, it's suited for long upland hunts where excessive weight is noticeable but proves hefty enough to manage a well-timed double at the range. Sticked in walnut, the oil finish is on target as is the laser checkering on the fore and pistol grip, giving the gun excellent handling. And the 26-inch chrome-lined barrels are there for the long haul and capable of devouring anything you feed them—a 3-inch chamber.
The belle of the ball, however, is the trigger. By no means is it akin to something you'd find on a $6,000 legacy gun, but for its price range, few compare to its responsiveness. Other notables include vented rib, fiber-optic front sight, extractors and single select trigger. It's also available in three gauges—12, 20 and .410—and ships with five chokes. The one bone of contention, the factory-installed recoil pad is a bit thin, but that's a minor complaint.
MSRP: $499; legacysports.com
Mossberg International Silver Reserve
The sun does not rise on fall exclusively on the Model 500 at Mossberg. Quite right, the company is known for its wrought-iron tough pump-action, but its double-barrel shotgun more than holds its own. Now if the Silver Reserve seems familiar it should. Released in 2021, the shotgun is new, but in essence, a revamp of another Mossberg model we loved and will miss—the International Silver Reserve II.
So, what's changed? Namely aesthetics. The gunmaker has opted for a plain-slate matte silver receiver, giving the over/under a more working-class look—no big shakes in a field gun. Also gone, the ported barrels trap modes. However, Mossberg has retained many of the favorite features of the original double-barrel shotgun and added two new gauges to the mix.
To the latter point, the Turkish-made gun is now available in 28-gauge and .410 bore, in addition to 12 and 20. As to familiar features, 28- and 26-inch barrel lengths—depending on the gauge—a slim and highly manageable boxlock and extractors. The trigger tends heavy, and some of the frills are gone, but the International Silver Reserve is still among the best values out there.
MSRP: Starts At $756; mossberg.com
ATI Crusader
Certainly, this couldn't be from American Tactical Inc. (ATI). There's no detachable box magazine or telescoping buttstock! Contrary to belief, the gun importer does bring in tamer and more traditional stock with the Crusader the latest example. And for the money—a whopping $550—the double-barrel shotgun a tough deal to beat. Few arguments it'd make a nice backup for skeet or your next upland hunt?
Turkish-made, the over/under has admirable aesthetics for its price point. Richly blued barrels, polished silver receiver with laser-engraved pheasant scene and oil-finished Turkish walnut endow the budget option a bit of class. So does its Schnabel forearm, muted as it might be. Ample checkering on the fore-end and full pistol grip adds some depth to the stock, as well as gives the shooter plenty of control.
ATI gives you a plethora of bore options to match nearly any smoothbore task—12-, 20- and 28-gauge, as well as .410. All that's missing is 16-gauge. An aluminum receiver Crusader is fairly light, tipping the scales at 6 pounds, so it could prove a bit of a thumper if you take full advantage of its 3-inch magnum chamber (2 ¾ on the 28-gauge). But boasting extractors, chrome-lined barrels, five chokes and a single select trigger, it's a great entry point to doubles.
MSRP: Starts At $499.95; americantactical.us
TriStar Trinity
As seen again, TriStar has a knack for marrying affordability, function and style. Nowhere is this more apparent than in its Trinity line. Where else in the world of double-barrel shotguns can you find a 24-carat gold inlay standard in a $855 gun?
Starting there, the Trinity is an exceptionally good looking over/under. In addition to the inlay, the gun pops thanks to heavily engraved motifs on the polished steel receiver giving it a timeless look. Sure, it's production-acid engraving, but it doesn't take away from its beauty. Particularly with the Turkish gun wearing a fine stick of oil-finished Turkish walnut, with plenty of checking on the grip and forearm.
Well made and kept to tight tolerances, thanks to CNC manufacturing, the Trinity locks up well and has a quality fit. And it has some likable extras. Vented top and middle rib, tang safety and chrome-lined barrels are all standard, as is a select single trigger and bright fiber-optic bead. Furthermore, it's available in the resurgent 16-gauge, as well as the more common 12- and 20-gauges–3-inch chambers across the board.
Beretta choke compatibility as well.
If a lighter piece is more your speed, TriStar also offers the Trinity LT. No gold inlay on the aluminum-alloy receiver, but the gun trims right around a pound off the Trinity proper.
MSRP: Starting at $855; tristararms.com

Weatherby Orion I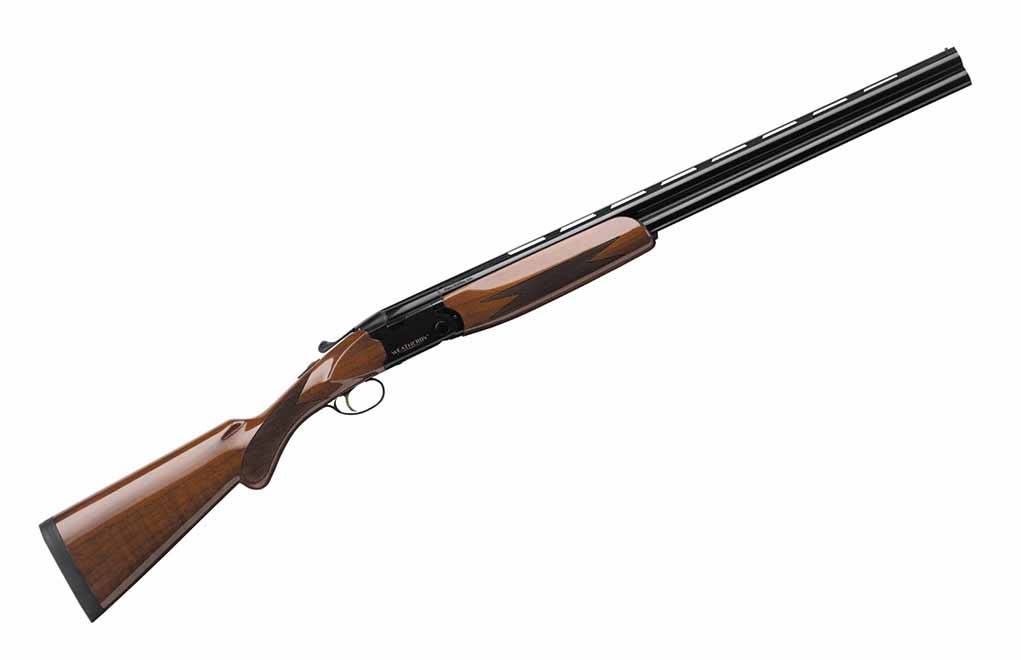 The original Orion was a Japanese slogger, a real smooth smoothbore. The reboot of the over/under is Turkish, but from all accounts keeps the Orion's reputation intact.
First off, the double-barrel shotgun cuts a sharp profile, with an A-grade walnut stock, Prince of Wales grip and deeply blued metal. Its vented rib, matte on top to cut glare, is a nice touch, too.
But more importantly, the Orion I is well made — most certainly up to Weatherby standards, with a tight fit and excellent machining. The all-steel receiver gives the gun a bit of heft — the 7-pound neighborhood — yet it's not enough to make it unpleasant on long hunts. And it's responsive — quick to the shoulder, in part thanks to its Pachmayr Decelerator recoil pad's Speed-Mount heel, which reduces snags.
Weatherby moved the barrel selector to the tang safety (it use to be on the trigger), but has retained the ejectors. It's available in 12-gauge only, however, you do have the choice between 26- and 28-inch barrels. Inflation has kicked the gun over our ceiling, but not enough for us to take it off this list. It still has plenty to offer at this price point.
MSRP: $1,049, weatherby.com
Stoeger Uplander Field Shotgun
At this point, economy side-by-side is almost an oxymoron. However, Stoeger pulls it off pretty well with the Uplander.
As for its overall profile, the Brazilian-made gun is fairly traditional, boasting double triggers and a nice stick of A-grade Walnut. But, for the most part, it's plain as a gray November day, with little embellishment outside a smattering of checkering on the standard grip and fore-end.
However, Stoeger gives you some choice of configuration on this double-barrel shotgun, with 26- and 28-inch barrel options available on its 12- and 20-gauges. The 28-gauge and .410 are purely 26-inch barrel affairs. It features a tang safety — as it should be — removable chokes and extractors standard.
The Upland Field tends toward the heavy side, creeping up on 8 pounds and its action is a bit stiff out of the box. But for the money, those are minor complaints.
MSRP: $499, stoegerindustries.com
Stevens Model 555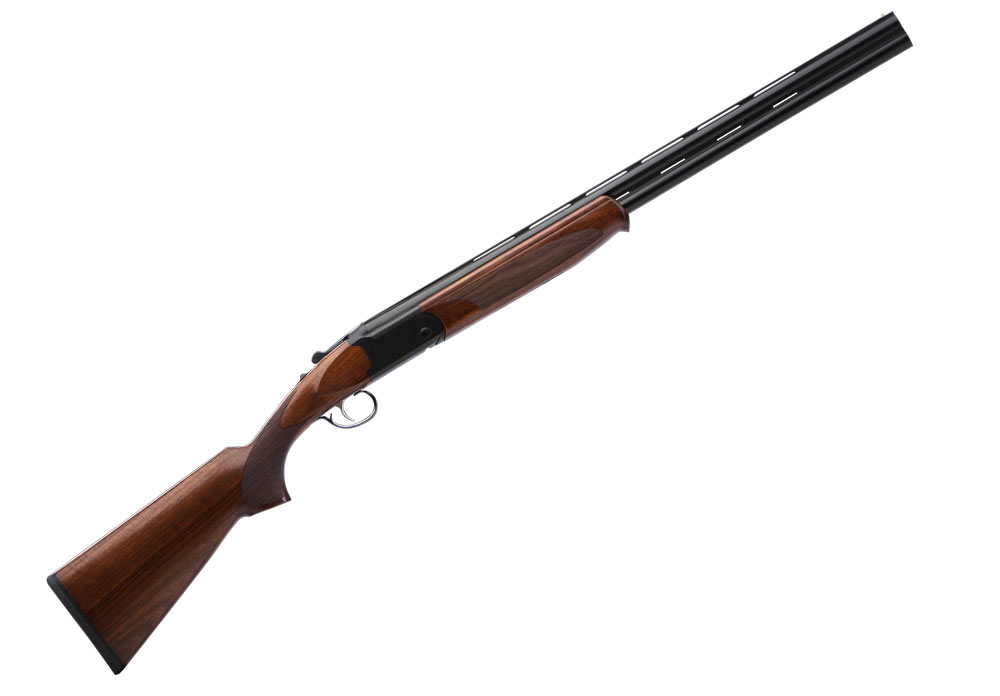 The 555 has Stevens' name, but not Stevens' place of origin. That means it's Turkish — which can be good or bad news. Luckily, in this case, it's the former. The 555 is well built and a performer, with a tight lock-up and responsive on the shoulder. It also has little extras not often found at this price point. The Schnabel fore-end is one such example.
The aluminum receiver has a steel reinforcement insert — over the firing pins — giving the double-barrel shotgun some added durability. The 555 is light, too — a hair over 6 pounds in the 12- and 20-gauges, 5 ½ in 16, 28 and .410 — making it not only nimble on the swing but also a joy on those long days in the field. The safety doubles as the barrel selector and its trigger is good enough for a much more expensive gun. Walnut, checkering and removable chokes are all there too. Not a bad package at all.
MSRP: $768, savagearms.com
TriStar Trinity LT
As a rule of thumb, expect the unadorned when shopping for inexpensive double-barrel shotguns. TriStar is a notable exception. Its Hunter EX over/under comes with a bit of scrollwork on its steel receiver, but it's far from hand-cut. Acid-etched instead. Still, it gives the budget Turkish import a bit of flare.
The gun has some nice features, including a single select trigger, tang safety (where else would it be?), fiberoptic front bead and chrome-lined barrel (28-inches for all models except the 20-gauge which has a 26-inch barrel). The double-barrel shotgun has plenty of walnut, well checkered, too. If that's not enough, it ships with five choke tubes.
It's a middleweight, tipping the scales at between 5.3 and 6.3 pounds, depending on gauge (12, 20, 28, .410). But when it comes to high-volume shooting, this is a plus, soaking up recoil. A slicker looking over/under than some and its function lives up to its form.
MSRP: Starts At $855; tristararms.com
CZ Bobwhite G2
Back by popular demand, CZ reintroduced its popular side-by-side, this time going by the handle of Bobwhite G2. But the new-old double-barrel shotgun isn't a spitting image of its former self.
It still boasts the same striking profile, including a straight English grip, ample walnut and double trigger. But, CZ cleaned up some of the shotgun's internals making it all the sweeter to shoot. In particular, it floated the firing pins, redesigned the sear and implemented a coil spring to activate the hammers.
Though it's not all peaches and cream, the gun isn't actually Czech or American-made. You guessed it, Turkey — but with what appears to be plenty of oversight from CZ. The Bobwhite G2 is available in 12-, 20- and 28-gauge, and is outfitted with a 28-inch barrel in each case. It comes with five chokes and, depending on gauge, weighs in at 5.5 to 7.3 pounds.
CZ Redhead Premier
This barely makes the cut per this post's price limit but is well worth the money. The Turkish-made (who saw that coming?) double-barreled shotgun has some nice refinements that make it among the top in this class. This includes some understated, yet nice engraving, laser-cut checkering on its walnut stock, Prince of Wales grip, mechanical trigger, tang safety, ejectors and 8mm flat-vent rib.
The fit is genuinely good. Not best-gun quality, but more than enough to satisfy a first-time double shooter or a hunter who might go a little rough on his or her gun.
CZ doesn't hold back on this line, offering it in 12-, 20- and 28-gauge, with the option of a 26- or 28-inch barrel in 20-gauge. The Redhead Premier comes with five chokes and in its larger gauges can handle 3-inch shells. If you're looking for more than a bargain out of a double, it's difficult to outdo what CZ offers here.
MSRP: $999; cz-usa.com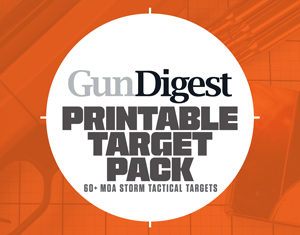 Next Step: Get your FREE Printable Target Pack
Enhance your shooting precision with our 62 MOA Targets, perfect for rifles and handguns. Crafted in collaboration with Storm Tactical for accuracy and versatility.
Subscribe to the Gun Digest email newsletter and get your downloadable target pack sent straight to your inbox. Stay updated with the latest firearms info in the industry.