The Rio Bravo is the antidote for high-priced lever-action .22 rifles.
How The Rio Bravo Proves A Value:
Nimble 18-inch barrel with a nice blued finish.
Polymer Furniture with M-Lok slots on the fore.
Fiber-optic front and rear sights; fully adjustable rear sight.
Very smooth and quick action.
Respectable trigger that breaks a hair above 4 pounds.
Like apple and pie, there's perhaps no more wholesome match than lever-action rifle and .22 LR. The marriage conjures up lazy summer afternoons with mountains of plinking ammo or squirrel woods bristling with brushy tails. Short of Christmas trees and baseball gloves, few objects come with more inherent joy than the .22 lever-action. It is a shame there so dang few of them.
Oh yes, the world isn't completely devoid of this style of iron—Browning and Henry haven't given up on them. But they're rarer than they once were. Blame the success of the .22 semi-automatic rifle for their paucity; it single-handedly filled the role of fast-shooting rimfire. In turn, most available lever-action .22 rifles capture their shooters with equal parts nostalgia and aesthetics. Those don't come cheap, most of the existing models running north of the $500 mark.
This is why the Rossi Rio Bravo project jumped on my radar almost immediately when the Brazilian manufacturer released the lever-action .22 nearly a year ago. With a price below $300, the rifle couldn't help but intrigue. So when they followed up with the thoroughly modern Rio Bravo Polymer in 2021, I knew I had to give the economical lever gun a day in court.
Crossing The Rio Bravo
Those who have any inkling of Rossi's lever-action rifle catalog won't be too surprised with what they bring to the table in its rimfire iterations. The bread and butter of the company's lever guns is its R92 line, which, as its name suggests, are clones of the legendary Winchester Model 92. As a side note, the rifles are pretty slick renditions of the originals with some nice twists on the top ejector, such as a .454 Casull chambering. But I digress.
The Rio Bravo and Rio Bravo Polymer duplicate the same lines as its big brother, however, the lever-action .22 rifles do so as side ejectors. Logical, given mechanically it's an easier system to puzzle out than getting the bantam spent brass to eject out the top. An extra plus, since the top of the Rio Bravo Polymer's receiver is dovetailed for a scope, which would spell all sorts of trouble with a top-ejector. But the rest of the system is there, from straight stock to half-cock safety (there's a cross-bolt too).
Yet, the Rio Bravo Polymer brings is a modern flair to the rimfire lever-action, compared to its beechwood sibling. Which for the right shooter has the potential to make the gun much more practical and enjoyable.
Plastic Fantastic
The R92's genetics are evident in the Rio Bravo Polymer, but so are Rossi's scrupulous updates. In particular, the lever-action .22's inky polymer furniture. Yeah, purists might collectively wrinkle their noses at the thought of plastic on a traditional style of gun. But there's a reason why the winds have blown this direction—it works. Not only does polymer lighten a rifle considerably, but also—when done correctly—expands the gun's potential.
So it goes with the Rio Bravo Polymer. While the polymer keeps the 18-inch barrel rifle a very manageable 5-pounds and gives it a certain level of weather resistance, the stock's greater utility is the flexibility it adds to the lever gun. Here I point to the M-Lok system on the fore—nine slots at the 3-, 6- and 9-o'clock positions. A bipod seems a stretch, but not a lighting system, which would make a knockout raccoon and pest system. At the very least, the slots allow for a flexible slinging system in conjunction with the rear stud on the butt.
The fore's contour is also nice if a bit blocky. Its bottom is flat and ideal for supported shooting, say off sandbags, truck hood or fence post. Furthermore, just behind the M-Lok slots, the top is recessed, textured and in the perfect position for a support hand. During target transitions, the feature made the rifle more controllable, while eliciting all its nimbleness.
---
Raise Your Lever-Action IQ:
---
Snappy Trigger, Buttery Action
Given the Rio Bravo Polymer is a sub-$300 gun, I didn't set my expectations high for its trigger. The price almost demands a sub-par switch. While I won't claim it was close to a match job by any stretch of the imagination, I was pleasantly surprised with what Rossi accomplished. The trigger broke cleanly and consistently at 4-pounds, according to my Wheeler Trigger Pull Scale, which enhanced its overall accuracy. Though, there was plenty slack to get to the trip, nearly 1/4 inch.
Despite this, the rifle runs fast thanks to the star of the show—the Rio Bravo's action. Again, we're talking a budget rimfire here, so expectations were moderated. However, with a well-proportioned steel loop and a buttery action, the rifle can move. This was a particular boon when I put the rifle through some rapid-fire at the range. Not only did lever-action .22 chew through its 15-round tubular magazine in the blink of an eye. Its smooth cycling made it easy to keep the rifle on target shot to shot.
Setting Sights
Pretty obvious from the pictures, the lever-action .22 rifle's sights are plastic, fore and aft, yet they're nothing to turn your nose up at. The fiber-optics pipes running through each—red front and green rear—are highly visible and quick thanks to their contrast. For new shooters, they seem ideal, making a sight picture very natural. Season shooters will appreciate how fast they are on target.
Rossi hoods the front, which adds peace of mind you won't bust it on a tree trunk or rock when in the field. And the rear is fully adjustable, conveniently so. Both the windage and elevation knobs are well textured and easy to manipulate, with defined clicks at each increment, which was much apricated when I dial the rifle in at the range.
At The Range
After 200 rounds, I walked away impressed with what the Rio Bravo had to offer.
First and foremost, it was reliable—no small thing in budget guns. In prepping for the range, I did little more than run a patch through the bore and apply a few drops of oil at key points. From the rifle was on its own. It acquitted itself well, cycling without a hitch and kicking brass as lively on the last shot as it did on the first. Quite frankly, I felt I could have run the lever-action .22 rifle much dirtier and not have run into a hitch.
As far as accuracy, the Rio Bravo proved quite adept. I used both 40-grain CCI Mini Mag Segmented HP (1,235 fps, .118 BC, G1) and Clean-22 (1,235 fps, .130 BC) in the test. Shooting from BenchMaster shooting blocks at 25 yards, the rifle produced between ¾-inch and 1-inch groups on average. Given I used open sights for this test, I'm certain those could be tightened up and made more consistent with a scope.
Parting Shot
I've found plenty to brag up on the Rio Bravo and believe for the price Rossi has cooked up a solid rifle. That said, there were a few nits to pick.
I ran a magnet on the receiver and, lo and behold, it did not stick. While all the components, bolt, lever, trigger were steel the receiver was something else, most likely a zinc alloy. Less durable, this might be a sticky point for some. Along with this, the barrel band was plastic, which is concerning given this is an easy spot to whack against something in the field, thus bust this part.
The next two points are smaller and concern particular tastes. Rossi did not thread the muzzle, which doesn't take my breath away, given the Rio Bravo is an entry-level rifle. But given its tactical bent, the ability to apply a suppressor would have been nice. As would a loading gate, given the tubular magazine is old school and requires plenty of time to reload.
Deal breakers, any of them? No, but worth considering if the lever-action .22 rifle has caught your eye.
Overall, the Rio Bravo would make a fine entry rifle for a new shooter, one they'll appreciate long after they master it. But seasoned shooters shouldn't turn their back on this economical option. Yeah, it's not a generational hand-me-down, but you milk every penny of fun from the gun. In short, Rossi offers a square deal with the Rio Bravo. It's about time somebody did in this class of firearms.
Rio Bravo Polymer Specs
Finish: Matte Black
Capacity: 15 Rounds
Action Type: Lever Action
Caliber: .22 LR
Sights: Fiber Optic / Fully Adjustable Fiber Optic
Safety: Cross-Bolt Safety
Weight: 82.70 ounces
Barrel Length: 18 inches
Overall Length: 35.90 inches
MSRP: $355.86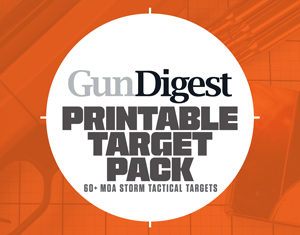 Next Step: Get your FREE Printable Target Pack
Enhance your shooting precision with our 62 MOA Targets, perfect for rifles and handguns. Crafted in collaboration with Storm Tactical for accuracy and versatility.
Subscribe to the Gun Digest email newsletter and get your downloadable target pack sent straight to your inbox. Stay updated with the latest firearms info in the industry.