The made-in-America Henry Lever Action Octagon Magnum is an accurate, affordable rimfire that's loads of fun and perfect for small game or general plinking.
The lever-action rimfire rifle has always been a favorite with American shooters and hunters. Not only does it bring with it a connection to the iconic old west, it is a viable and useful tool. Countless shooters have cut their teeth on a lever-action rimfire rifle, and countless others have relied on one to pot small game and serve as a sort of makeshift ranch rifle. At one time, lever-action rimfire rifles were prevalent, but that's not the case anymore. Fortunately, Henry Repeating Arms has not forgotten their usefulness. The Henry Lever Action Octagon Magnum is sort of a big boy's toy to take you back to simpler times.
Henry Repeating Arms is now America's leading builder of lever-action rifles. It is also one of the top five long gun manufacturers in the United States. It was Benjamin Tyler Henry who conceived the first practical, lever-action, repeating rifle. Patented in 1860, the Henry rifle gave a single man the firepower of a dozen marksmen armed with muzzle-loading muskets. During the Civil War the Henry rifle earned the reputation of, "a rifle that you could load on Sunday and shoot all week long."
With that rifle, Henry ushered in the age of the repeating rifle, and that legacy is carried on today by a family-owned business with a new motto of "Made in America, or Not Made At All." Henry is headquartered in Bayonne, New Jersey, and has a second manufacturing facility located in Rice Lake, Wisconsin. They have more than 400 employees and build more than 300,000 Henry rifles every year. Henry also offers a lifetime guarantee on every firearm they manufacture.
The Henry Lever Action Octagon Magnum rifle is just one of a host of lever-action rimfires the company offers. A lithe little rifle, it feels almost alive when you pick it up. Its trim lines aid its quick-handling nature, and the high-visibility sights grab your attention as soon as the rifle finds your shoulder. Every now and again you'll run across a rifle you just cannot seem to put down, and that was the case with this one. Not too heavy, not too long – as the baby bear said, "This one's just right."
The rifle's signature feature is its octagonal 20-inch barrel. Reminiscent of lever-action rifles popular during the turn of the 20th century, the trim barrel instantly evokes a bit of nostalgia. Just forward of the receiver the barrel is dovetailed for a drift-adjustable leaf sight, which is fitted with a sliding elevator. But the semi-buckhorn blade on this sight also has a screw-adjustable notch, highlighted with a white diamond. This allows you to tune the sights to be dead-on at the distance of your choice.
The front sight is also dovetailed into the octagon barrel. It is a solid piece of steel with a blade and a 0.10-inch brass bead. Even with my aging eyes, I could make out a decent sight picture; good enough to hit a snuff can at 30 yards about every time. I'm not a fan of optical sights on lever-action rifles, but if that is your thing, the receiver on the Henry Lever Action Octagon Magnum has an integral 3/8-inch rimfire rail that will allow direct scope attachment. Even though I can shoot with a bit more precision if I use an optical sight, all of the testing with this rifle was conducted with the factory open sights. Lever-action rifles were never intended to wear a riflescope.
All of the steel surfaces on the rifle had a nice, deep blued finish. It married well with the black anodized aluminum receiver and barrel band. By using an aluminum receiver, Henry can shave weight and manufacturing costs. The buttstock and forearm were formed from American walnut, and the wood-to-metal fit, along with the finish on the wood, was nicely executed. The rifle was just as pleasing to the eye as to the hand, and everyone who looked at it or handled it found a smile.
Over the course of several days, I fired more than 300 rounds through this rifle using a variety of .22 Magnum loads. There was not a single stoppage or malfunction of any kind. The rifle was easy to load, the action was easy to cycle, and the sights were easy to see. Most importantly, the trigger was exceptional, and not just by lever-action rifle standards. It had absolutely no take-up and broke crisply at 3.75 pounds. For most new factory rifles, you'll have to visit a gunsmith or buy a Timney to get a trigger this good.
It should also be noted that the Henry Lever Action Octagon Magnum does not have a safety – at least not a modern one. Original lever actions had a half cock notch on the hammer that served as the safety. When ready to fire, you fully cocked the hammer and pulled the trigger. If you decided not to fire, you depressed the trigger while holding the hammer, lowering it to half cock. This is the safety Henry has chosen for the Lever Action Octagon Magnum, and lever-action purists, or any cowboys if they are still around, will surely appreciate it.
In an age and time when semi-automatic rifles seem to rule the world, it's nice to see a manufacturer clinging to an American heritage. Not only is Henry doing that, they are offering a fine-shooting rimfire magnum rifle at an affordable price, and it comes with a lifetime guarantee. If that's not enough, remember, you can always load this rifle on Sunday and shoot all week. Well, at least in theory. This rifle is so fun to shoot, it won't stay loaded near that long.
Specifications:
Henry Lever Action Octagon Magnum
Model Number: H001TM
Chambering: .22 Magnum
Capacity: 12
Length: 38.5 in.
Barrel: 20 in., polished blued steel
Twist: 1 in 14, RH, 6 grooves
Receiver: Aluminum
Weight: 5 lbs., 15 oz.
Stock: American Walnut
Sights: Fully adjustable semi-buckhorn rear, with adjustable white diamond insert and brass bead front sight.
MSRP: $550.00
Manufacturer: Henry Repeating Arms, HenryUSA.com
Editor's Note: This article is an excerpt from the May 2017 issue of Gun Digest the Magazine.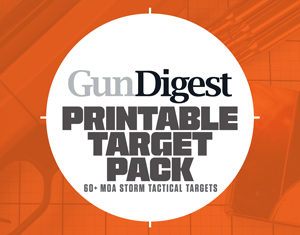 Next Step: Get your FREE Printable Target Pack
Enhance your shooting precision with our 62 MOA Targets, perfect for rifles and handguns. Crafted in collaboration with Storm Tactical for accuracy and versatility.
Subscribe to the Gun Digest email newsletter and get your downloadable target pack sent straight to your inbox. Stay updated with the latest firearms info in the industry.