Ruger's new SR1911 in 10mm is an economical handgun hunting option that doesn't skimp on functionality.
For the better part of its history, the 10mm has resided at the periphery of the handgun cartridge world. There are a number of reasons for this unfortunate position, but it is one that is fast changing.
The 10mm has been born again hard in the shooting mainstream as the preferred round for handgun hunting with a semi-automatic. And the marketplace has been quick to respond with some of the biggest names in gunmaking releasing models decked out to chase everything from hogs to whitetails.
Ruger is the most recent, with the New Hampshire manufacturer introducing the SR1911 in 10mm this month and pitching it as an ideal medium-game option. However, the new full-sized 1911, boasting a 5-inch barrel and 8+1 capacity, departs a bit from what has recently been hitting the market, offering hunters a more affordable, but austere pistol.
In particular, Ruger has averted its eye from pre-packaging the 1911 with an optic or optic mount — which seems to have been becoming standard out of the box on hunting pistols nowadays. The company has still focused on providing a solid sighting system, outfitting the new 10mm with Bomar-style adjustable rear sights.
This is an important addition to a pistol aimed at pursuing game, freeing hunters to tweak both windage and elevation in the field. And this is only the second pistol from the SR1911 line that has been configured as such, the other being the .45 ACP target model. The front sight is a simple post, but it is dovetailed, so it is easily replaced.
Ruger had to tweak the overall design a bit from the rest of the line for the SR1911 to digest the powerful round. This is particularly seen with the 10mm's full-length recoil spring guide rod and the use of a bushing-less bull barrel. The added material in the barrel ups the handgun's overall weight to 40 ounces, which isn't a bad thing, giving it the heft to tame the round's recoil. It should also help facilitate fast follow-up shots, should the occasion call for it, with more weight forward to retard muzzle flip.
---
Best Starter Kit for Concealed Carry:
Disclosure: Some of these links are affiliate links. Caribou Media Group may earn a commission from qualifying purchases. Thank you!
---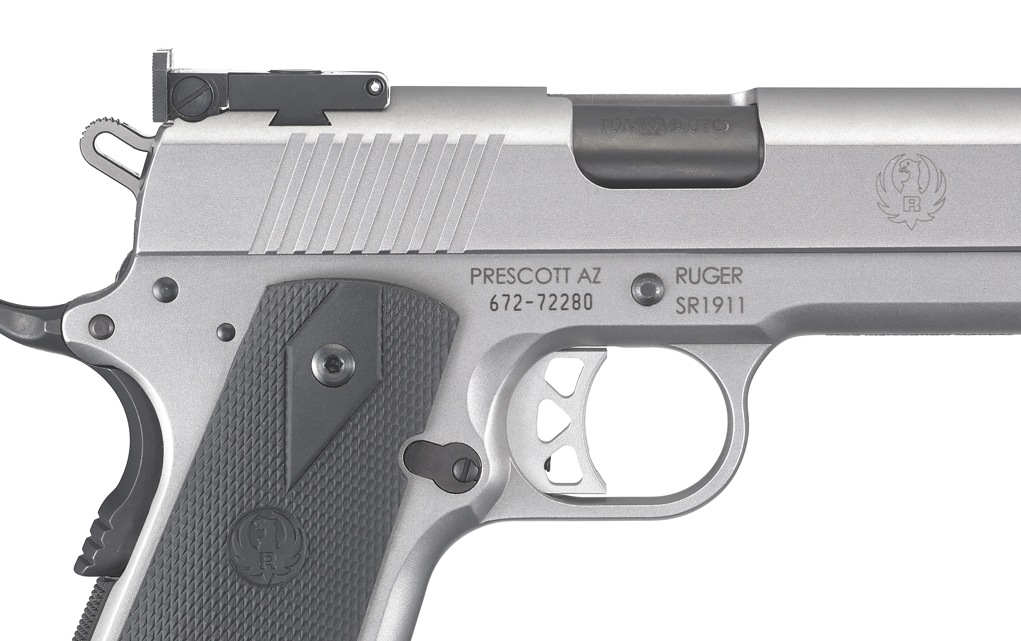 One facet Ruger hasn't strayed from with regard to the rest of the SR1911 line is the series 70 firing system. Utilizing the original 1911 firing system, free of the trigger-activated firing pin block safety, ensures the pistol has a clean pull from pre-travel through break, thus upping a shooter's accuracy potential with the firearm. The use of lightweight, yet durable titanium for the firing pin still keeps the pistol drop safe, a must in the rugged terrain in which game is found.
The SR1911 in 10mm obviously has a flat mainspring housing with ample checkering, and the grip is further enhanced with rubberized panels. Combined with a high beavertail safety, cut with memory grooves, these features should facilitate a solid purchase on the pistol. However, if a hunter has a preferred panel style, the factory-installed version is replaceable.
The 10mm's slide and frame are constructed out of CNC milled stainless steel, giving the SR1911 an excellent fit. And it has an eye-catching matte finish, which is accented further by the gun's black barrel, beavertail and grip panels. Ruger has also given the new 1911 a customized look with the gun's skeletonized hammer and aluminum trigger.
In the scheme of recently released 10mm pistols meant for hunting, Ruger's SR1911 version comes in at a very economical MSRP of $1,019. However, compared to what's been hitting the market as of late, this is a much more Spartan offering. But for many hunters ready to holster up to head afield, it should have everything they need.
Specifications:
Ruger SR1911 in 10mm
Caliber: 10mm
Capacity: 8+1
Slide Material: Stainless Steel
Barrel: 5 in.
Grip Frame: Low-Glare Stainless Steel
Grip Panels: Black Rubberized
Model Type: Target
Slide Finish: Low-Glare Stainless
Width: 1.34 in.
Sights: Bomar-style Adjustable
Weight: 40.4 oz.
Overall Length: 8.67 in.
Height: 5.45 in.
Grooves: 6
Twist: 1:16″ RH
MSRP: $1,019.00
NEXT STEP: Download Your Free Storm Tactical Printable Target Pack
62 Printable MOA Targets with DOT Drills - Rifle Range in YARDS
This impressive target pack from our friends at Storm Tactical contains
62 printable targets
for rifle and handgun range use. Target grids and bullseye sizes are in MOA. Ideal for long-range shooting!
Get Free Targets
---