The lever-action rifle remains among the most enduring firearms designs, for obvious reasons. The iconic repeating gun combines rapid fire and reliability in one slick package.
Of the companies turning out this historic style of firearm, Henry Rifles offers some of the most desirable specimens. And the New Jersey/Wisconsin-based manufacturer continues to churn them out, recently announcing three new additions to its catalog. Henry has expanded its selection with the Big Boy Silver, Big Boy Steel .41 Magnum and All Weather Lever Action.
The new Big Boy Silver is an extension of the company's striking Silver Series, named so due to the line's lustrous silver receivers and barrel bands. But the big-bore addition — chambered in .44 Magnum/.44 Special, .45 Colt and .357 Magnum/.38 Special ($990 MSRP on all three) — is a bit different than other rifles in the series. Instead of plating over the base frame material, Henry opted for a solid aluminum-bronze alloy, resulting in a through-and-through silver tone.
Expanding the Big Boy Steel line with a .41 Magnum is intriguing, giving hunters another solid option. The .41 Mag. has been somewhat obscured by the .357 Magnum on one side and the .44 Magnum on the other. But it has its place, with a lighter recoil and flatter trajectory at long range than the .44.
Henry's .41 Mag. Big Boy ($850 MSRP) comes in an attractive and practical package. The rifle has a 20-inch barrel and tips the scales at 7 pounds, which should make it easy to lug into the backcountry. It has been outfitted with a finely checkered walnut stock and blued frame and barrel. It has also been drilled and tapped to mount a scope, but it comes with adjustable Western-style sights.
Henry's new All-Weather Lever Action has been designed for shooters searching for a rugged rifle for, as the company puts it, "everyday life in the truck, on the farm, and through the woods."
To achieve these ends, the gun maker has chrome plated all the metal surfaces (except springs and sights), helping make the rifle corrosion resistant. And it has finished the gun's hardwood stock with an industrial-grade coating, making it impervious to the elements and hard use. The All-Weather is presently available in two chamberings, both dear to lever-action fans' hearts — .30-30 ($850 MSRP) and .45-70 ($950 MSRP).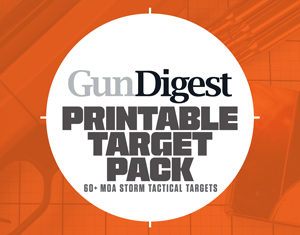 Next Step: Get your FREE Printable Target Pack
Enhance your shooting precision with our 62 MOA Targets, perfect for rifles and handguns. Crafted in collaboration with Storm Tactical for accuracy and versatility.
Subscribe to the Gun Digest email newsletter and get your downloadable target pack sent straight to your inbox. Stay updated with the latest firearms info in the industry.