In modern combat zones where soldiers take fire from snipers, it is well-known that carrying a recognizable marksman rifle turns you into a very tempting target. That's one thing that the Iron Ridge Engineering IRA-10 Heavy-Duty Precision Rifle has going for it: It looks like an AR-10, but is really a long-range marksmanship rifle, so it doesn't scream "sniper" as obviously as a bolt-action rifle.
But that's not the only exciting thing about this semi-automatic weapon. AT SHOT Show 2010, I talked with Greg Hult, Director of Law Enforcement Sales for Iron Ridge about the weapon system. Hult said the rifle had been put to the test by Frank Galli of Sniper's Hide. Below you can see video of Galli using the platform to test a U.S. Optics scope. With its Mag-Pul PRS stock, and lightweight 4.5-lb. proprietary IRA series G2 trigger, the IRA-10 provides the sharpshooter with bolt-action accuracy and AR-10 repeatability – the best of both worlds.
Hult had me try a trigger on a cut-away stock to assess the feel. It is just about as good as they get – glass smooth, and not too light as to be unmanageable. The trigger feels lighter than it really is due to its smoothness.
Here are a few more specs on the rifle:
– 7075-T6 Single Billet Aluminum
– Type 3 Hard Anodized Coating
– IRA Series G2 Trigger 4.5 Lbs
– Quad Picitinny Rail
– Mag-Pul PRS Stock
– Mag-Pul MIAD Grip
– 4 Mag-Pul .308 LAR Mags
– Full Size Hard Case
For More Info: Iron Ridge Engineering, LLC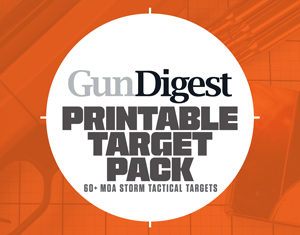 Next Step: Get your FREE Printable Target Pack
Enhance your shooting precision with our 62 MOA Targets, perfect for rifles and handguns. Crafted in collaboration with Storm Tactical for accuracy and versatility.
Subscribe to the Gun Digest email newsletter and get your downloadable target pack sent straight to your inbox. Stay updated with the latest firearms info in the industry.