The Benelli Lupo marks the gunmaker's first foray into bolt-action rifles and offers shooters much more than an accurate shooter.
What Goes Into Benelli's First Bolt-Action:
Rifle can be tailorable to indivdiual shooters for LOP, cast and drop.
Fitted with a 22-inch cryogenically treated barrel.
Bolt features three lugs for tight and strong lockup.
Chassis-style reciever made of aluminum creates an overall rigid platform.
User-adjustable trigger with a break range from 4.4 to 2.2 pounds.
A custom-fit is better.
Serious shooters have been custom fitting their shotguns for centuries, but unless one is willing to pony up large amounts of cash for a custom gun, riflemen standing from 5 feet, 6 inches to 6 feet, 5 inches tall are all likely to be shooting the same standard-sized rifle. However, Benelli's new bolt-action rifle provides another, more affordable customized option: the Lupo.
At first glance, the Benelli Lupo looks different than most synthetic bolt-actions, with sleek lines that reflect its Italian heritage. Closer inspection reveals a nuanced, ergonomic firearm that provides superior functionality right out of the box, including a guaranteed sub-MOA three-shot group and up to 36 major fitting variations that, for most people, will effectively provide a custom-fitted rifle.
Available as of August 2019, the Lupo is chambered in 30.06, with both .270 Win. and .300 Win. Mag. calibers hitting store shelves the following month or so. In addition, 6.5 Creedmoor, .308 Win. and .243 Win. are slated for retail stores sometime in 2021.
The 22-inch, cryogenically treated barrel is part of a heat-treated, solid steel barrel extension assembly that connects at three points to a rigid aluminum lower receiver via a recoil lug and two screws. This rigidity is the heart of the Lupo's sub-MOA out-of-the-box accuracy, which I verified on test shoots in both Italy and Nebraska. Another design enhancement in the barrel assembly includes a 5/8-inch threaded and capped muzzle to add noise suppression or muzzle brake.
---
Get More Rifle Reviews:
---
Sleek, Attractive … and Strong
The Lupo's action has a sleek, fluted profile. The bolt shroud can be disassembled by hand without tools; a quick push and turn, and it's done. Another nice feature is that the action's spring is physically attached to the firing pin assembly, so there are no flying springs and frantic flashlight searches when disassembling the bolt.
More than just a sleek and attractive profile, the Lupo's action is strong. The bolt locks with three-bolt head lugs that easily maintained integrity when pressure tested. Enhancing the fluidity of the action is an improved bullet feed system with a ramp that works precisely with the synthetic double-stack magazine for silky chambering of each round, with ample headspace and no bullet tip damage.
And, speaking of magazines: A feature I absolutely love about the Lupo is the ability to refill the five-shot double-stack mag from the top without having to stop and remove it. While this might not be of significance to bench and long-range shooters, the ability to smoothly top off in the field is a tremendous benefit with a quick follow-up shot afield.
Inside the Lupo: Trigger
The innovative guts of the Lupo comprise the foundation upon which an incredible degree of accuracy is achieved. Nevertheless, external components contribute as well. The first that caught my eye was the trigger assembly.
The Lupo's trigger-and-guard assembly sits at a decidedly upward angle to the slim grip, putting the sweet spot of the trigger in direct line with the meat of the trigger finger. The resulting hand positioning creates natural finger placement and a perfectly horizontal pull for most.
The hand/trigger relationship can be further enhanced and customized with the use of Benelli spacers to adjust both drop and trigger reach. The trigger finger spacers extend the hand horizontally, moving the grip farther behind the trigger assembly to accommodate larger hands and longer fingers. Not surprisingly, an ambidextrous safety falls ergonomically under the thumb for an easy pivot between "safe" and "fire."
The trigger assembly is the most prominent aspect of the Lupo chassis system. It can be conveniently adjusted without disassembly, offering a range of 4.4 to 2.2 pounds of pressure.
Optics
While the Lupo comes without sights, there's a variety of optics mounting options available. The rigid optics rail system attaches directly to the barrel extension and comes with six drilled and tapped holes to accommodate a variety of sighting solutions. The system accommodates Benelli's own two screw proprietary bases, Picatinny rails, as well as other manufacturers' two-hole bases compatible with the Remington 700. A note of caution here: Remington 700-style one-piece bases will not fit the Lupo. It requires two of the same rear two-hole bases.
Innovations
Many of Benelli's innovations in the shotgun category extend to the Lupo; one example is contact points. Benelli's AirTouch technology is a dimple pattern that's molded into the fully rounded grip and forend, providing an excellent tactile surface in both wet and dry conditions.
In addition to the mechanics of the inertia drive system, Benelli has learned a thing or two about comfortable shooting. Benelli's third-generation Progressive Comfort system is optimized for rifle shooters, incorporating a new system of interlocking polymer "fingers" inside the rear of the stock. These flexible buffers have varying degrees of elasticity, absorbing recoil at different intensity levels, depending on the energy of the load.
Borrowing the technology from Benelli's Super Black Eagle III, the Lupo's Combtech cheek pad distributes recoil pressure more broadly across the shooter's face; this means reduced felt recoil. Lupo's Combtech interchangeable cheek pads include a standard pad, with optional raised and high levels available. Additional customization comes with the three lengths of recoil pads and length of pull spacers, which offer six different length of pull distances—from the standard 13.8-inch LOP to a 15.2-inch LOP. In addition, Benelli delves deeply into the fitted shot gunner's domain, offering, in addition to the standard straight stock, proprietary cast shims for cast-on or cast-off of +/-4.5mm.
Without going into a primer on gun fitting, "cast" is the relationship of the side-to-side angle of the stock to the barrel. Most right-handed shooters are cast-off, while most lefties are cast-on. When doing dry-fire exercises, if the sight doesn't line up on the horizontal plane between the eye and the target, the rifle's cast might need adjustment, which is easily achieved with the included cast shims. This is a rare feature.
There are drop and cast shims; the option of three comb heights; six length of pull variations. These features conspire mathematically to provide 12 standard configurations and 36 total variations with optional cheek pieces to create a custom fit for the majority rifle shooters.
Accuracy
To say that the Lupo is accurate is akin to saying Beyoncé can sing. In fact, Benelli guarantees a sub-MOA three-shot group with quality ammo. With a Hornady 180-grain GMX Outfitter load, I shot a 100-yard group that measured 0.85 inch and was proud of it … until another shooter at the line gave me a lesson in accuracy when he painted an incredible 0.3-inch group the first time he touched the rifle.
Even so, the best shooter in the world can only be as accurate as the rifle allows. Sub-MOA out-of-the-box accuracy: confirmed.
Expectations Exceeded
Naturally, all this precision and customizability come at a price. The MSRP for the Lupo is $1,699, with an expected street price of about $1,500.
Clearly, the Lupo meets or exceeds expectations, but does a saturated market need yet another rifle, especially one with such a high price point in relation to many other models? For me, the answer is, Yes!
The Lupo creates its own niche by bridging the gap between one-size-fits-all consumer rifles and customized products marketed exclusively to more-affluent buyers.
While the modular chassis, ergonomic design and near-custom fitting options are compelling, I believe what puts the Lupo over the top is its incredible accuracy. With guaranteed sub-MOA accuracy, the ability to achieve an almost custom fit for a price one-third or less than that of a custom rifle—and manufactured with Benelli quality—I'm confident the Lupo will quickly find its audience … which, I suppose, includes me.
Benelli Lupo Specs
Barrel Length: 22 in.
Barrel Type: Crio-treated blue steel
Rate of Twist: 1:11
Overall Length: 42.5 in.
Weight: 7 lb.
Upper Receiver: Heat-treated steel
Lower Receiver: Aluminum
Magazine: 5-shot, double-stack, detachable synthetic mag box
Scope Mount Type: Benelli proprietary; Picatinny rail; Remington Grand Slam (6 holes)
Stock Material: Synthetic Progressive Comfort
Trigger Load: 2.2–4.4 pounds
Sling Attachment: Integrated attachment points
Bipod Attachment: Tapped hole in forend
Buttplate/Pad: Interchangeable ComforTech pad
Length of Pull: 13.8 in. (standard) to 15.2 in.
Safety: Ambidextrous
Embellishments/Extras: Progressive Comfort recoil system: shims for cast and drop; trigger reach spacers; interchangeable cheek pad; tapped hole for bipod
MSRP: $1,699
For more information on the Benelli Lupo, please visit benelliusa.com.
The article originally appeared in the February 2020 issue of Gun Digest the Magazine.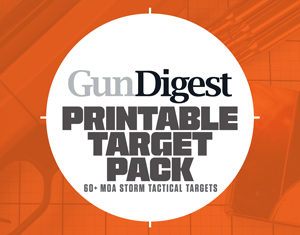 Next Step: Get your FREE Printable Target Pack
Enhance your shooting precision with our 62 MOA Targets, perfect for rifles and handguns. Crafted in collaboration with Storm Tactical for accuracy and versatility.
Subscribe to the Gun Digest email newsletter and get your downloadable target pack sent straight to your inbox. Stay updated with the latest firearms info in the industry.