Zastava USA announced that a batch of their new 5.56 PAP M90 AKs have arrived in the U.S. and will be shipping out to retailers soon.
What's A PAP M90?
Semi-Auto AK Derived From Yugoslavian M70
Made In Serbia By Zastava
Chambered For 5.56x45mm NATO
Ships With Polymer Furniture
Adjustable Gas System
Zastava had promised U.S. customers that they would have M90 rifles in-country before the summer of 2021, and they managed to make that deadline by a single day. The shipment arrived at JFK airport on June nineteenth and is shipping out to distributors today. Zastava says you can expect to have an M90 in your hands by next week.
American AK enthusiasts have been awaiting this news for a while, as 5.56 AK imports have been severely limited recently. The most widely available 5.56 AKs for some time now have also been from Zastava in the form of their ZPAP85 pistols, so it will be nice to finally have a rifle option on the market as well.
Zastava M90 AKs chambered in 5.56 have been imported before, but this model is an updated iteration. It shares some features with Zastava's newest generation of ZPAPs, such as the chrome-lined barrel and bulged trunnion, but it also has some upgrades that are unique to this new model of M90.
Some unique external features are its slightly longer than standard 18.25-inch barrel and polymer furniture. The pistol grip and folding Zhukov stock are made by Magpul, and the rubber handguard is made by Hogue. The handguard can also have optional rail segments installed for mounting accessories. The furniture is still the proprietary Yugo style, so aftermarket options are more limited than for AKM-pattern guns. The polymer furniture it ships with has received praise so far for being very ergonomic and functional, but standard M70 wood furniture can be installed for those who prefer the classic look.
The M90's barrel has been threaded for the standard AK 14×1 LH pitch and ships with a typical AKM-style slant brake. It has a Yugoslavian-pattern side scope rail like the ZPAP for mounting optics.
The M90 also has an adjustable, 3-position gas system for running a variety of ammo in any condition. With the proper gas setting, the M90 can reliably run any kind of ammo that gets fed to it. Brass or steel cased, .223 or 5.56, loaded light or loaded hot, the M90 should be able to cycle them all without issue.
Internally, the Zastava M90 also has a distinctive ported and hollow piston head. This is to increase the rifle's accuracy according to Zastava.
With the price set at over $1,000, the Zastava PAP M90 is a more expensive AK option than either Zastava's 5.56 pistol or their 7.62 rifle, but it comes with some unique features and upgrades that will be appealing to many shooters. Keep an eye out for these hitting store shelves and online shops sometime next week.
For more information on Zastava, please visit zastavaarmsusa.com.
---
More Serbian Zastava AKs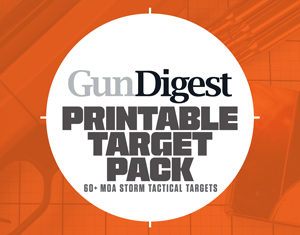 Next Step: Get your FREE Printable Target Pack
Enhance your shooting precision with our 62 MOA Targets, perfect for rifles and handguns. Crafted in collaboration with Storm Tactical for accuracy and versatility.
Subscribe to the Gun Digest email newsletter and get your downloadable target pack sent straight to your inbox. Stay updated with the latest firearms info in the industry.