The unique 57-year-old bolt-action Remington XP-100 Long Range Pistol forever changed the pistol-shooting world for the better.
Why Was The XP-100 Such A Substantial Hunting Pistol:
The pistol was the brainchild of Remington's Wayne Leek and was the first handgun designed for long-range shooting.
Leek's based the XP-100 on Remington's tack-driving Model 40X short-action.
The original XP-100 design featured a 10¾-inch, vent-ribbed barrel, rear-positioned dogleg bolt and Du Pont Zetel 101 nylon stock.
The pistol was officially launched in 1963 with 5,564-gun run.

It intensified interest in handgun hunting and inspired subsequent pistol designs such as the break-action Thompson Contender (1967) and Savage Striker (1999).
As a teen enjoying the fur market spike of the late 1970s and early '80s, pockets bursting with trapping cash, I coveted a Remington XP-100 chambered in the enticingly labeled .221 Remington Fireball (RFB). But alas, my stepfather, a three-tour Vietnam veteran with conspicuous PTSD, forbade me to own any handgun, no matter how rifle-like. He only grudgingly allowed long-arms in his house—and only after I'd been trained to shoot military style (assuring all potential fun was removed) and had passed a New Mexico hunter's safety program.
I left home at 17, the XP-100 still in my thoughts, but I was too busy making a living and attending university to run one down. By the time I graduated from college and climbed out of abject poverty, original XPs chambered in .221 RFB had been discontinued.
They would soon achieve collector status. A gun I could have bought in the 1980s for perhaps $200 (they retailed for $99 upon release in 1963) today fetches $1,200 (on average) if it's in good working order.
Yet, the XP-100/.221 RFB yearning persisted. That desire began to fester as a result of my newfound obsession with small-varmint shooting in the last decade; this obsession included a growing collection of custom rifles, high-magnification optics, the entire handloading program and even authoring a varmint-shooting book, The Predator & Varmint Hunter's Guidebook. The Fireball cartridge still fascinated me. I eventually purchased a .221 RFB barrel for my T/C Contender, which was quite accurate in its own right, to temporarily satisfy my Fireball "itch."
Nevertheless, the realities of marriage, a mortgage and miscellaneous living expenses continued to postpone my XP dreams. I'd actually reached a point at which I believed I owned all the firearms needed (heresy—I know). But an XP-100 in .221 RFB remained on my must-have list.
A bargain finally appeared in the form of an XP-100 transformed into a Fireball rifle, its original pistol parts kept safely in storage. Securing a working XP-100 then involved finding a gunsmith to turn back the clock (I now own a 26-inch stainless bull barrel and am contemplating another rifle) and the long wait inherent to gunsmithing.
I took possession of that pistol on a Friday and mounted a scope (Burris' incomparable 2-7x32mm Handgun), sighted it on Saturday using proven Contender loads (printing sub-1-inch groups) and collected a called-in, 100-yard coyote with it on Sunday. This serendipitous beginning convinced me that all those years of yearning had been warranted.
Remington's XP-100 Handgun
Remington's 3.75-pound XP-100 (eXperimental Pistol #100) holds many unique distinctions, including ushering in the age of chambering pistols for powerful, bottle-necked cartridges, introducing unprecedented long-range handgun precision, spawning the highly efficient .221 Remington Fireball cartridge.
The brainchild of Remington's Wayne Leek, the single-shot, bolt-action XP-100 was the first handgun designed for long-range shooting, which, in 21st century context, means 200 yards or slightly more in experienced/practiced hands—considerably more reach than provided by revolvers that dominated before its arrival.
Leek based the XP-100 on Remington's tack-driving Model 40X short-action, which would eventually influence Remington's Model 600 rifle. The original XP-100 design featured a 10¾-inch, vent-ribbed barrel, rear-positioned dogleg bolt and Du Pont Zetel 101 nylon stock (mirroring Remington's Nylon 66 .22 LR autoloader … including inlaid white diamonds and white spacers). It also offered a revolutionary, ergonomic, center-mounted grip to provide excellent balance and stability while shooting offhand during the silhouette matches that inspired its design. Its overall geometry seems more sawed-off rifle than handgun.
A few prototypes (approximately 13) left Remington in 1962, with the official 1963 launch introducing 5,564 firearms. Although many hard-core traditionalists labeled the XP-100 "the ugliest firearm ever conceived," the handgun helped fuel an intensifying interest in handgun hunting and inspired subsequent pistol designs such as the break-action Thompson Contender (1967) and Savage Striker (1999).
---
Raise Your Remington IQ:
---
Introduced in the classic XP-100 Long Range Pistol, the line eventually expanded to include the XP-100 Silhouette Target Pistol in 1980 (it had a 14.5-inch barrel, including 7mm BR chambering); the XP-100 Varmint Special in 1986 (14.5 inches; no iron sights; .223 Remington chambering); the XP-100 Custom Long Range Pistol in 1986 (carved walnut stock; introduction of 7mm-08 and .35 Remington options); the XP-100 Custom Long Range Pistol Heavy Barrel in 1988 (15.5-inch heavy barrel; .22-250 Remington, .250 Savage, 6mm BR and .308 Winchester options added); the XP-100R Custom KS Repeater in 1991 (rear-grip Kevlar stock; blind box magazine); the XP-100 Hunter in 1993 (ambidextrous laminated stock); and the XP-100 Silhouette Pistol, also in 1993 (10.5-inch barrel; walnut stock).
These were some of the releases, and many were only available through Remington's Custom Shop. The rear-grip blind magazine Remington XP-40 (apparently, there are legal issues with the original XP-100 label) survives today as a Custom Shop offering.
Remington's .221 Fireball
The .222 Remington, the company's "darling" cartridge going into the 1960s, was initially chosen to fuel the XP-100. Yet, the handgun's 10¾-inch (1:14-inch RH twist) barrel created excessive muzzle blast and flash. To remedy this, Remington trimmed the .222 Remington case to 1.40 inches and loaded a 50-grain bullet to 2,600 fps. The created .221 still produced substantial muzzle flash, and the "Fireball" moniker was added as an open joke. Recoil proved mild, despite the wicked muzzle blast and flash.
The cartridge all but faded away in recent decades, although it seems to be making a limping resurgence as dedicated varmint shooters rediscover its extreme efficiency and undeniable effectiveness. That efficiency translates into a cartridge producing 90 percent of the wildly popular .223 Remington's velocity—while burning only 60 percent of the powder and producing conspicuously less rifle noise and recoil. The Fireball's efficiency is further illustrated by the fact that it produces 170 to 212 fps per grain of powder to the .222's 163 to 169 fps per grain of powder (averaged maximum loads, 40-grain bullets, 24-inch barrels).
My XP-100
Remington (serial number B7510184) marks my Remington XP-100 with a 1978 manufacture date—ironically enough, about the time my XP aspirations began to blossom. This also means the bolt can be worked while the safety is engaged, unlike models manufactured before 1975 (there was a recall to remedy this safety issue in 1979).
The .221 Remington Fireball soon developed a reputation for lacking enough punch to reliably tip over 200-meter rams in the silhouette game and obviously lacks the horsepower to serve as a big-game cartridge. This relegates it to varmint-shooting choirs. This is what attracted me to the XP-100 and .221 Fireball chambering initially, because I was looking for a compact, highly accurate firearm to deal with ground squirrels, prairie dogs and the occasional coyote, bobcat or fox. In this arena, the XP-100 and .221 Fireball combination excels.
My 10¾-inch XP-100 barrel gives up about 500 to 600 fps to my 24-inch-barreled Fireball rifle. In the real world of burrowing rodents or furbearers, what this indicates is uncertain terminal performance when shooting sturdier bullets—meaning dismantling impacts or anchoring energy transfer, respectively.
For this reason, I choose highly frangible pills with either polymer tips or aggressive hollow-points or those with Hornet labels. This also means I lean toward 40-grain bullets for small varmints, assuring anchoring hits instead of critters reaching their "expiration date" underground.
I love my classic Remington XP-100. I learned to love the .221 Remington Fireball cartridge long ago. Together, they create a varmint-/predator-shooting juggernaut. The pistol is ergonomically perfect and includes a smooth, crisp trigger to accentuate the XP-100's inherent precision. The Fireball cartridge has what it takes to dismantle 100- to 200-yard burrowing rodents and to drop larger, call-responding predators where they stand. Some have called the XP-100 "ugly." I, however, call it a "beauty" in every way that counts.
For more information on the Remington XP-100, please visit remington.com.
Editor's Note: This article originally appeared in the September 2020 issue of Gun Digest the Magazine.
Editor's Note: This article originally appeared in the March 2020 issue of Gun Digest the Magazine.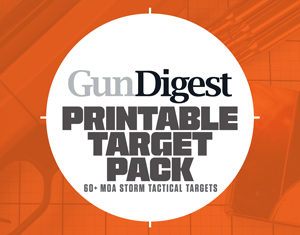 Next Step: Get your FREE Printable Target Pack
Enhance your shooting precision with our 62 MOA Targets, perfect for rifles and handguns. Crafted in collaboration with Storm Tactical for accuracy and versatility.
Subscribe to the Gun Digest email newsletter and get your downloadable target pack sent straight to your inbox. Stay updated with the latest firearms info in the industry.