Boasting a polymer-coated, segmented bullet, CCI Maxi-Mag .22 WMR provides a clean and hard-hitting option for the rimfire.
What Are The Advantages Of Maxi-Mag:
Unique polymer coating reduces lead and copper fouling.
Segmenting bullet offers devastating terminal performance.
Loaded hot, the round remains super sonic past 100 yards.
Fun as they might be, rimfires are typically dirty guns. Fouling—lead and carbon—accumulate nearly as quickly as you pull the trigger. Not only does this result in diminished performance, but left un-addressed builds up into more serious problems—such as failure to cycle or chamber rounds.
CCI mitigated this issue somewhat in recent years with its Clean-22 coating technology, a polymer coating that greatly reduces copper and lead fouling in the bore. Now the ammo-maker has kicked it up a notch, offering this advantage for one of the heaviest-hitting rimfire calibers on a bullet meant to dole out serious damage. CCI Maxi-Mag Clean-22 Hollow Point .22 WMR is the first ammo of its kind, offering clean-coating technology on the company's advanced segmented hollow-point bullet. Should prove quite a combination.
"New Maxi-Mag Clean-22 SHP is the industry's only segmenting hollow-point bullet in 22 WMR." said CCI Product Line Manager Dan Compton. "Personally, I like its Olive Drab Green color on the bullet which gives it a hunting look, and I can't wait to hear stories and see photos from our happy customers who use this new magnum rimfire round on prairie dog towns, in the squirrel woods and for their fur trapping efforts."
Much as its name suggests, the segmented hollow-point bullet in the CCI Maxi-Mag ammo is designed to fragment upon impact. To be exact, the projectile breaks into three equal parts, creating three separate wound channels, increasing the likelihood of hitting a critter's vitals. This being rimfire, we're talking small varmints, by and large. To this end, the CCI Maxi-Mag provides another great advantage, generally leaving only a small entry wound and no exit. Those who pursue small furbearers are certain to see the positive in this.
Adding to the usefulness of the ammunition, the 46-grain bullet is designed to separate even at lower velocities and longer distances. Not always the case with copper-jacked options. And the CCI Maxi-Mags have the stuff to reach out, leaving the muzzle around 1,875 fps and remains super-sonic well past the 100-yard mark. As to the price, presently the ammo is selling for $18.99 per box of 50 at the company's website.
For more information on CCI Maxi-Mag Clean-22, please visit cci-ammunition.com.
---
More Rimfire Info: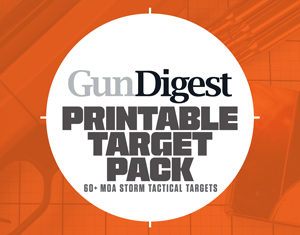 Next Step: Get your FREE Printable Target Pack
Enhance your shooting precision with our 62 MOA Targets, perfect for rifles and handguns. Crafted in collaboration with Storm Tactical for accuracy and versatility.
Subscribe to the Gun Digest email newsletter and get your downloadable target pack sent straight to your inbox. Stay updated with the latest firearms info in the industry.