Apex Tactical Specialties allows you to go long with the FN 509 with its new LongSlide upgrade.
How The LongSlide Enhance The 509:
Outfits the pistol with a 5-inch barrel.
Premium internal parts, including barrel, extractor and striker.
Optics ready and compatible with all RMR-pattern sights.
Busy as ever, at this point FN USA has turned out a 509 for every occasion. Well, almost. Have a hankering for some sweet, sweet long-slide action from the polymer-frame striker-fired you're plum out of luck. Despite the pistol's admirable trigger and on-the-mark accuracy, FN hasn't seen fit to turn out a supersized configuration, though they have for other models … ahem, the FNS.
No need to aimlessly twiddle your thumbs waiting for FN to go long, however, since Apex Tactical Specialties have done it for them. The Arizona aftermarket parts specialist unveiled its much anticipated 509 LongSlide this week and the upgrade certainly appears to have been worth the wait. Though interested parties will have their wallets considerably lightened extending their FN pistol, the base price for the Apex Tactical Specialties component is $600. But there's plenty of bang for the buck in the LongSlide.
First things first, what you essentially get with the Apex component is a fully-assembled 5-inch slide (with barrel) compatible with all variations of the 9mm pistol. From there, the LongSlide boasts several impressive design points that should optimize the elongated element once on the frame. Most notable, at least at first blush, are the slide cuts, meant to reduce the mass of the slide to mimic the factory iteration. But there are some nuances as well, including a topside cut that makes the LongSlide compatible with all RMR pattern optics and very positive chevron-shaped cocking serration fore and aft.
Apex Tactical Specialties extends its engineering prowess to the internals, using top-shelf, in-house parts. These include the company's Heavy Duty Striker, the Apex Failure Resistant Extractor and premium hammer-forged 9mm barrel with a 1:10" twist rate. A nice touch, customers can select between a standard length 5.00" barrel or a 1/2-28 threaded barrel with thread protector and captive O-ring. Also up to the shooter are sights, with a choice between standard height XS 3-Dot night sights or suppressor height sights (black/black). Finally, you can choose between either a black Melonite or stainless steel finish.
At the time of writing, Apex Tactical Specialties was taking pre-orders on the 509 LongSlide and expect to deliver within three or four weeks.
For more information on the Apex Tactical Specialties LongSlide, please visit apextactical.com.
---
Bone Up On FN Guns: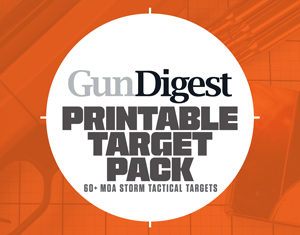 Next Step: Get your FREE Printable Target Pack
Enhance your shooting precision with our 62 MOA Targets, perfect for rifles and handguns. Crafted in collaboration with Storm Tactical for accuracy and versatility.
Subscribe to the Gun Digest email newsletter and get your downloadable target pack sent straight to your inbox. Stay updated with the latest firearms info in the industry.