Few feelings parallel that of pulling the trigger of a family treasure, such as Grandpa's Remington Model 11.
What You Need To Know About The Remington Model 11:
The shotgun is a lisensed version of John Browning's Auto 5.
Remington produced the John Browning design from 1905 to 1926.
Long-recoil action, the barrel and bolt both move back upon recoil.
Adjustable friction rings allows the shotgun to shoot light and heavy loads.
Available in 12-, 16- and 20-gauge models.
Ellsworth E. Arterburn, my great-grandfather, was an early promoter of Chase County, in the southwest corner of Nebraska. Old plat maps show parcels of land he bought and sold as the county was settled in the late 1800s and early 1900s. His advertising in eastern states like Illinois, touting the agricultural riches of the county, were apparently effective because my Uncle Keith's research turns up numerous parcels changing hands as the county was settled.
One parcel in the western reaches of the county included a 35-acre lake, bordered by an earthen dam holding back the Frenchman River to create a reservoir that provided irrigation through a snaking canal. The lake also provided recreation year-around: fishing and swimming in warm months, hunting in the later months, ice skating in winter. Ice was also cut from the lake and stored in an underground icehouse for use throughout warmer months.
My grandfather, Roley W. Arterburn, told his father that he wanted to live on that parcel, known as Lakeview Ranch, and become a farmer and rancher. According to Uncle Keith, Ellsworth told his son he didn't know anything about being a farmer or rancher, to which my grandfather replied, "I can learn."
And so he did. He and Grandma Ruby raised their family — my aunts, Barbara and Virginia; my father, Roley Ellsworth; and Uncles Keith and Kermit — in a two-story clapboard house a couple hundred yards from the lake. That's the same house in which I grew up.
In addition to being a farmer and rancher, Grandpa was a pheasant hunter, hunting to add to the dinner table and regularly hosting officers from the McCook Army Air Base, one of 11 Army Air Corps training bases in Nebraska during World War II.
A New Family Member
At some point, Grandpa acquired a Remington Model 11, wearing John M. Browning's famous Auto 5 humpback design, which was also the first successful semi-auto shotgun and the first made in the United States. Nowhere on his 12-gauge is it stamped "Model 11" — but it's all Model 11 and, according to Remington records, it was manufactured in 1915.
Neither Uncle Keith nor Uncle Kermit remembers when their father acquired the shotgun, but both remember him hunting with it, and hunting with it themselves. "I shot it a lot," Keith said. "I learned on a .410, but the first 12-gauge I shot was my Dad's."
Kermit remembers shooting the Remington Model 11 and, one time, "It went fully automatic and just emptied five shells all at once: bang, bang, bang, bang, bang," he said. A pin, since repaired, had sheared off, causing the "eye-opening" incident, he said.
---
On The Mark With More Shotgun Info:
---
Keith used the Remington Model 11 on a rabbit and coyote roundup, where neighbors encircled a large expanse of open pasture and walked slowly toward the middle, shooting coyotes and jackrabbits as the circle tightened. The roundups had two purposes: knock down the population of coyotes, which preyed on calves, and provide coyote and rabbit furs to be sold.
Kermit also remembers his father encouraging him to take the Remington Model 11 and sneak on Canada geese sitting on the edge of lake ice. Though ducks were common, he reported that seeing geese was unusual in those days, so he slipped up on them and shot, bagging three. They then spent most of the day rounding up a boat and working through the ice to retrieve them.
Neither Keith nor Kermit recall how a chunk of the stock was broken off. A piece is missing on the top right side of the grip, but it must not have made any difference to Grandpa because the broken edges and ridges are worn smooth with use.
Coming Of Age For The Auto 5
To say Browning's Auto 5 design (so-called because it held five shotshells: four in the magazine and one in the chamber) was innovative doesn't begin to explain how far ahead of its time it actually was. It would be decades before competitors were to come up with a successful competitive design. The Auto 5 was revolutionary in the truest sense of the word, and it was quickly adopted by hunters, clay shooters, law enforcement and the military. In fact, A5s served from World War II through Vietnam. Before commercial game hunting ended in 1916 with the Migratory Bird Treaty, the five-shot semi-autos were favorites of market hunters who made use of its rapid-repeating firepower.
Outlaws also liked the firepower of the A5. Clyde Barrow reportedly favored one with a sawed-off stock and barrel. Bonnie and Clyde posed for a now-famous gag photo of Bonnie holding a sawed-off A5 on Clyde as she reaches for a revolver in his waistband.
According to Browning himself, the semi-automatic shotgun was the most challenging design he faced during his lengthy and innovative career. He succeeded with a long recoil design in which the barrel and bolt both move back upon recoil; the recoil spring around the magazine tube then drives the barrel forward as the bolt is held back, allowing the spent shell to eject and a new shell to be lifted up from the magazine and be driven into the chamber as the bolt returns, pushed by the action spring housed in the stock. Simple, right?
This started in 1898, remember, on the heels of Browning's successful Winchester Model 97 pump-action shotgun design. The trick with the semi-auto was how to regulate the force of recoil so it would work with light-recoil loads or heavy game loads. If built for heavy loads, light loads wouldn't have the power to cycle; if built for light loads, heavy loads would hammer with excessive recoil that would batter the gun.
Browning and his brothers reportedly went through several variations, testing each extensively, and finally arriving at a system of adjustable friction rings that slide over the magazine tube and regulate the compression of the recoil spring. If you planned to shoot light loads, you set the rings a certain way; for heavy loads, a simple adjustment to how the rings were arranged was needed.
And, by the way, it's not so much a humpback design as it is a more a squared-off action that accommodates the bolt being driven back by recoil — but the humpback moniker has stuck.
Browning took the A5 design to Winchester, which had patented (Winchester filed patents for Browning, who shied from doing the paperwork) and purchased many of his previous designs. But, Winchester balked at Browning's insistence for royalty payments, so Browning took it to Remington in 1902.
In a bizarre turn of events, Remington's president, Martellus Hartley, died of a heart attack moments before he was to meet with Browning. Browning then took his design to the FN factory in Belgium, where the shotguns were produced until 1975. In 1905, an agreement was in place for Remington to produce the shotguns in the United States, which they did from 1905 to 1947 — the Remington Model 11. After Browning's death at the age of 71 in 1926, the design was licensed to Savage, which produced them from 1930 to 1949.
Passing The Torch
Knowing my interest in firearms, Uncle Keith presented me with Grandpa's Remington Model 11 — with the caveat that it never leaves the Arterburn family. That will not be an issue, with my three sons and, so far, two grandkids — and another on the way.
I gave the shotgun a quick inspection: The action was smooth, probably from cycling thousands of rounds. The bluing was worn to a gray patina; the stock and forearm were nicked, dinged and well used. And, the barrel showed fouling that dated back to who knows how far.
The safety of Grandpa's shotgun is a sliding bar just ahead of the trigger, inside the trigger guard, which was the original design before the safety was shifted to a behind-the-trigger crossbolt system. Its barrel, with a solid rib leading to a brass bead sight, is fixed with a full choke and is so stamped just forward of the action.
Before I took it apart for cleaning, and to get a better handle on adjusting the recoil-regulating friction rings, I called gunsmith David Orten.
Breaking the Remington Model 11 down was simple: again, that's a mark of Browning's genius. Removing the threaded endcap allowed me to slide off the forearm and barrel, leaving the recoil spring and friction rings easily accessed. The trick, Orten said, was knowing which way to face the beveled end of the steel friction ring, which would provide adjustable braking action. Photocopies of the original manual, including diagrams on adjusting the friction rings, are available online. I'd read that a diagram was originally included inside the forearm, but that's not the case with Grandpa's shotgun.
I cleaned the barrel and all disassembled parts, but fearing the assemblage of screws and locking screws, I resisted taking the action apart, settling for a thorough hosing with Birchwood Casey Gun Scrubber. After lightly lubricating with Barricade, I reassembled according to Orten's instructions and set out to shoot a few clays.
My plan was to focus on the first five shots. The first I fired harmlessly into the ground to assure everything was in working order; then I launched four clays. Grandpa's Remington Model 11 came up and pointed easily and naturally, and we broke each clay in turn. No brag, just fact … as Walter Brennan would say. I'm not an ace shooter of clays, but something about the shotgun helped pick up my slack.
There will be more clays to come, but I'm really looking forward to next pheasant season. I'd like to think Grandpa will be there with me.
Editor's Note: This article originally appeared in the April 2019 issue of Gun Digest the Magazine.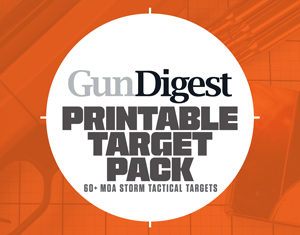 Next Step: Get your FREE Printable Target Pack
Enhance your shooting precision with our 62 MOA Targets, perfect for rifles and handguns. Crafted in collaboration with Storm Tactical for accuracy and versatility.
Subscribe to the Gun Digest email newsletter and get your downloadable target pack sent straight to your inbox. Stay updated with the latest firearms info in the industry.