Cutting out the usual price factor of a single-action rimfire, the Ruger Wrangler revolver is an everyday tool for outdoorsmen.
I've known a few cowboys in my time. These guys are not the pressed shirt and starched jeans over ostrich-skin boots types. No sir, I am referring to the man who wears a wrinkled chambray shirt, torn jeans that have patches on top of older patches with run-over boots and a sweat-stained hat. His hands have what seems to be a half-inch of rough calluses, and after you shake hands you wonder if he could file metal with them bare. He spends his days outdoors tending cows. His nights are an extension of his days. If he's lucky, he gets perhaps four or five hours under a leaky cabin roof to eat and sleep. Many nights are spent outside, regardless of the weather. And, if given an option, he'd certainly choose this life over steering a desk in a corner office at the corner of Wall and Broad streets.
His tools are as roughshod as he is. He rides a saddle with fenders so badly scratched from barbwire that it looks like hieroglyphics. The pistol he carries, at first look, probably dates back to the 19th century. Metal parts are gray, often with rust pits, and the stocks are smooth from wear, perhaps with a few chips. Cowboys like this, with rare exceptions, don't give a damn what a gun looks like. All they care is that it goes bang when they want it to and puts a hole in something. And, oh yeah, it doesn't cost them an arm and a leg to buy or shoot.
Ruger's Wrangler .22 LR, introduced in the spring of 2019, is made for these cowboys or anyone else interested in a rugged, dependable, entry-level sixgun. It provides the latest in single-action revolver technology without frills and dressing.
Bill Ruger kept alive what was thought to be a diminishing market for single-action revolvers when he introduced the Single-Six in 1953. Ruger was a brilliant engineer and designer, as well as being something of a renaissance man in terms of style. The Single-Six mimicked the lines of Colt's famous Single Action Army, but it was scaled to rimfire calibers. Ruger used coil springs instead of the flat springs of the Colt. Coil springs are far easier to make in quantity while maintaining quality and consistency. As most know now, Ruger pioneered the use of precision investment castings in the production of his guns. These qualities allowed Ruger to offer a well-made, accurate and rugged revolver at a competitive price point. The first Single-Sixes carried an MSRP of just $57 and change. Today, however, a new Single-Six carries an MSRP of $629. While it might be worth every penny, it's still a tough bite for a beginning pistolero or anyone on a tight budget.
The Wrangler steps up with an MSRP of $249, or about 40 percent the cost of a Single-Six. No, there's no spare cylinder in .22 WMR. To paraphrase Henry Ford, you can get any barrel length you want as long as it's 4-5/8 inches. The metal parts are not polished, they're Cerakoted, but you do get a choice of finish: black, silver or burnt bronze. Its cylinder is finished in a black oxide. The only steel in the Wrangler is the barrel, cylinder and lockwork components. Those lockwork components, by the way, are metal injected molded. The frame and grip frame are investment-cast aluminum. Sights are fixed: a blade up front and a groove in the topstrap for a rear. Grips are composite, but the grip frame dimensions follow the XR-3, therefore aftermarket shoes should fit.
Arguably the best feature on this revolver, or any newer Ruger single action, is what Ruger calls its loading gate interlock. With the hammer down, open the loading gate. This lowers the cylinder-locking bolt and allows the cylinder to spin freely in either direction (very handy for topping off a cylinder when all the rounds have not been expended). In this condition, the hammer is prevented from moving. Conversely, if the hammer is cocked, the loading gate cannot be opened. Along with Ruger's transfer bar that prevents the hammer from touching the inertia-driven firing pin unless the trigger is fully pulled, these are among the safest of all single-action revolvers. You can carry it safely with all six rounds in the cylinder, and the only way it can discharge is to bring the hammer to full cock and press (and hold) the trigger completely.
The only issue I had was an occasional tie up of the lockwork when cocking the hammer. This was quickly solved with a few drops of gun oil in the cutouts on the side of the hammer and the loading gate pivot. It also helps to put a couple of drops of oil on the cylinder base pin. We have come far in firearms design, but the damn things still need lubrication to function.
Something that gave me pause, but is probably not of any consequence in the grand scheme of things, is that the muzzle is not crowned. Muzzle crowns were done to protect the rifling at the muzzle and preserve accuracy. While the Wrangler certainly is no target pistol, it still has quite serviceable accuracy. As the table shows, I was able to wrangle 2-1/2 inches as an average at 25 yards. This kind of revolver is more likely to pot a rabbit at 10 to 15 yards or worry a tin can at the same distance.
Interestingly, the barrel-cylinder gap in my sample was a rather tight .0015-inch. I suspect that is to protect the aluminum frame from flame cutting, but if you are shooting some of the dirtier .22 LR ammo, plan on spraying that area after every 100 rounds or so, to wash away the gunk. I didn't have a problem with it, but someone who shoots this revolver a lot might find the gunk makes it a little tougher to cock and shoot.
No, Ruger's Wrangler is not a fine revolver with all the little tweaks to make it top of the line. It's a rough-and-tumble gun designed to punch holes in stuff reliably. In that regard, it's a winner.
Ruger Wrangler Specs:
Type: Single-action revolver
Caliber: .22 LR
Barrel Length: 4-5/8 inches
Capacity: Six rounds
Trigger: 5 pounds, 8 ounces
Rifling: 1:14 RH
Sights: Topstrap groove rear; fixed-blade front
Safety: Transfer bar and loading gate interlock
Grips: Black composite
Overall Length: 10.25 inches
Weight: 30 ounces
Metal Finish: Cerakote; black oxide on cylinder
MSRP: $249
For more information on the Ruger Wrangler, please visit ruger.com.
Editor's Note: This article is an excerpt from Gun Digest 2021, 75th Edition available now at GunDigestStore.com.
Get More Ruger Info: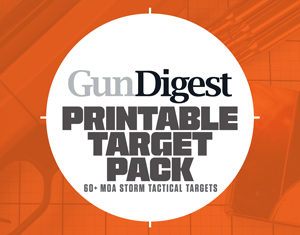 Next Step: Get your FREE Printable Target Pack
Enhance your shooting precision with our 62 MOA Targets, perfect for rifles and handguns. Crafted in collaboration with Storm Tactical for accuracy and versatility.
Subscribe to the Gun Digest email newsletter and get your downloadable target pack sent straight to your inbox. Stay updated with the latest firearms info in the industry.