A precision pistol-caliber long gun? Ruger shoots for it with the modern feeling PC Carbine Chassis.
What Separates The PC Carbine Chassis From the Rest Of The Line:
First in line to feature pistol grip and telescoping buttstock.
Outfitted with glass-filled polymer chassis.
Compatible with both Ruger SR-Series/Security-9 and Glock magazines.
Available in state-compliant configurations.
Ruger struck a vein of gold dusting off a legacy pistol-caliber carbine concept a few years back and continues to mine it for all it's worth. The numerous configurations of the plucky little PC Carbine are proof enough of the gunmaker's and gun buyers' enthusiasm for the 9mm. And its options only continue to grow.
Most recent to the lineup, three PC Carbine Chassis Models, an unusual move given pistol cartridges aren't known for their leg stretching. This factor aside, the new carbines boast features many pistol-caliber fans will find desirable.
Chief among these, the Chassis Models are the first PC Carbine options outfitted with pistol grips and adjustable, folding buttstocks (six-position, telescoping, Magpul MOE). For many, these are worth the price of entry. Though, if you are captivated by the thought of a surgical 9mm long-gun, the line extension brandishes many of the facets found on full-powered precision rifles.
Per the name, the most obvious is the chassis, but Ruger's put a bit of a twist on it opting for lightweight glass-filled polymer over aluminum. Also, the barrel is free-floated inside a CNC-milled and M-Lok compatible handguard.
Despite these tweaks, Ruger kept the features that made the PC Carbine popular in the first place on the new options. Three of the most notable, the takedown feature, action and mag well. The takedown feature has been one of the most popular aspects of the line, simple to boot. Just a lever push and a twist and the barrel assembly separate from the action. Similar to preceding models, the Chassis PC Carbines utilize Ruger's Dead Blow action, which features a tungsten weight to shorten bolt travel and reduce felt recoil. As to the mag well, they are compatible with both Ruger SR-Series/Security-9 magazines as well as Glock—with the assistance of an insert—making them plum easy to feed.
Concerning the three models of Chassis PC Carbines, their variations are omitted features to meet less enlightened states' oddball gun laws. Two models come with 10-round magazines, one of them without a threaded muzzle. The full-strength carbine has both a threaded muzzle and ships with one 17-round magazine. Cost, the PC Carbine Chassis models are a bit above the previous iterations with an MSRP of $799 across the board. A small price for those who want a more modern "carbine" feel out of the gun.
More From Ruger:
Sturm, Ruger & Company, Inc. (NYSE-RGR) is excited to introduce three configurations of its new Pistol Caliber Carbine (PC Carbine™) Chassis model. The standard model of this refreshed PC Carbine boasts an abundance of new features, including a glass-filled polymer chassis system; six-position, telescoping, Magpul® MOE® buttstock; flared magwell for improved magazine reloading capabilities; ergonomic pistol grip with extended trigger reach; and a factory-installed, barrel-mounted Picatinny rail. Additionally, two 10-round state compliant models are available. One with an adjustable stock and threaded barrel, and the other with a fixed stock and non-threaded barrel.

The new, glass-filled polymer chassis system allows for the use of standard AR pistol grips and collapsible buttstocks. The adjustable ghost ring rear sight of the original PC Carbine has been replaced with a factory-installed, barrel-mounted Picatinny rail, which allows for the forward mounting of optics. These new models utilize a CNC-machined, hard-coat anodized aluminum handguard with Magpul M-LOK® accessory attachment slots on all four sides for easy mounting of M-LOK-compatible accessories.

These models also maintain several hallmark features of the original PC Carbine, including: an easily interchangeable magazine well system that allows the rifle to accept common Ruger and newer Glock® magazines; dead blow action with a custom tungsten weight that shortens bolt travel and reduces felt recoil and muzzle rise; reversible magazine release and charging handle to accommodate right- or left-handed shooters; a simple takedown mechanism to allow for quick separation of the barrel/forend assembly from the action; durable heat-treated, chrome-moly steel bolt; cold hammer-forged chrome-moly steel barrel with ultra-precise rifling; and in some models, a ½" x 28 threaded barrel.

The PC Carbine Chassis model ships with the SR-Series™ magazine well installed and an additional magazine well that accepts newer Glock magazines. A 9mm Luger Ruger American® Pistol magazine well is available separately at ShopRuger.com.
PC Carbine Chassis Specs
Stock: Adjustable, Black Synthetic Chassis with Aluminum Free-Float Handguard
Capacity: 17 (state complient 10)
Barrel Length: 16.12″
Overall Length: 32.25″ – 35.50″
Front Sight: None
Rear Sight: None
Barrel Feature: Threaded, Fluted (non-threaded state complient available)
Thread Pattern: 1/2″-28
Weight: 7.3 lb.
Length of Pull: 10.50″ – 13.75″
Material: Aluminum Alloy
Finish: Type III Hardcoat Anodized
Twist: 1:10″ RH
Grooves: 6
Suggested Retail: $799.00
---
Get More Ruger Info:
---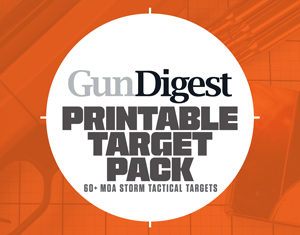 Next Step: Get your FREE Printable Target Pack
Enhance your shooting precision with our 62 MOA Targets, perfect for rifles and handguns. Crafted in collaboration with Storm Tactical for accuracy and versatility.
Subscribe to the Gun Digest email newsletter and get your downloadable target pack sent straight to your inbox. Stay updated with the latest firearms info in the industry.