The new Ruger LCP II is an excellent .380 ACP pistol that's easily concealed, has some great features and is a solid shooter.
When I was a young man working behind a gun counter, the choices of truly small pistols were severely limited, and none were more than marginally effective. The smallest were the .22 short and .25 ACP semi-autos that offered less muzzle energy than many air rifles currently available. When one was purchased and the buyer was walking out the door, there was always a remark about the value of chocolate grips, or perhaps filing off the front sight in the event someone made the owner eat it or ingest it into some other orifice. There were Remington-pattern two-shot derringers available, but they were single action, heavy and antiquated. High Standard made a little double-action over/under .22 Magnum, and it was the best tiny gun to be found but offered only two shots and was still pretty heavy because it was all steel.
To get a small semi-auto in a more powerful caliber, one had to go to guns the size of the Walther PPK that Mr. Bond made famous, and a PPK is not a tiny gun by the standards of today. The PPK and other guns of a similar size were available in .32 and .380 ACP, and ammunition was full metal jacket only. I think James Bond was the only guy who saw the PPK as an effective stopper. There's a new reality with modern defensive .380 ammunition; it's now more effective than the standard round-nosed lead 158-grain load that 90 percent of law enforcement officers carried just a few years ago, and because of this, I consider a .380 a viable concealed carry gun when you simply can't hide a bigger gun.
In the process of writing The Gun Digest Book of Concealed Carry Handguns, I reviewed the three most popular .380 sub-compact semi-auto concealed carry pistols. The guns I chose for the test were the Ruger LCP, the S&W Bodyguard and the Glock 42. While all were similar as sub-compact .380s, the three guns revealed a noticeable difference in approach to the same issue. The LCP was certainly the smallest and lightest, but with tiny sights and a challenging trigger. The Bodyguard was a bit larger, still with a long stroke trigger, but was a full featured semi-auto with a slide that locked back on the last round and sights that were more usable at a slight cost in concealability. The Glock was simply a sized-down version of the standard Glock product with all the features of any other Glock, smaller, but hardly a miniscule pistol. As a result, the Glock was easy to shoot, the Ruger was easy to hide and I chose the Bodyguard because it had slide lock and second strike capability.
A Great Gun…But
As I say almost every time I review a gun, we're currently blessed with some mighty good choices in firearms, and it's really hard to improve on what we have. Having said this, the LCP II is a big improvement over an already excellent concealed carry pistol. First impression is that it's a bit bigger, but it's just barely bigger than the original. When you operate it, you notice the big improvement, the trigger. The trigger on the older version was a long, double-action-type pull. The gun was already small, and guys with average-sized hands had trouble getting a full stroke before the index finger buried itself into their thumb. In spite of the long compression, the LCP didn't have second-strike capability, meaning a second pull of the trigger wouldn't fire the striker in the event of a dud round.
Another shortcoming of the earlier design was the lack of slide lock on the last round. There's no doubt this omission was to allow lighter weight and simplicity, but it's a nice feature to have, and most of us who shoot autoloaders have grown accustomed to the slide locking back. Still, the LCP was a very good gun, and at just over 9 ounces with a thin profile and shape, it was an easy gun to hide almost anywhere. Ruger sold tons of them, and it took a lot of LCPs to make a ton.
Striker-Fired Trigger in a Hammer Gun
The new gun corrects every shortcoming of the original. First is the trigger. It's an excellent striker-fired-style trigger. The LCP II isn't a striker-fired gun. It still has a hammer, but the trigger pull duplicates the bladed, two-stage trigger of a good striker-fired service gun. My test gun's trigger broke at a reasonable 6 pounds. Light triggers aren't a good idea on defensive guns in the hands of shooters who aren't highly trained, and 6 pounds is reasonable. The first stage is light; the second stage is well defined, and while there is backlash, it isn't excessive.
The next improvement is slide lock on the last round. The original LCP had a manual slide lock, and though it was a bit difficult for anyone with sausage fingers, it was functional. The LCP II locks the slide back on the last round, decreasing the time required for a reload by what would seem eons if it was required during a deadly force event. Fortunately, reloads for civilians in defensive situations are almost non-existent, but it's still a great feature.
The third major improvement was in the sights. On the original model, the sights looked like they might have been an afterthought. They were tiny, but in good light, they worked well enough to produce silver dollar sized groups at 7 yards. The sights on the LCP II are substantially larger, though still smaller than the almost-full-sized sights on a Glock 42. These three improvements cover every area of concern I've heard about the original LCP and at a cost of about 1 ounce of weight and $90.00. The MSRP of $349.00 is very competitive in the sub-compact pistol market. Still, Ruger is betting the $259.00 price, and slightly lighter weight, merits keeping the original LCP in the catalog.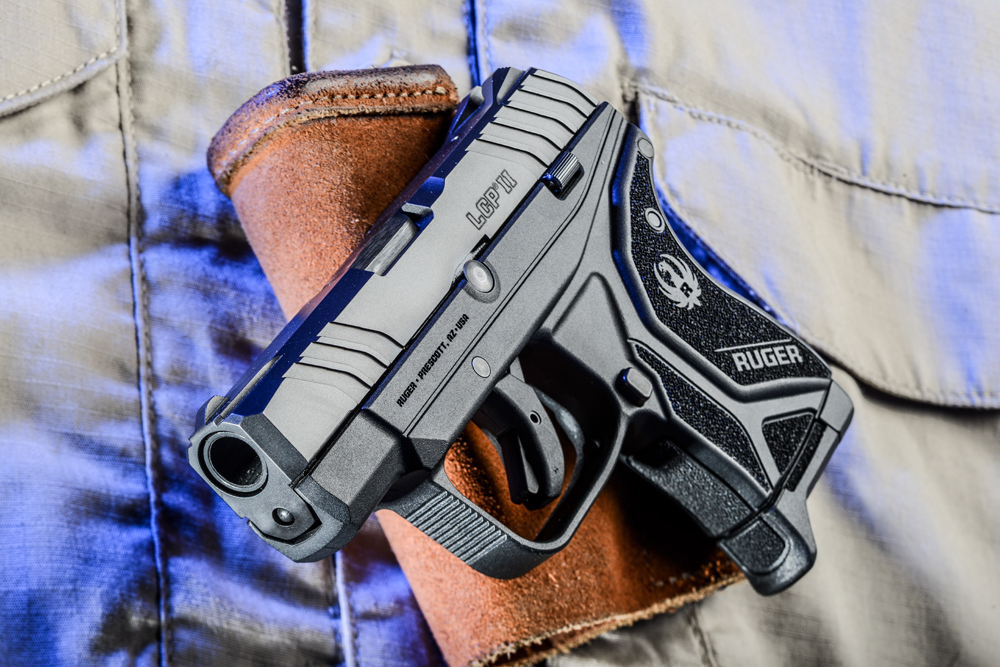 Range Impressions
Shooting the LCP II was much easier than the original and also easier than my previous favorite, the S&W Bodyguard. The two-stage trigger is easy to manage, and the sights are large enough to see. The grip is small, but a small gun can't have a large grip. I fired it with both the flat magazine plate and the one with the finger hook. With the finger hook, it's a two-finger arrangement. Without it, I could only get about half my ring finger on the grip. Grip texture is lightly stippled. One thing I noticed from the outset was the slide seemed easier to operate. On the original LCP, there was a separate stage at the beginning of the slide's stroke. On the LCP II test gun, the slide stroke was smooth all the way back. This is not a big issue for most, but of real importance for those with low hand strength, like some women and older shooters.
There is recoil. Even a .22 that weighs 10 ounces will generate recoil, and a firm grip is required to keep it properly placed in the hand when shooting fast. Still, it's capable of shooting ragged-hole groups at 7 yards, and that's all you can ask of a gun this small. The sights were easy to see, but I think a three-dot system might make it a bit better in low light. I teach shooting to a lot of novice shooters and lining up three dots is an easy way to teach sight alignment to a former non-shooter. The LCP II is a gun that'll be attractive to those new to the concept of daily, concealed carry. There were zero malfunctions with the three rounds tested.
The magazine release is easy enough to get to, especially for a small gun, and the LCP II doesn't just release the magazine, it launches it. I particularly liked the fact that I can drop a magazine without it snagging on the heel of my hand, a common problem with many smaller pistols. The gun comes with only one magazine, and I'd have liked to have another to see just how fast I could accomplish a mag change with it. I suspect it would be about as fast as any compact pistol and faster than some.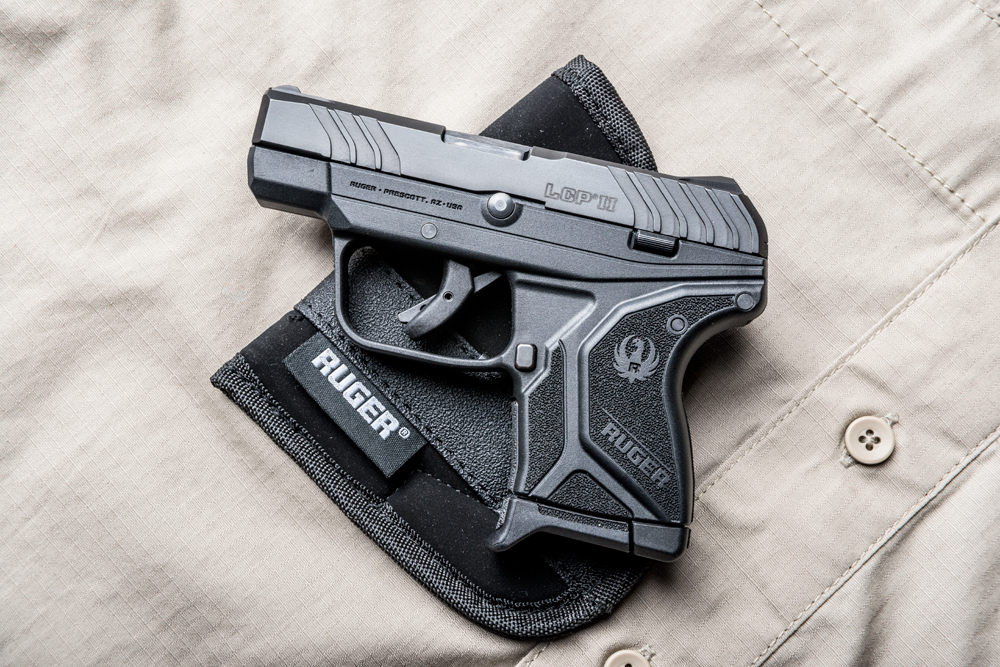 The Fix Is In
In closing, the LCP II is everything one can ask for from a super tiny, reasonably powerful, decently accurate, easy-to-hide defensive pistol. Were I to revisit that test of the Glock 42 and S&W Bodyguard against the new LCP, the result would be different. The LCP II would be the clear winner because it has the best features of the other guns combined with substantially less size and weight. It's certainly a good choice and maybe the best choice in the sub-compact pistol market.
Specifications:
Ruger LCP II
Type: Semi-auto, internal hammer-fired
Caliber: .380 ACP
Barrel: 2.75 in., alloy steel
Overall Length: 5.17 in.
Weight: 10.6 oz.
Grips: Integral with polymer frame
Sights: Integral on slide, rear notch and post front
Finish: Blued
Capacity: 6+1
MSRP: $349
Manufacturer: Ruger
Performance Data:
Winchester 95-gr. FMJ
Best Group: 1.72 in.
Worst Group: 2.34 in.
Avg. Group: 2.01 in.
Winchester 85-gr. Train & Defend
Best Group: 1.02 in.
Worst Group: 1.94 in.
Avg. Group: 1.65 in.
Winchester 85-grain Kinetic HE
Best Group: 1.44 in.
Worst Group: 1.99 in.
Avg. Group: 1.88 in.
Accuracy data was the result of five, five-shot groups fired deliberately at a distance of 7 yards from a standing position.
---
Get More Ruger Info:
---
NEXT STEP: Download Your Free Storm Tactical Printable Target Pack
62 Printable MOA Targets with DOT Drills - Rifle Range in YARDS
This impressive target pack from our friends at Storm Tactical contains
62 printable targets
for rifle and handgun range use. Target grids and bullseye sizes are in MOA. Ideal for long-range shooting!
Subscribe to the Gun Digest email newsletter and we'll send your print-at-home target pack right away.
Just enter your email address below.
---