Syntech Defense is not your typical hollow point defensive ammo. Designed to fragment, the synthetic-jacket bullet shoots for devastating terminal performance.
How Syntech Defense Is Different From Traditional Hollow Point Ammo:
Synthetic jacket instead of copper
Bullet designed to fragment in four pieces
Produces one primary wound channel and three secondary
Core achieves 12 to 18 inches of penetration
A few years back, Federal Premium went a completely different direction with bullet design – synthetic. A pretty crazy concept, a fully synthetic jacket over a lead core. One might even go so far as to say it just doesn't sound right. But the Syntech line of handgun ammo proved it could perform, so it's earned a comfortable niche in the shooting world.
Up to now, Federal has maintained the line strictly as range fodder, but recently let the reins out introducing Syntech Defense. Yup, plastic-coated lifesavers for all the favorite defensive calibers. In all, the ammo-maker has released 138-grain 9mm, 175-grain .40 S&W and 205-grain .45 ACP options. There's likely more to come.
Load Up On More Ammo Knowledge:
---
As you could already guess, Syntech Defense doesn't operate like your everyday, average hollow point – mushrooming to produce a single large wound channel. Instead, it's akin to some monometal defensive options – splitting apart to create multiple wound cavities. As Federal puts it, the bullet is engineered to break into four sections, three petals and a deep-penetrating core. From the company's numbers, the core penetrates 12 to 18 inches of ballistic gel through heavy clothing; the petals around 6 inches.
What do you think about Federal Premium's new offering? Would you load up with it? Tell us below.
More from Federal Premium:
From the No. 1 Brand in Handgun Ammunition, Federal is proud to introduce new Syntech Defense. These loads produce dynamic terminal performance with a hollow-point bullet that separates into three segments and a deep-penetrating core on impact. Shipments of Syntech Defense ammunition have been delivered to dealers.

The original Syntech changed the range forever. Now, the technology is also revolutionizing protection. The bullet in Syntech Defense has a core that penetrates 12 to 18 inches through bare ballistics gel and heavy clothing — a critical benchmark in self-defense situations and the best terminal performance of any round in its class. The segments create three secondary wound channels, each more than 6 inches deep, adding to the terminal effect.

Like all Syntech loads, an advanced polymer jacket eliminates lead and copper fouling and drastically reduces damaging heat and friction in the barrel. Its Federal exclusive Catalyst primer provides hot, extremely reliable ignition without the use of lead.

Features & Benefits
• Best terminal performance in its class
• Hollow-point bullet separates into three segments and a deep-penetrating core on impact
• Core achieves 12 to 18 inches of penetration in both bare ballistics gel and through heavy clothing
• Segments create three secondary wound channels more than 6 inches deep
• Blue polymer jacket reduces barrel heat and friction and eliminates metal fouling
• Extremely reliable Catalyst lead-free primer

Part No. / Description / MSRP

S9SJT1 / Syntech Defense 9mm Luger 138 grain, 20-count / $19.95

S40SJT1 / Syntech Defense 40 S&W, 175 grain, 20-count / $22.95

S45SJT1 / Syntech Defense 45 Auto, 205 grain, 20-count / $24.95
For more information, please visit www.federalpremium.com.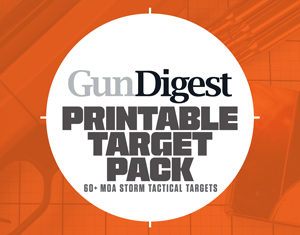 Next Step: Get your FREE Printable Target Pack
Enhance your shooting precision with our 62 MOA Targets, perfect for rifles and handguns. Crafted in collaboration with Storm Tactical for accuracy and versatility.
Subscribe to the Gun Digest email newsletter and get your downloadable target pack sent straight to your inbox. Stay updated with the latest firearms info in the industry.