SAAMI gives Winchester's straight-walled wonder – the .350 Legend – its blessing.
How the .350 Legend is set up for deer-hunting success:
Around 20-percent more penetration than a .243 Win.
Approximately 20-percent less recoil than a .243 Win.
Delivers nearly 15-percent more energy at 200 yards than the .300 BLK.
The Winchester XPR bolt-action currently chambered for the cartridge.
Deer hunters hemmed in by straight-walled-cartridge regulations, never fear! Winchester has you covered.
The iconic company unveiled perhaps one of the most unique cartridges in a spell at the 2019 SHOT Show, introducing the .350 Legend. Essentially a modified .223 Rem., blown out to accept a .357-caliber bullet, the new offering has the potential to help those who hunt areas with restrictive rifle regulations reach out a bit more and hit harder. By Winchester's billing, it shoots flatter and longer than most straight-walled cartridges currently available. Furthermore, by the company's telling, it delivers more energy to a target than the .30-30, while producing less recoil than the deer-season classic. If that holds up in the field it's nothing to turn your nose up at, give the mountain of venison the .30-30 has put on the table over the years.
Last week, the .350 Legend had its final initiation into a full-fledged production cartridge with the Sporting Arms and Ammunition Manufacturers' Institute accepting the cartridge. Good thing for Winchester, given the company has hit the ground running with the .350 Legend. Currently, the company offers six loads, including 150-grain Deer Season XP, 180-grain Super X, 145-grain USA Full Metal Jacket, 265-grain Super Suppressed and 160-grain Power Max Bonded.
---
More Ammunition Information:
---
A taste of what the cartridge offers, the Super X load leaves the muzzle at 2,325 fps, only losses 15-percent of its velocity at 100 yards and delivers 1,289 ft/lbs of energy at that range. That should get the job done.
From Winchester:
NEWTOWN, Conn. — The Sporting Arms and Ammunition Manufacturers' Institute® (SAAMI®), the firearms and ammunition industry's technical standards-setting organization, is pleased to announce the acceptance of a new cartridge and chamber standard, the 350 Legend (350 LGND), introduced by Winchester Ammunition.

"SAAMI member ammunition and firearm companies are driven by technological innovation." said Randy Bimson, Director of Technical Affairs and Technical Advisor of SAAMI. "Winchester's 350 Legend cartridge brings a fresh look and innovation to a very mature cartridge category opening up new options to both the hunter and recreational shooter. SAAMI is pleased to include the new 350 Legend in the SAAMI standards."

Winchester Ammunition is addressing a rapidly growing market segment, "straight-wall-cartridge-compliant" deer-hunting states. A growing number of states that previously restricted deer hunting to limited-range slug guns or muzzle loading firearms are now allowing rifles chambered in straight-walled centerfire cartridges, many of which originated as handgun cartridge designs. The Winchester 350 Legend offers a significantly flatter trajectory and better terminal performance over current straight-wall cartridges while remaining compliant in most applicable states.

"The 350 Legend is a high-performing, straight-walled cartridge that dominates in velocity, energy, recoil and affordability, all of which are vital to our customers," said Matt Campbell, vice president of sales and marketing for Winchester Ammunition. "Winchester is dedicated to innovation and it's paramount that we continue to deliver meaningful, technology driven products that have a tremendous impact on the hunting and shooting sports industry."
For more information of the .350 Legend, please visit www.winchester.com.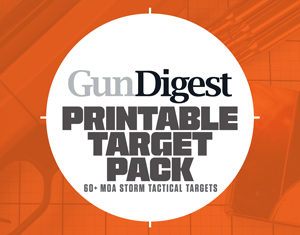 Next Step: Get your FREE Printable Target Pack
Enhance your shooting precision with our 62 MOA Targets, perfect for rifles and handguns. Crafted in collaboration with Storm Tactical for accuracy and versatility.
Subscribe to the Gun Digest email newsletter and get your downloadable target pack sent straight to your inbox. Stay updated with the latest firearms info in the industry.