SILENCE IS GOLDEN.
From the editors of RECOIL Magazine comes SUPPRESSORS! A complete guide to everything you need to know about buying, owning, and caring for your suppressors.
For over a decade, RECOIL Magazine and our sister publications, CARNIVORE and CONCEALMENT, have published some of the definitive articles on every aspect of suppressors. Now all of that knowledge can be found in one place, SUPPRESSORS!
No matter how new or experienced you are to the world of the NFA and suppressors; you'll find helpful and useful information contained within these pages. Expert advice on what to purchase, the current legal standings of components, how to choose the right suppressor for your needs, and a whole lot more.
Inside You'll Find:
Some of today's current suppressor offerings
Filing procedures to obtain a suppressor
General maintenance and care
Ways to improve performance
Matching a suppressor to your rifle or pistol
Answers to common questions on legality
Busting common myths
And much more!
Available for pre-order right now and shipping in mid-January 2023!
---
More Suppressor Content: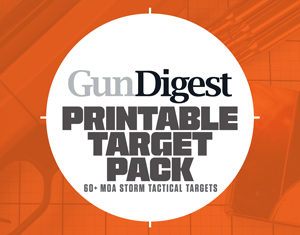 Next Step: Get your FREE Printable Target Pack
Enhance your shooting precision with our 62 MOA Targets, perfect for rifles and handguns. Crafted in collaboration with Storm Tactical for accuracy and versatility.
Subscribe to the Gun Digest email newsletter and get your downloadable target pack sent straight to your inbox. Stay updated with the latest firearms info in the industry.