Born from Sig's participation in the Army's Next Generation Squad Weapons Program, the new SLX and SLH suppressors are a glimpse into the future.
SLX And SLH Suppressor Features:
Available In 3 Caliber Options
Two Mounting Styles
Monolithic Core Construction
Superior Sound, Flash And Gas Reduction
The currently ongoing Next Generation Squad Weapons Program has certainly sparked innovation within the gun industry, and the effects are even being felt on the civilian side. While the actual automatic weapons being developed for the program remain out of reach, things like optics, suppressors and ammo have gotten people excited. We've already looked at the composite-cased ammunition developed for the program which recently became commercially available, but now two innovative new suppressors from Sig Sauer are about to hit the market as well—the SLX and SLH.
Next-Gen Construction

Made using innovative Direct Metal Laser Sintering (DMLS) technology, the SLX and SLH suppressors are able to overcome many of the issues inherent to traditional suppressor designs. Without the need to weld baffles in place thanks to their monolithic construction, the SLX and SLH can reduce the noise, flash and amount of toxic fumes launched back at the shooter. This also makes the suppressors rugged enough for real battlefield use.
It seems that the primary benefit of the DMLS construction used with the SLX and SLH is the reduction of hot gases blown back into the shooter's face. This is an issue on a variety of suppressors and weapon platforms, but Sig's new designs incorporate a multi-flow exhaust path to expel gasses before they have a chance to annoy or injure the user. According to Sig, this can only be accomplished using their new DMLS construction techniques.
Which One?

The SLX and SLH suppressors share many qualities, but they are different. Because they both feature a monolithic core and are made using DMLS, they have military-level durability, but the SLX prioritizes gas redirection while the SLH was made to be as quiet as possible. The SLX is available in 5.56 and 7.62 NATO while the SLH comes in 300BLK and 7.62 NATO for maximum sound reduction. Both the SLX and SLH are available with either Sig's new Clutch-Lock QD mounting system or traditional direct thread.
Designed to meet military requirements, the SLX and SLH suppressors are tough, efficient and innovative. Whether you need a versatile, do-it-all can or a suppressor that's as quiet as possible, these new offerings from Sig will get the job done. No MSRP is stated but they seem to be listed online at around $1,000 depending on options and are available now.
For more information, please visit sigsauer.com.
---
Get More Suppressor Info: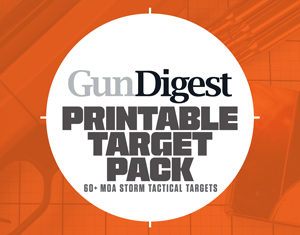 Next Step: Get your FREE Printable Target Pack
Enhance your shooting precision with our 62 MOA Targets, perfect for rifles and handguns. Crafted in collaboration with Storm Tactical for accuracy and versatility.
Subscribe to the Gun Digest email newsletter and get your downloadable target pack sent straight to your inbox. Stay updated with the latest firearms info in the industry.