A popular choice for decades in defensive ammunition, Federal Hydra-Shok bullets are now available as a reloading component.
What Hydra-Shok bullets offer reloaders:
Established performance for around three decades.
Known for excellent accuracy and terminal performance.
Available in the four most popular defensive handgun calibers.
If you've studied defensive ammunition for any time you're certain to have heard of Hydra-Shok. Federal Premium cooked up the stuff around 30 years ago, a response to the FBI's call for something better than old cup-and-core. Since, the hollow-point with the unique center post has achieved near iconic status, becoming a favorite of law enforcement and armed citizens alike. The next segment to conquer – reloaders.
---
On-Target Reloading Info:
Yup, Hydra-Shok bullets are now a reloading component. So, cook away reloaders … within reason. Given its primary purpose is defensive, Federal has focused on the most popular defensive calibers – .355 (.380 ACP, 9mm), .357 (.357 Mag, .38 Spl), .400 (.40 S&W, 10mm) and .451 (.45 ACP). But it's offering each in two weights, so you'll have a little wiggle room for your personal preferences. Depending on caliber, the MSRP on batches of 50 to 100 range from $18.95 to $30.95.
More from Federal Premium:
Federal Premium Hydra-Shok, the bullet design that's defined self-defense for a generation, is now available as a component for handloaders. Shipments have been delivered to dealers.

Introduced in 1989, Hydra-Shok remains one of the most popular choices for protecting home and family, thanks to a proven hollow point and iconic center post that provide extremely consistent and effective expansion. Now available in a complete range of bullet weights and diameters.

Features & Benefits
• Proven self-defense bullet design now available as a component for reloading
• Superb accuracy and overall ballistic performance
• Notched copper jacket
• Center-post hollow-point design provides reliable expansion

Part No. / Description / MSRP
PB38HS129 / 357 cal. 129-grain, 100-count / $30.95
PB9HS124 / 355 cal. 124-grain, 100-count / $30.95
PB9HS147 / 355 cal. 147-grain, 100-count / $30.95
PB357HS158 / 357 cal. 158-grain, 100-count / $31.95
PB40HS165 / 400 cal. 165-grain, 50-count / $16.95
PB40HS180 / 400 cal. 180-grain, 50-count / $16.95
PB45HS185 / 451 cal. 185-grain, 50-count / $18.95
PB45HS230 / 451 cal. 230-grain, 50-count / $18.95
For more information on HydraShok Bullets, please visit www.federalpremium.com.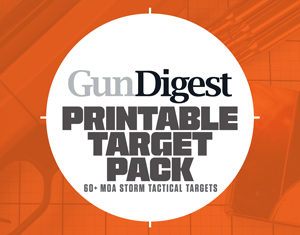 Next Step: Get your FREE Printable Target Pack
Enhance your shooting precision with our 62 MOA Targets, perfect for rifles and handguns. Crafted in collaboration with Storm Tactical for accuracy and versatility.
Subscribe to the Gun Digest email newsletter and get your downloadable target pack sent straight to your inbox. Stay updated with the latest firearms info in the industry.