A valuable partnership for Gun Digest and American Gunsmithing Institute customers has arrived. The Reloading A-Z Value Pack is the first bundle of GD and AGI products, and offers the newest reloading resources at an incredible value. The Reloading A-Z DVD with Fred Zeglin is over 7 hours of explanation about reloading, but more than simple demonstration he explains why for all processes and directions. Get Yours Now
---
Self defense handgun ammunition is quite like a fire extinguisher: When you need it, you really need it, and you need it to work well. And furthermore, a discount fire extinguisher doesn't quite cut the mustard. You need the bullet that will perform best in your handgun and possesses the qualities you can count on. We need a bullet that will neutralize a threat to life and limb; one that is accurate; one that will expand reliably and will penetrate enough to quell a very dangerous situation yet not over-penetrate and risk harming an unintended target. Not all handgun bullets can fit the bill, but I've found a few that will. Let's take a look at them.
Federal Premium HST
Among the premium bullets, I feel the Federal HST reigns supreme. It is a jacketed hollowpoint that opens up into a deadly looking flower of expanded copper and lead. I had the privilege of visiting the Federal plant in Anoka, Minnesota, and we put many different bullets to the test, literally. We used blocks of raw ballistic gel, some gel covered in clothing and gel behind two pieces of sheet-rock and some clothing. The HST gave reliable expansion, even through the gypsum, and penetrated deep enough to take care of an attacker without sailing though walls and risking the possibility of wounding or killing a loved one. I have come to trust the HST bullet for its accuracy and for its terminal ballistics. Federal now offers the Micro HST line of ammo, which is loaded to best serve the subcompact handguns that are so popular today. It is available in .380 Auto, 9mm Luger, .40 Smith & Wesson and .45 ACP.
Hornady XTP
Hornady XTP is one of the toughest cup-and-core handgun bullets I've ever used. It shoots very well in my revolvers—an S&W Model 36 in .38 Special and a Ruger Blackhawk in .45 Colt—and these bullets hit hard. The hollowpoint expands reliably upon impact, and the thick jacket and cannelure help to keep that bullet together. The XTP (eXtreme Terminal Performance) also makes a great hunting bullet, but for a good choice in some of the smaller calibers like .38 Special and .327 Federal it's really hard to beat. That little snub-nose .38 of mine will print the 158-grain XTPs much better than I ever thought a gun with a 1 7/8-inch barrel would do. Even at low velocities, the XTP will give consistent expansion; on the opposite side of the coin, the XTP Mag. will withstand the highest impact velocities from the magnum handgun cartridges. Available in cartridges from .25 Auto through .500 Smith & Wesson.
Speer Gold Dot Personal Protection
Not many people are talking about Speer bullets these days, what with all the new bullets available. However, new products don't always mean that the older ones are bad. The Speer Gold Dot has an impeccable reputation, and with good reason. Law enforcement, hunters and the self-defense community have long understood that the Gold Dot Personal Protection is a fantastic bullet, and some of the modern updates have made an old classic even better. The jacket partially wraps around the meplat of the bullet, allowing for a bullet that is soft enough up front to expand at low impact velocities, yet tough enough to hold together at distances measured in feet. Like the HST, Speer has designed the Personal Protection Short Barrel version of the Gold Dot for use in subcompact automatics and short-barreled revolvers. That same Model 36 of mine likes these bullets as well, and I have and will carry them with all the confidence in the world. If law enforcement trusts this bullet, I take that as a very good endorsement, and my experiences with the Speer Gold Dot have shown that it lives up to the strong reputation it's built. It is available in calibers from .25 up to .45, for both revolvers and automatics.
Federal Premium Guard Dog
This is a very clever design, incorporating all the best features of a hollowpoint bullet but it feeds like a flat point bullet. Federal Guard Dog is, at its heart, a hollowpoint, but the hollowpoint is filled with a rubbery blue polymer and then the whole package is plated. This results in a bullet that gives consistent and reliable expansion but doesn't over penetrate. It also adds up to a bullet that performs like a hollowpoint but is perfectly compliant for those states that won't permit the use of hollowpoint ammunition, like New Jersey. In my testing of Guard Dog ammunition in the .45 ACP, it came very close to performing like the HST bullet from Federal with respect to the expanded diameter and its weight retention, as well as depth of penetration. We were using a Kimber 1911 clone, and the ammo was very accurate and fed like a dream. I think we put three boxes of ammo downrange and there were no malfunctions whatsoever. Throw the Guard Dog a bone; it's a loyal and faithful companion.
Cutting Edge Bullets Personal Handgun Defense (PHD)
The Cutting Edge Handgun Raptor is one of the most radical designs I've seen in some time. They are an all-copper hollowpoint, and like so many other monometal bullets, they are light for caliber, which equals a higher velocity and lower pressure, while still maintaining a projectile the same length as the heavier lead core counterpart. Then there's the terminal performance: The Handgun Raptor is designed with a skived hollowpoint, which breaks into four small blades upon impact. The blades cause massive trauma at the front end, while the remainder of the bullet stays at caliber dimension, for an unprecedented sectional density among expanded bullets, to deliver the necessary penetration. I've used the Cutting Edge PHD in 9mm Luger, .40 S&W and .45 ACP, and with the sole exception of one particularly finicky 9mm pistol, it has all fed reliably and given more-than-acceptable accuracy. I really appreciate the fact that the lighter projectile, and corresponding lesser recoil, allows the shooter to get back on target quicker between shots. If you're not familiar with Cutting Edge Bullets, you really need to be. Available in 9mm Luger, .40 S&W, .45 ACP.
Find the ammunition that works best for you and your handgun, and carry confidently!
Editor's Note: This article is an excerpt from the March 2016 issue of Gun Digest the Magazine.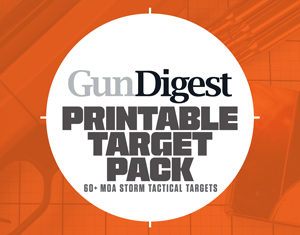 Next Step: Get your FREE Printable Target Pack
Enhance your shooting precision with our 62 MOA Targets, perfect for rifles and handguns. Crafted in collaboration with Storm Tactical for accuracy and versatility.
Subscribe to the Gun Digest email newsletter and get your downloadable target pack sent straight to your inbox. Stay updated with the latest firearms info in the industry.