The Real Avid Gun Tool Core: something you need, will want … and must acquire.
If you work on firearms, you need tools. If you work on ARs, you need specific tools. And, despite your best efforts, a lot of those tools get separated from the pack, left behind, lost, "borrowed" or otherwise enter the shooter's "Bermuda Triangle."
Real Avid has found a way to keep the most-used AR cleaning and maintenance tools in one spot: Make them into a carabiner.
Compact Carabiner—A Shooter's 'Duct Tape'
Carabiners are the oval clips that rock climbers use to wrestle with ropes. Those of us who don't climb rocks use them to hold our keys or clip gear to packs or belts. Think of them as the aluminum equivalent of duct tape. Real Avid made the Gun Tool Core for the AR-15 into a carabiner shape. This makes it both compact and affords you a convenient way to attach it to your gun bag.
Let's start with the cleaning stuff. A scraper is built into the Gun Tool Core on one part or another that can scrape the carbon buildup off every important space on your AR-15. The bolt, carrier and firing pin can all be scraped clean at all the locations where carbon builds up. Also included is a front sight adjustment tool—a tool that always seems to get lost or left behind. And, if you run optics, there's a turret adjustment tool that saves you from having to dig change out of your pocket to zero your optics.
But Wait, There's More
The included cord cutter lets you cleanly lop off a length of 550 cord for when you're building a sling, attaching a dummy cord to an important piece of gear or have woven an extra 550 for your carbine. The takedown punch helps you push those really stubborn pins across to take your rifle apart and clean it. There's even a bottle opener (a device I don't think I've had to use for years, but if you ever need one, here it is).
---
Expand Your Gear IQ:
---
All this can be found in a single, compact tool that can be clipped to your range bag, web gear or any other place you might want it to be—and have it stay there. The Gun Tool Core also uses liner locks to keep the various attachments locked in place, rather than flopping around on you.
I'm not entirely sure that it's possible to pack more features or tools into a unit that's so compact, but if anyone can do it, Real Avid can.
What I like about the Gun Tool Core is that in addition to being so compact, the only part that actually detaches from the tool is the front sight adjuster. And, if it's off, you'll definitely miss it: Having noticed that your Real Avid carabine/tool can't be closed and locked onto your range bag, you'll be reminded to get the front sight adjustment tool back from whoever … "borrowed" it.
Great Price
The only lack I can see is a flat space large enough to have your name or initials engraved on it (I have some ideas about that!).
The best part? The price. With a list price of $39.99, I'm not sure you could purchase all the individual tools included on the Gun Tool Core for that. They would have to cost more; and then, they would be individual tools, prone to the problems we've all experienced with single tools.
The Gun Tool Core for AR-15s is something you need, will want … and must acquire. And, once you have it, you can clip it to your range bag or the AR carry case you take to the range.
I've got mine; go get one of your own.
Editor's Note: This article originally appeared in the May 2020 issue of Gun Digest the Magazine.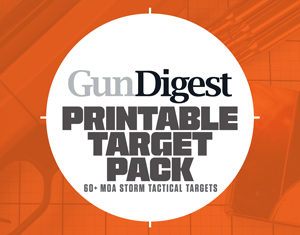 Next Step: Get your FREE Printable Target Pack
Enhance your shooting precision with our 62 MOA Targets, perfect for rifles and handguns. Crafted in collaboration with Storm Tactical for accuracy and versatility.
Subscribe to the Gun Digest email newsletter and get your downloadable target pack sent straight to your inbox. Stay updated with the latest firearms info in the industry.