BallisticsARC does more than help you control for wind, it makes the long-shot come in.
Shooters tend to overcomplicate nearly everything, but rifle marksmanship is about simply controlling variables: yourself, your rifle and your environment. That's a bit oversimplified, but when looked at in this way, "stretching your rifle's legs" is a far less daunting prospect.
But that doesn't mean it's a walk in the park, either. Among the most bedeviling hurdles to clear, even for accomplished riflemen, is the wind. Unpredictable and unrelenting, it can blow away an otherwise golden shot and make you feel as if you're spitting into … well, the wind.
There was a time when the average marksman was privy to a limited set of tools to measure and control for the wind. The basics were heat mirages in the warm months and foliage movement the rest of the time. Either way, it was a guessing game.
These days, 1,000 yards is the new 100, and you need something that makes reading the wind a science, not an art … such as the GeoBallistics BallisticsARC app.
Ballistics-Savvy Smart Device
Most of us are familiar with ballistic calculators, as well as with their limitations. Handy as they are, the technology is only as good as the data you input. So, if you're just taking a stab at the wind, the ballistic table it produces is, at best, a guess — garbage in, garbage out.
That's the revolution of BallisticsARC. Combining the power of your iOS/Android smart device with on-the-ground input from a handheld weather meter, it gives you the exact path to the bullseye each and every time, which is the whole reason you're behind the trigger in the first place.
Getting You on Target
Currently, BallisticsARC works with WeatherFlow's Weather Meter and Wind Meter, as well as Kestrel's 5500 Weather Meter. I use the WeatherFlow Weather Meter, which proved incredibly easy to use.
After inputting my rifle and load data into the app, I simply linked the meter to my phone via Bluetooth and took a reading of the environmentals (barometric pressure, temperature and humidity) for my position. Out the other end came a highly detailed range card, complete with my holds — in my choice of mils, MOA or inches — to beat the wind, no matter the range.
Best of all, as conditions changed, so did my data. So, when that 8 mph headwind shifted across the prairie to a 12 mph crosswind, BallisticsARC kept pace. That's absolutely essential data, even at medium ranges. Consider that at 200 yards in these conditions, the 55-grain Speer TNT bullets coming out of my .22-250 Rem. were facing more than 4 inches of wind drift. That's a miss on the grapefruit-sized vitals of a coyote.
Beyond the Basics
Perhaps the most fascinating feature of BallisticsARC is its mapping function: It serves both as a GPS rangefinder and a method to visualize your shooting data.
---
Get More Gun Tech:
---
The former speaks for itself, so I'll focus a bit on the latter. Simply put, you can chart overlay lines on the map, giving you a clear idea of your point-blank range, along with energy and velocity thresholds. Each variable is programmable to your particular load. It's expressed in a clear color code within the overlay line. Of course, these consider the real-time conditions you measure before you take your shot.
Some of BallisticsARC's other intriguing features include:
Inclinometer
Custom rifle library
Competition mode (you can map out each stage)
Coriolis effect correction
Spin-drift correction
Data export
What You Get
Overall, BallisticsARC is more tool than most shooters will ever need. That said, you needn't be a hard-core long-range shooter to reap its benefits, especially at its price. The weather meter I tested retails for about $84. You can step up with a Kestrel 5500 Weather Meter ($399) or down with a WeatherFlow Wind Meter ($45).
Be forewarned: The wind meter only measures air movement at your location; the app draws in the rest of the data from the nearest weather station. Plus, it directly interfaces with your smart device through the audio jack, making it slightly unwieldy.
The app is a bargain, given that nearly all the aforementioned functions come with the free download. You can't beat that, although you can only add one rifle profile. An in-app expansion allows you to build unlimited profiles, as well as export range cards, synch rifles/loads online and link to the Kestrel meter. And for $14.95, it's far from cost prohibitive.
Parting Shot
The market for technology to help you get on target at any range is flourishing — and, in most circumstances, expensive. GeoBallistics (GeoBallistics.com) BallisticsARC is a welcome counter to this trend. Even if you shoot more-pedestrian ranges, BallisticsARC will prove its worth. Because, no matter what, you need some way to whip the wind … or it's going to whip you.
The article originally appeared in the May 2019 issue of Gun Digest the Magazine.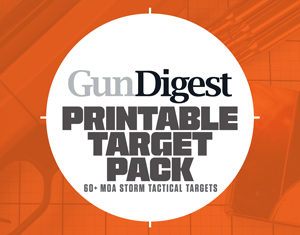 Next Step: Get your FREE Printable Target Pack
Enhance your shooting precision with our 62 MOA Targets, perfect for rifles and handguns. Crafted in collaboration with Storm Tactical for accuracy and versatility.
Subscribe to the Gun Digest email newsletter and get your downloadable target pack sent straight to your inbox. Stay updated with the latest firearms info in the industry.