Trijicon has just announced a commercially available variant of the USMC's new Squad Common Optic, the VCOG 1-8×28 SCO.
Selected as the United States Marine Corps' new Squad Common Optic in early 2020, Trijicon has just announced a commercially available version of the VCOG 1-8×28 SCO. Designed to excel at both close quarters and long-range engagement distances, the commercial VCOG is nearly identical to its military counterpart.
The VCOG 1-8×28 SCO is a true 1x power optic with a first focal plane reticle, making it an effective, versatile option for a wide variety of engagement distances. When set to 1x magnification, the illuminated red reticle allows for quick acquisition of targets at close range, while at higher magnification settings the MRAD tree reticle scales with adjustments to provide accurate holds and range estimations. Combined with the reticle's 11 brightness settings (including two night-vision levels), the VCOG SCO can be used for everything from clearing rooms to taking precision shots at a distance.
As a military optic, the VCOG 1-8×28 SCO had to be as tough as it was effective. This is why Trijicon opted to use forged 7075-T6 aluminum alloy for the scope's body and multiple coatings for the scope's lenses. The coatings provide maximum light transmission, zero distortion and exceed the military's requirements for abrasion resistance. Despite the tough lens coatings, the VCOG 1-8×28 SCO also includes Tenebraex flip caps for extra protection. The scope also includes tethered turret caps and an integrated base/mount system. This mounting system not only eliminates the need for separate scope rings but also allows the scope to always retain its zero despite the mount's quick-detach capabilities. The whole scope is also waterproof up to 66 feet.
Each VCOG 1-8×28 SCO will include the integrated Larue Tactical LT799 Mount, Tenebraex flip caps, Trijicon LENSPEN, a soft case, operator's manual, warranty and the necessary lithium AA battery. It has an MSRP of $3,150 and is available now.
For more information on Trijicon, please visit trijicon.com.
---
More Long-Range Glass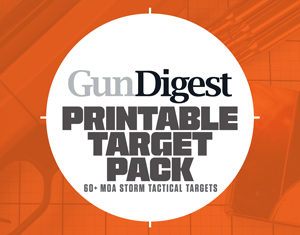 Next Step: Get your FREE Printable Target Pack
Enhance your shooting precision with our 62 MOA Targets, perfect for rifles and handguns. Crafted in collaboration with Storm Tactical for accuracy and versatility.
Subscribe to the Gun Digest email newsletter and get your downloadable target pack sent straight to your inbox. Stay updated with the latest firearms info in the industry.