Looking for a new iron or piece of kit to enhance the one you already own? Check out these 7 new bits of small-bore guns and gear to grow your firearms wish list.
The New Guns And Gear:
Winchester Wildcat Suppressor Ready
Performing well above its price, the Wildcat has more than earned its place among the top .22 LR semi-auto rifles. Now, the polymer-stocked gem has gotten a bit better. Winchester unveiled a suppressed version of the rifle in 2021, making the plinker practically perfect in every respect. While the gunmaker has added a ½x28-inch TPI threaded muzzle with knurled thread protector to the package, it's kept all the features that made the Wildcat popular in the first place. These include button-rifled chromoly barrel, fully adjustable ghost ring rear sight, integral Picatinny sight rail 10-round rotary magazine and much more. MSRP: $300
---
Real Avid Speed Jag and Patches
Small bore or large bore, there's one thing all guns have in common: They all have to be cleaned. While it's not the most enthralling task known to man, Real Avid makes it a bit easier and more efficient. Unlike traditional jags, tips and square patches, Speed Patches are optimally fitted for maximum bore contact and no-bunch scrubbing when center-spiked over the Speed Jag. This means a cleaner bore with fewer pass-throughs. Quite simply, it adds up to less effort and faster results. Who doesn't want a system that cuts down on cleaning time and allows more time pitching lead downrange? MSRP: $5.99
---
Savage Minimalist
There's been some brainstorming over at Savage Arms, and the Minimalist Rimfire Rifle Series is proof enough. As fairly wild departure from traditional bolt-action plinker design—as its name suggests—the series aims at minimal burden in the field with an overall light 5.68-pound package. If you haven't figured out how Savage pulled it off, take a second and look at the picture. It's certainly unique and perhaps practical outside weight savings. Though it doesn't boast a true hook, there's more than enough real estate to steady the rifle with the support hand in prone or off a bench. Available in .22 LR Mark II, .22 WMR and .17 HMR, there's another minimal aspect to the rifle—its price tag. MSRP: $359
---
Stoeger S8000-E Tac Suppressed Air Rifle
Small bore isn't confined to guns that burn power. The ones that blow air also have a place, and for the money, Stoeger offers plenty in its S8000-E Tac Suppressed rifle. Available in both .117 and .22 calibers, the piston air gun is unparalleled in its ergonomics as well as shootability. This is thanks to its AFC suppressor and Gas-Ram piston system, which erases all recoil from a shot, making for dead-nuts accuracy … trigger pull after trigger pull. Additionally, a fully adjustable synthetic stock, adjustable trigger, interchangeable grips and integrated Picatinny rail make the gun comfortable and very flexible. MSRP: $249
---
Heckler & Koch MP5 Rimfire Models
H&K's MP5 finds its way to many gun owners' bucket lists—and one most won't ever get to cross off. Or will they? If a shooter is willing to settle for a semi-auto, rimfire iteration of the classic, then the German gunmaker has the tacticool plinker for you. Made by Umarex of Germany for H&K, the .22 LR MP5 has the look and feel of the real McCoy … but it's much easier to obtain. Feeding off 10- and 15-round magazines, it also brings plenty of firepower to an afternoon of knocking pop cans on their duffs. To boot, the rimfire is available in pistol and rifle, both suppressor compatible. What could be cooler? MSRP: $479
---
Optics-Ready TaurusTX 22 Competition
The TaurusTX 22 has enjoyed its share of kudos. Now, it's taken the next step in its evolution. Meet the optics-ready TaurusTX 22 Competition. Boasting a milled slide compatible with a vast array of micro red dots—from the Trijicon RMR to Leupold DeltaPoint Pro—the full-sized polymer framed pistol brings exceptional accuracy to the rimfire game. Plus, it comes with all the extras that made earlier iterations of the TaurusTX popular: skeletonized slide, 5-inch bull barrel, well-textured grip and suppressor compatibility, just to name a few. For the price, few other .22 LR pistols can hold a candle to what this Taurus brings to the game. MSRP: $484.85
---
FN 502 Tactical Optics-Ready 22 Pistol
No arguments: The 502 Tactical is an ideal and economical trainer. Even so, it's a pretty dang sweet pistol in its own right. Sporting FN's signature Tactical feature set, the pistol's 4.6-inch barrel with recessed target-crown is threaded ½ x28-inch pitch to accept most .22 suppressors. The optics-ready pistol performs like a robust-style target pistol, delivering fast, accurate rounds on target with more versatility than any other rimfire on the market. The smooth, single-action hammer-fired pistol with its best-in-class trigger—combined with its high-capacity 15-round magazine and superior ergonomics—puts it a cut above the rest and all but guarantees hours of fun behind the trigger. MSRP: $499
Editor's Note: This article originally appeared in the January 2022 issue of Gun Digest the Magazine.
---
Get More Guns And Gear: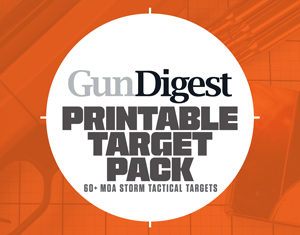 Next Step: Get your FREE Printable Target Pack
Enhance your shooting precision with our 62 MOA Targets, perfect for rifles and handguns. Crafted in collaboration with Storm Tactical for accuracy and versatility.
Subscribe to the Gun Digest email newsletter and get your downloadable target pack sent straight to your inbox. Stay updated with the latest firearms info in the industry.