Holosun has just released a version of the SCS red dot sight that is direct-mount compatible with the Smith & Wesson M&P 2.0 family of handguns.
Earlier this year, Holosun released the SCS-MOS, a red dot sight that was designed to integrate into a Glock's slide seamlessly by mounting directly to the MOS-pattern footprint. No adaptor plate required. Now, Holosun is expanding the SCS line and concept with the release of the SCS-MP2 for the popular Smith & Wesson M&P 2.0 line of handguns. The new sight is nearly identical to the original model besides its mounting footprint and aesthetics.
The SCS-MP2 is compatible with Smith & Wesson M&P 2.0 full-size and compact models in either 9mm or .40 S&W. It will not mount to an M&P 1.0 or a Shield. The outward appearance of the SCS-MP2 has been changed from the MOS version as well, now designed to perfectly blend in with the lines of an M&P 2.0 rather than a Glock.
As mentioned, the rest of the features are identical to the MOS model. The SCS name still stands for Solar Charging Sight, and it still has a solar-rechargeable 20,000-hour advertised battery life. The reticle is green, auto-adjusts to ambient brightness and the user can alternate between a 2-MOA dot, a 32-MOA circle or a combination circle-dot. Weight, size, construction materials and durability ratings are all the same between the SCS-MP2 and the SCS-MOS as well.
MSRP for the Holosun SCS-MP2 is $411.75 and it is available now.
For more information, please visit holosun.com.
---
More On Pistol Red Dots: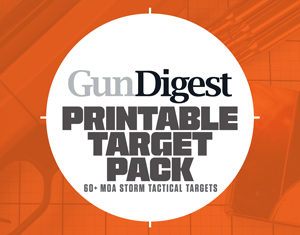 Next Step: Get your FREE Printable Target Pack
Enhance your shooting precision with our 62 MOA Targets, perfect for rifles and handguns. Crafted in collaboration with Storm Tactical for accuracy and versatility.
Subscribe to the Gun Digest email newsletter and get your downloadable target pack sent straight to your inbox. Stay updated with the latest firearms info in the industry.