Holosun has just released the SCS-MOS micro pistol sight, featuring solar-charging capabilities and a potentially infinite battery life.
First teased at SHOT Show 2022, the Holosun SCS-MOS micro pistol sight is finally available. "SCS" stands for "Solar Charging Sight," the most distinguishing feature of this optic, and "MOS" refers to its use of the Glock MOS mounting footprint. Holosun designed the optic to seamlessly integrate into the slide of any MOS Glock by matching the slide serrations with serrations on the body of the SCS-MOS. The result is an incredibly low-profile, aesthetically pleasing optic with a potentially infinite battery life.
The solar-charging feature not only supplies the SCS-MOS internal battery with up to 20,000 hours of run time, but also automatically adjusts the reticle brightness according to ambient light conditions. Holosun claims that with this feature, the SCS-MOS could potentially function indefinitely if exposed to enough light before losing charge. If desired, the auto-adjust system can be overridden as well. The optic's reticle is green, and the user can switch between a 2-MOA dot, a 32-MOA circle or a combination circle-dot. The optic is also mounted low enough that standard-height Glock iron sights can still be used.
Designed for everyday carry, the SCS-MOS is durable as well. It features a "grade-5 Titanium IP67-rated housing," making it both water and dustproof while keeping the weight at only 1.3 ounces. The large viewing window on the optic has been treated with several helpful coatings as well.
Each SCS-MOS will also come with mounting screws, a manual, a lens cloth and a multitool. MSRP is $435.28 and it is available now.
For more on Holosun, please visit holosun.com.
---
More On Pistol Red Dots: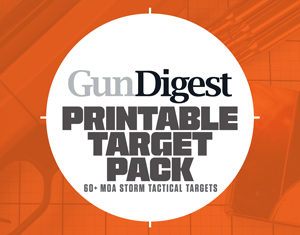 Next Step: Get your FREE Printable Target Pack
Enhance your shooting precision with our 62 MOA Targets, perfect for rifles and handguns. Crafted in collaboration with Storm Tactical for accuracy and versatility.
Subscribe to the Gun Digest email newsletter and get your downloadable target pack sent straight to your inbox. Stay updated with the latest firearms info in the industry.