Up-and-coming American optics manufacturer Swampfox recently introduced their second-generation Liberator red-dot: the Liberator II. For rifles, pistols or shotguns, the Liberator II is an affordable way to bring your gun to the next level.
Liberator II Overview:
Improved Raw Battery Life
New Shake N' Wake Sleep Feature
Crisper Dot
Two Included Mounts
Shock Proof
Waterproof
Swampfox is a relatively new American optics company that focuses on providing quality sighting solutions at an affordable price. As their red dot-sights grow in popularity, they continued to refine their designs to bring improvements over the original models. This started with their pistol optics when they introduced second-generation versions. Now, their Liberator sight is getting the same treatment.
Bigger Battery
The Liberator II boasts a much longer battery life than the original Liberator. Swampfox accomplished this by not only raising the raw battery life from 3,000 to 10,000 hours, but by implementing their new Shake N' Wake technology. While the first Liberator had an auto-off feature that activated after 4 hours, a press of the button was required to wake it up again. The Liberator II now goes to sleep after only four minutes of inactivity, and automatically turns on again after sensing motion. When it eventually comes time to replace the Liberator II's battery, the convenient placement of the battery compartment on the side of the optic means it can be done while still mounted to the gun. In turn, you don't lose your zero.
Better Emitter
Swampfox managed to kill two birds with one stone when they improved the Liberator's emitter. Not only does its higher efficiency raise the optic's battery life by a factor of three, but also produces a cleaner, crisper red dot for accurate shots up to 200 yards. The 2 MOA dot has ten levels of brightness adjustment, controlled by buttons on the side of the optic. There are eight brightness settings for daylight levels, and two for use with night vision.
With the improved emitter, there are also fewer options for the optic. The Liberator I was available with either a green or a red circle dot reticle. The Liberator II is only available in red, and the reticle is now only a dot rather than a circle dot. This is presumably due to limitations with the new emitter, so it is not known if Swampfox will eventually release a green dot version of the Liberator II.
Mounting Options
The Liberator II, like the original, comes with two mounts right out of the box. One high, and one low. Attached using Picatinny rail, the high mount is ideal for AR-15s that need the extra height to achieve co-witness with the iron sights. The low mount brings the red dot much closer to the bore height, making it perfect for pistols, shotguns, or rifles with a dropped stock. With these mounting options, the Liberator II is a perfect fit for home-defense, hunting, or competition setups.
Beat It Up And Get It Wet
Because Swampfox designed the Liberator with such a variety of applications in mind, it certainly needed to handle a variety of abuses as well. It's one thing to design an optic that can withstand the shock imparted by 5.56 recoil, but .308 and 12 gauge are entirely different animals. Swampfox not only guarantees that the Liberator II can handle the increased forces from higher caliber shooting, but they guarantee it for 50,000 rounds.
It is also fully waterproof up to 1 meter for 30 minutes in addition to being fog and scratch-resistant. While these claims are impressive, a true torture test would help to reveal their veracity. I'm curious if the Liberator II can live up to its waterproof rating after suffering from thousands of rounds fired and sustained abuse in the field. I used to have a waterproof watch and found out the hard way that banging it around for a few months made it considerably less waterproof.
With the Liberator II's MSRP set at $189.99, Swampfox continues to provide quality optics options for shooters on a budget.
For more information on Swampfox Optics, please visit swampfoxoptics.com.
---
Zero In On Aiming Solutions: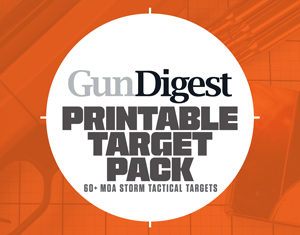 Next Step: Get your FREE Printable Target Pack
Enhance your shooting precision with our 62 MOA Targets, perfect for rifles and handguns. Crafted in collaboration with Storm Tactical for accuracy and versatility.
Subscribe to the Gun Digest email newsletter and get your downloadable target pack sent straight to your inbox. Stay updated with the latest firearms info in the industry.