In this installment of guns and gear we hit both new and old, with top-notch retro guns and the most cutting edge ARs and AR accessories.
What Are The New Guns And Gear:
AR-15
Retro
Retro guns and AR-15 rifles seem worlds apart, yet they share a common thread. Whether a shooter skins a reboot Single Action Army revolver or run's 3-Gun competitions with a cutting-edge build, it's all for the love of shooting. In this installment of new guns and gear we gather some of the top goods and firearms from both ends of the spectrum. No matter where you fall, you're sure to find something at which to take aim.
New AR-15s And AR Accessories
Real Avid Master Armorer's Mat
Whether for workbench or kitchen table gunsmithing, this is a must! Combining a massive protective work mat with ample organizational storage, Real Avid's Master Armorer's Mat keeps your AR projects in order. Oil resistant and non-slip, this 48×20-inch mat protects surfaces from permanent stains while keeping all your gun's parts in one place. Tools and components are kept in order at the side and within reach through a multi-bin system, so you'll never lose a pin or ring. The mat features an exploded drawing of an AR-15, with each and every part numbered and labeled for fast reference.
MSRP: $44.99; realavid.com
Faxon Firearms Bantam
Luckily for shooters, Ohio-based Faxon Firearms has leapt from components to complete builds with the feature-rich Bantam. Honestly, the 9mm carbine has plenty of room to grow, but if you're looking for a solid, off-the-shelf gun, it more than ticks the boxes. To start, the 16-inch-barreled, blow-back Bantam has several features you'd expect on a more expensive AR-style PC, including a lightweight, 13-inch M-Lok, aluminum, free-floated handguard and last-round hold-open. In addition, it boasts foraged receivers with a tensioning screw to ensure the tightest possible mate-up between upper and lower. Finally, it's Glock magazine compatible.
MSRP: $949; faxonfirearms.com
Odin Works NAV 22 Suppressor
With its first foray into .22 LR suppressors, Odin Works delivers the NAV 22. Tubeless and configurable, the stainless steel and aircraft-grade aluminum can isn't only a snap to swab out, it's also configurable to any circumstance. If you need to dampen your rimfire to next to nothing, run all six baffles. If nimbleness is a priority, go minimal with just one. With a dB rating of 113 on a rifle weighing 4 ounces at maximum size and compatible with .22 LR, .22 WMR, .17 HMR and .17 Hornet, the NAV 22 has a huge impact for such a compact device. It's a must-have for anyone who shucks mountains of rimfire.
MSRP: $349; odinworks.com
MTM Case-Gard Tactical Rifle Case
Every gun deserves a solid case. MTM Case-Gard provides them one with the introduction of its Tactical Rifle Case. Built and configured like a high-dollar hard case, this molded-plastic carrier is surprisingly light on the pocketbook. The 42-inch-long case boasts rugged snap latches, interior foam padding and multiple tiedown points and keeps your firearms as secure as if they were at home in the safe. Furthermore, if you invest in a couple, they're stackable, so storing them at home or in your trunk isn't a hassle.
MSRP: $72.95; mtmcase-gard.com
Sig .300 BLK Subsonic Hunting Ammo
The new Sig 205-grain subsonic .300 BLK load is specifically designed for use out of abbreviated barrels favored by those who shoot suppressed. At the same tick, they're topped with a unique bullet that's reminiscent of Wilhelm Brenneke's mini-wadcutter design. However, the stepped side isn't meant to provide a cutting edge—like Brenneke's bullet—but it ensures smooth feeding through a fully loaded, 30-round magazine. The Sig 205-grain subsonic 300 BLK has the stuff to stay quiet, moving at 1,000 fps at the muzzle out of a 16-inch-barreled rifle. It's jacketed lead-core projectile is engineered to reach full expansion at these mild velocities.
MSRP: $33.95 (box of 20); sigsauer.com
Brownells BRN-180 Lower
Achieving nothing less than a masterstroke, Brownells dusted off one of Eugene Stoner's most underappreciated designs last year: the AR-180 (or, the "BRN-180"). Now, the company has the components so you can build your own piston-driven "cousin" of the AR-15. Paying homage to the original design, Brownells' lower receiver has the correct lines. However, it's been upgraded to meet modern shooters' needs. Some of these upgrades include a rear Picatinny rail to attach a stock or brace; compatibility with mil-spec parts kits; and the ability to accept USGI STANAG-style magazines. It's fantastic that Brownells has resurrected the "Widowmaker"; even better—you can now build your own.
MSRP: $129.99; brownells.com
Fightlite Industries Wood Stock SCR Carbine
It's never easy to get geeked-up over what's essentially a compromise AR. Nevertheless, there's something intriguing about the Fightlite Industries Wood Stock SCR Carbine (perhaps it's the walnut!). Essentially an AR, this gun has none of the cosmetic features that legislators find so objectionable … meaning that it's legal, coast to coast. Also, because it's mil-spec, the SCR is completely upgradeable. Therefore, you can customize it beyond its hardwood stock. It's currently only available in .223 Rem./5.56 NATO. Perhaps Fightlite will offer it in .350 Legend sometime in the future.
MSRP: $1,279.99; fightlite.com
---
Expand Your Gear IQ:
---
New Retro Guns And Gear
Galco Ruger Wrangler Holster
Like a thundering stampede, the Ruger Wrangler has run roughshod through the gun world. Galco has gotten into the action of the slick and affordable .22 single-action Army revolver with a classy option to hang the heater. Distinctively Western in appearance, the tanned steer-hide rig is designed to ride high and keep your Wrangler ready for any varmints that get in your path. Boasting an open top, it draws easily but keeps your gun in place the rest of the time—thanks to a sturdy hammer thong retention feature. And, if you want to piece together a complete rig, Galco offers a specially made matching cartridge belt for the holster.
MSRP: $79 (holster); $109 (belt)
Shooters Choice Bullseye Box
Whether your guns are new or old, one thing that never goes out of style is keeping them in tip-top shape. Shooters Choice offers you the Bullseye Box, which contains all the needed tools to keep your guns clean as a whistle. A 300-piece, universal gun-cleaning kit, it's more than enough to tackle any routine maintenance on rifles, shotguns and pistols. Best of all, the Bullseye Box eliminates hunting for the right brush or jag, because it's packed in a tackle box-style case with ample cubbies and storage space. In addition to patches, bushes, rods, swabs, towels and other tools, the kit also comes with a full complement of cleaning chemicals, oils and grease. In short, it eliminates any excuse you might have for not keeping your guns pristine.
MSRP: $175; galcogunleather.com
Red Ryder Model 1938 80th Anniversary Edition
Can you even call it "retro"? It's never gone out of style. Kids of all ages still pine over the hallowed Red Ryder Model 1938—ready to take down Black Bart and his gang … while avoiding shooting their own eyes out. Now, with nearly a century under its belt, Daisy has released an anniversary model of the hallowed BB gun that, if possible, makes it even more desirable. The 80th Anniversary special edition comes with some extras not found on ordinary Red Ryders, including commemorative engraving on the forearm and medallion in the buttstock. Otherwise, the trusty lever-action has everything else that's endeared it to American youths: wood stock and forearm, saddle ring, real leather thong and adjustable rear sight. Classic as ever!
MSRP: $39.99; daisy.com
Bond Arms Grizzly
Long the staple of riverboat gamblers and ladies of the night, the derringer has found new life as a modern-day back-up gun. And, nobody does these petite pistols better than Texas's own Bond Arms. Joining the gunmaker's extensive catalog in 2020 is a potent .45 Colt/.410 bore that goes by the name "Grizzly." Part of Bond's Rough Series, this twin-barrel (3 inches) pistol is built of stainless steel and features a bead-blasted finish, rebounding hammer, retracting firing pins, spring-loaded, cammed locking lever and cross-bolt safety. Lively rosewood grips, engraved with a grizzly bear, top it all off. As on all Bond derringers, you can swap barrels on the gun. The Grizzly comes with a leather holster that's embossed with—you guessed it—another grizzly.
MSRP: $377; bondarms.com
Uberti Short Stroke KL CMS
A bit like mounting a V8 inside an Appaloosa, Uberti's competition-focused, single-action Army (SAA) adds modern muscle to a throwback gun. Co-designed by Cowboy Mounted Shooting World Champion Kenda Lenseigne, the Short Stroke KL CMS Pro is among the fastest shooters around today. This is thanks to a terse hammer throw that greatly cuts down cocking and cycling time on the 3½-inch-barreled .45 Colt revolver. Aiding in this is a wide, low and deeply checkered spur with plenty of real estate to cock it back, as well as a custom-grade mainspring and modified birdshead grip. It's available in stainless steel with a blued barrel and color case-hardened frame.
MSRP: Starting at $739; uberti-usa.com
Steinel Ammunition 6.5x52mm Carcano
Despite one particular Carcano rifle's notorious past in 1960s Dallas, the former Italian military service rifle is still a worthy, if not desirable, addition to a collection. It's an even a better one, now that Steinel Ammunition is turning out something to feed it. Known for tackling some of the harder-to-find military calibers, Steinel has tacked on an 6.5x52mm Carcano option. A 160-grain load delivers a muzzle velocity of 1,770 fps, which gets fairly impressive results out of the soft-point, round-nose bullet. By Steinel's telling, the .267-caliber bullet mushrooms to around .516 inch at shorter ranges and offers nearly 39 inches of penetration—plenty good enough if you're looking to turn an old war relic into a whitetail-season staple.
MSRP: $31.99 (box of 20); steinelammo.com
Brownells Retro 4X AR Optic
Rounding up a reasonable facsimile of an original optic for your retro AR build became a world simpler, thanks to Brownells. Adding to its rich catalog of throwback rifles, this gun parts retailer now includes a dead ringer for the 1970 vintage Colt AR-15 carry handle optic. Exceeding simple looks, the Brownells Retro 4X is a performer, perhaps surpassing the original as a result of modern manufacturing processes. Because of it multi-coated lenses, fog-, waterproof and fine controls, you can dial in the scope to drive tacks. And, its slight duplex reticle and low power make it intuitive to use—not to mention that it's fast-moving from target to target. It's just the thing to crown your reproduction gem.
MSRP: $299.99; brownells.com
The article originally appeared in the June and July 2020 issues of Gun Digest the Magazine.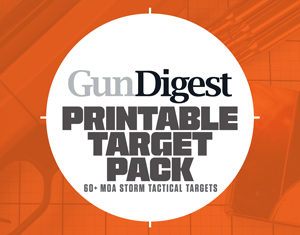 Next Step: Get your FREE Printable Target Pack
Enhance your shooting precision with our 62 MOA Targets, perfect for rifles and handguns. Crafted in collaboration with Storm Tactical for accuracy and versatility.
Subscribe to the Gun Digest email newsletter and get your downloadable target pack sent straight to your inbox. Stay updated with the latest firearms info in the industry.