With tools to improve recoil management, the Mantis X10 Elite gets you on target again and again … fast.
What Are Some Of The Shooting Facets The X10 Elite Helps You Improve:
Trigger Pull Mechanics
Split Time Between Shots
Recoil Management
Smoothness Of A Shotgun Swing
Draw Mechanics
The old joke goes: Want to know what it's like to own a boat? Pour cold buckets of water over yourself while burning $100 bills, and you get the idea. Shooting isn't too far off—just without the deluge of water.
Every time you want to get out and hone your skills by pitching supersonic lead (not to mention the purchase price of the hardware), you've got to crack open the piggy bank. Outside the spendthrift .22 LR, your ammunition tab can skyrocket faster than an Atlas rocket with almost every other gun you aim to master. Unless you're rocking a Jeff Bezos-sized credit limit, cost matters. Which is to say that it's good practice to make every shot count.
But how do you accomplish this, short of hiring a personal firearms instructor?
Subjective analysis can only take you so far. You almost need someone splitting hairs over every trigger pull, poring over its minutia and giving you expert advice on how to improve.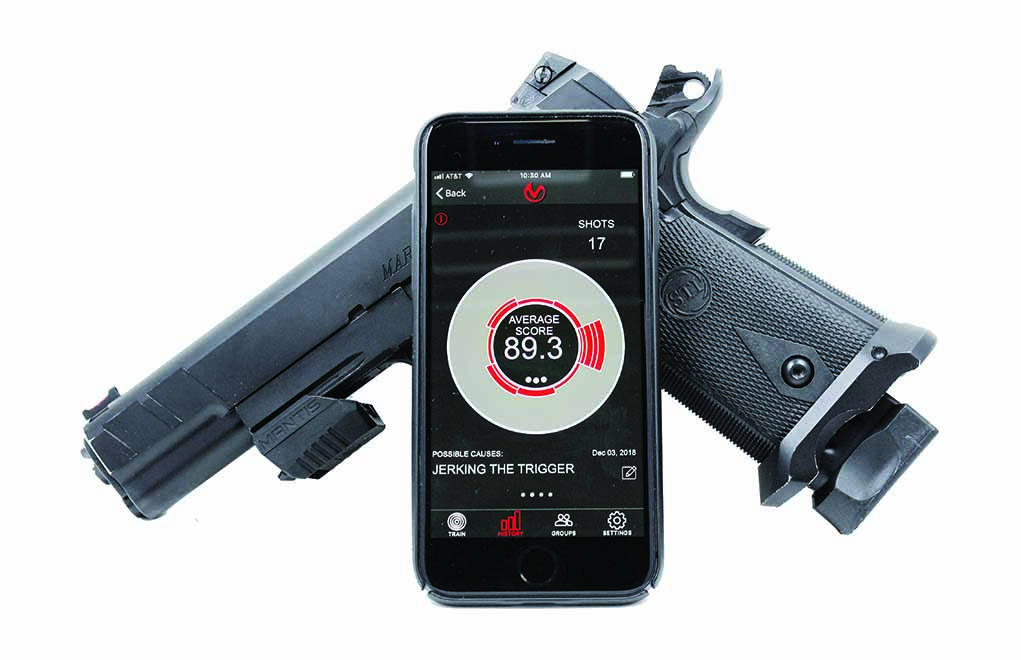 Amazingly enough, you can get exactly that every time you head to the range—and for hundreds of dollars less than it would cost to have a pro at your elbow.
Technological Edge
The Mantis X is no secret, having stormed the stage a little over a year ago. Gun Digest was among the first to put this personal training device through its paces … and walked away as impressed as the rest of the gun world at large.
---
Get More Gun Tech:
---
Yet, the mad geniuses behind this unimposing device have vastly stepped up their technological game with version number 2, perhaps making it one of the most useful investments any shooter can make if they have a yen for self-improvement.
But before touching upon where the new Mantis X10 Elite (MSRP: $250) is now, perhaps we should go over exactly where it came from.
The trigger finger: Like it or not, that one, single digit has more to say about drilling bull's-eyes than all the breath control and skeletal support in the world. If you slap at it or don't apply enough of it (or too much of it), you've got a target full of fliers—after which you find yourself with a fistful of your hair. Worse yet, outside of downrange results, you're left guessing exactly what's going wrong inside the trigger.
Unless you run a Mantis. Attaching to your pistol, rifle or shotgun, this device gives you instant feedback regarding how your shot breaks via its smartphone device app. Grading each shot between 0 and 100, it dissects the intricacies of your trigger pull, letting you know if you're filching before the moment of truth or delivering textbook perfection. More useful, it maps this progression—or, in some cases, regression—over time, giving you a baseline to improve from.
It's the same concept pro baseball players use to analyze their swing. They can't see exactly what's happening when the bat meets the ball—nor can you when your finger finishes its path.
While trigger-pull analysis is the heart of the Mantis system, it's only the tip of the iceberg. This device/app also features:
Training drills
Shooting courses
Shot timer
Dry- and live-fire modes
Smoothness analytics (for shotgun swing)
The new twist with the Mantis X10: It not only aims at making you more accurate, but faster on the trigger as well.
Managing The Big "R"—Recoil
Anybody can rattle off a string of rounds speedily, but hitting something while doing so; well, that's another matter. Accuracy is only achieved if you learn how to manage the recoil of your gun.
The Mantis X10 Elite pulls back the veil on this aspect with what it calls a "Recoilmeter." As its name suggests, it takes measurements of how much your gun hops when you send a round downrange. But the data it outputs is much more functional than the foot-pound of thrust your body absorbs.
Instead, the device outputs several key measurements that give you a clear picture of how you're managing recoil from shot to shot:
Recovery time
Muzzle rise (in degrees)
Recoil width (how many degrees your muzzle swings off axis)
Recoil angle (which direction your muzzle travels)
For the sake of simplicity, Mantis creates a map of the vertical path of the front of your gun. Perfectly managed, this path would draw an exact up-and-down line (good luck with that!).
The best of us most likely will draw a lower-case cursive "L"—at the worst, maybe a cursive "Z"— with the path of the gun canting on the return to the centerline. But the more you straighten it out, the more efficient your recoil management is and the more quickly you can shoot accurately.
More In The X10 Elite Bundle
Mantis envisions the X10 as more than a staple for shooters boning up on their defensive handgun skills. Included in the package is a mounting bracket that allows you to attach it to any gun you have in your safe—from a trusted deer rifle to a clay-splitting over/under. Heck, you can even rig it up to a bow to make sure you let your arrows fly as true as your bullets.
The company has also expanded the X10's analytic capabilities over the original (holster-draw analysis handguns and consistency comparison shotguns). In essence, it's just short of an entire firearms academy, all in a device that weighs under an ounce.
For more information on the Mantis X10 Elite, please visit mantisx.com
The article originally appeared in the January 2020 issue of Gun Digest the Magazine.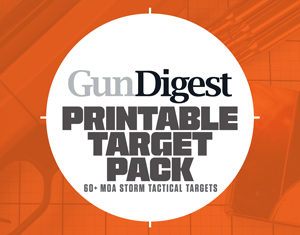 Next Step: Get your FREE Printable Target Pack
Enhance your shooting precision with our 62 MOA Targets, perfect for rifles and handguns. Crafted in collaboration with Storm Tactical for accuracy and versatility.
Subscribe to the Gun Digest email newsletter and get your downloadable target pack sent straight to your inbox. Stay updated with the latest firearms info in the industry.