Looking for a new iron or piece of kit to enhance the one you already own? Check out these seven new bits of guns and gear to grow your firearms wish list.
What Are The New Guns And Gear:
Hatch Friskmaster Max Gloves
Granted, most of you out there aren't frisking perps. In turn, you don't need to sweat a jab by a dirty needle. Nevertheless, the puncture-proof protection utilized by police and military isn't a bad line of defense, and Hatch provides this in spades. Max gloves are made of resilient materials impervious to most sharp and pointy objects. To give you a baseline, they're rated to ANSI Cut Resistance A9, which means that in 20mm of blade travel 6,000 grams of weight is required to penetrate the material. At the same time, the Friskmaster gloves allow complete dexterity, thus don't stand in the way of completing fine-motor tasks. MSRP: $49
Sig Sauer Zulu6 Image Stabilized Binoculars
It's difficult enough to discern elk from shadows, so the last thing you need is unsteady optics. This is why Sig Sauer's latest addition to its Electro-Optics division is a godsend for hunters or anyone else glassing in less-than-ideal conditions. Featuring the company's Optical Image Stabilization (OIS) technology, Zulu6 Binoculars electronically cancel vibrations to deliver rich and unhampered images. It doesn't matter if the movement is buffeting wind, chop and waves on the water, washboard ranch roads, heartbeat, heavy breathing or shaking. The secret sauce is a two-axis gimbal system that deletes any shutter—environmental or man-made. Available in 10x30mm and 16x42mm, Sig offers options fit for nearly any outdoor application. MSRP: 10x30mm, $799; 16x42mm, $899
CZ USA 557 Eclipse Rifle
In the arena of bolt-action rifles, the CZ 557 is a hands-down classic. Now more hunters and shooters should get a crack at owning one. The 557 Eclipse delivers the accuracy and ruggedness of the original, but at a price within nearly anyone's budget. The twist to wringing the extra savings is the stock, a polymer stick instead of hardwood. Never fear, all the good stuff that makes the 557 a gem are there in the Eclipse, including CZ's cold-hammer-forged barrel and silk smooth push-feed action. Chambered in 308 Winchester, 30-06 Springfield and 6.5 Creedmoor, the rifle certainly has a hunting flavor. But with a threaded 20-inch barrel, the Eclipse holds its own, pitching a country mile. MSRP: $659
DPx HEAT/F Milspec Knife
Practically perfect as your EDC go-to knife? If it isn't, DPx Heat/F mil-spec is close enough until perfect shows up. Its 1.24-inch blade is enough to manage any job you pitch at it, while keeping the entire pack so compact it's a second thought in a hip or back pocket. And it's long on extras that endear it to discerning users. Rugged titanium alloy frame lock, beefy G10 handle, low-ride "combat" style clip, tungsten-carbide glass breaker … the Heat/F is a Cadillac. Additionally, with a Rockwell hardness rating of 59, the blade is tough enough to hold a razor's edge, but still shows resilience in the face of tough use. MSRP: $190
Savage 110 Timberline Backcountry Xtreme Rifle
As they say in the military, "Ounces equal pounds, and pounds equal pain." Hunters know this firsthand. This is why Savage's dedication to the "mountain rifle" concept is much appreciated. The gunmaker's latest entrant in this category is the 110 Timberline, a streamlined model engineered to make the long-shot come in. Built to maximize accuracy, the rifle boasts a fluted barrel, overmold surfaces, target crown, and omni-port muzzle brake. Of course, it's also outfitted with all of Savage's "Accu" enhancement—adjustable AccuTrigger, AccuStock internal chassis system and AccuFit adjustable stock. With the choice of nine calibers, the Timberline is ready for your next wilderness adventure, whatever it might be. MSRP: $1,129
Federal Ammunition Swift Scirocco II Cartridges
Federal is out to make certain that's no boundary to punching your tag. Teaming up with Swift, the ammunition maker is tackling long-range hunting with the introduction of Scirocco II loads. For those who don't reload, let's just say this is a big deal. Scirocco II polymer-tip bullets offer industry-best ballistic coefficients and concentricity, arming you with a projectile born to fly and hit the mark. Once there, they live up to Swift's legendary toughness standards, with the bonded-core bullets retaining more than 80 percent of their original weight. Flies straight and punches deep, big holes … that adds up to success in the field. Available in nine popular hunting calibers: .243 Winchester, 6.5 Creedmoor, .270 Winchester, .270 WSM, 7mm Remington Magnum, .308 Winchester, .30-06 Springfield, .300 Winchester Magnum and .300 WSM. MSRP: Starting at $52.99 (box of 20)
Athlon Ares ETR 1-10×24 UHD
AR-15s and other tactical rifles put extreme demands on optics. Athlon's Ares is up to the challenge. Paired with a reticle designed to duplicate the speed of a red dot on 1x and the extended range capabilities of a precision reticle on 10x, the scope is the definition of versatility. Featuring either an FFP MIL-based reticle or an FFP BDC MOA-based reticle designed for .223/5.56mm 68-69gr BTHP cartridges, the scope is suited to a wide range of applications. Furthermore, it produces spotless images for increased precision. This is thanks to ultra-high-definition ED-Glass, engineered for greater light transmission and boarder to boarder clarity. A highlight of the system is Ares' fool-proof turret design, complete with capped windage, and a locking elevation turret with Athlon's Precision Zero Stop System. MSRP: $1,139
Editor's Note: This article originally appeared in the February 2021 issue of Gun Digest the Magazine.
---
Get More Guns And Gear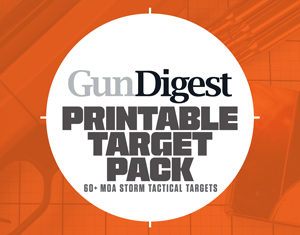 Next Step: Get your FREE Printable Target Pack
Enhance your shooting precision with our 62 MOA Targets, perfect for rifles and handguns. Crafted in collaboration with Storm Tactical for accuracy and versatility.
Subscribe to the Gun Digest email newsletter and get your downloadable target pack sent straight to your inbox. Stay updated with the latest firearms info in the industry.