Looking for a new iron or piece of kit to enhance the one you already own? Check out these 7 new bits of guns and gear to grow your firearms wish list.
The New Guns And Gear:
Rossi RM 66

It's been a hot minute since the Brazilian gunmaker announced a new revolver import, but this has changed in a big way for 2023. The company has three new .357 Magnum DA/SA revolvers hitting the market, with the RM66 more than living up to the definition of a big gun. The 6-inch barreled, medium-framed wheelie has a competition spin to it, featuring not only a fully adjustable rear sight along with a ramp front, but a solid set of grips to boot. Rubber and well-contoured, the handle provides a solid purchase to the gun as well as eats up recoil along the way. Tipping the scales at 34 ounces, the six-shot revolver has an ample trigger shoe and looks as fast as it runs with a stainless-steel finish.
MSRP: MSRP: $620
---
Henry Homesteader

Generally speaking, the 9mm isn't classified as a "big gun"—unless you're talking about a pistol caliber carbine chambered for the cartridge. Henry Repeating Arms has jumped into this niche with a classic-looking offering called the Homesteader. Sporting a blued steel barrel, an anodized aluminum receiver and an American walnut stock and handguard, the iron has a unique look for this class of gun. Yet, it set up like any other modern PCC, with the semi-auto coming both optics- and suppressor-ready. The receiver is drilled and tapped to accept a Weaver 63B base, and the muzzle is threaded 1/2×28. There are three variants of the Henry Homesteader, the base model that uses proprietary Henry magazines, and two models additionally ship with a magwell adapter enabling the use of other magazines, either Glock or Sig Sauer/Smith & Wesson M&P.
MSRP: $928 and up
---
Two Vets Tripods 'The Kit'

Big gun or otherwise, it's a solid plan to have something to steady your shot. Two Vets Tripods delivers this in its The Kit, a compact option that doesn't skimp on performance. A hybrid offering, the lightweight tripod is ideal both for competition, hunting and casual shooting. Sturdy carbon-fiber legs and a compact center section cut the unit down to a very manageable 3.4 pounds. And, its 22-inch collapsible height makes it conveniently sized for nearly any backpack system. Two Vets makes several head options available—Arca, clamp—but The Kit offers plenty of versatility with any screw-on style unit.
MSRP: Starting at $605
---
Federal Premium Buckshot No. 1 Buck

The virtues of No. 1 buckshot—be it for home defense or hunting—are numerous. Heck, the improved pellet payload is worth the price of admission. This is why it's heartening to see Federal Premium turn its studied eye to this sometimes-neglected shot size with a premium offering. Each 2¾-inch shell comes loaded with 16 copper-plated pellets and plenty of buffering medium, both designed to maintain the pellets' uniformity and resist deforming, thus producing tighter patterns. The 12-gauge options also move, with an advertised 1,325-fps muzzle velocity.
MSRP: $16, box of 5
---
Primary Arms MD-25 RDS 2nd Generation

The company has introduced the second generation of one of its most popular sights, with the revamped SLx MD-25 RDS. Where the unit makes its bones is energy-saving technology, primarily in its AutoLive illumination system. AutoLive reduces the emitter's output when the optic is still for an extended period: Any slight movement will return the optic to its set output, ensuring it's at full brightness when you need it. Featuring a wider 25mm aperture, the sight gives users a greater field of view down range and comes with the choice of 2 MOA stand-alone dot or an enhanced ACSS CQB variant.
MSRP: Starting at $150
---
Burris SpeedBead Vent Rib Mount

While more shotguns feature optics cuts on the receiver, there are still plenty that don't play nice with optics. This is a dilemma for those who wish to get the most out of their smooth-bore's accuracy, but don't want to alter their firearm. As its name suggests, the SpeedBead Vent Rib Mount attaches to a shotgun's rib tool-free, allowing for a solid platform to mount a red-dot. A unique design, the mount self-centers and comes with assorted rib adapters to fit multiple widths. Furthermore, it's constructed of aluminum with a black anodized finish that lasts and won't harm your gun. The mount is compatible with Burris FastFire series red-dots, or any red-dot that uses a Docter mounting pattern.
MSRP: $60
---
Galco Big Iron Belt Holster

Big iron requires a big holster, and Galco more than has you covered with its Big Iron holster. Featuring premium steer-hide construction, the smooth leather lining is gentle on your handgun and enhances the feel of the draw. Further, the snapping flap protects and secures your revolver when on the move, yet easily releases using the glove-friendly polymer tab. Also, packaged with a polymer belt slot that's adjustable for belt width, the holster is compatible with nearly any system.
MSRP: $220
Editor's Note: This article originally appeared in the May 2023 issue of Gun Digest the Magazine.
---
Get More Guns And Gear: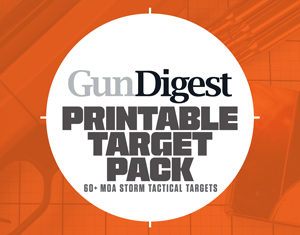 Next Step: Get your FREE Printable Target Pack
Enhance your shooting precision with our 62 MOA Targets, perfect for rifles and handguns. Crafted in collaboration with Storm Tactical for accuracy and versatility.
Subscribe to the Gun Digest email newsletter and get your downloadable target pack sent straight to your inbox. Stay updated with the latest firearms info in the industry.