Looking for a new iron or piece of kit to enhance the one you already own? Check out these 7 new bits of guns and gear to grow your firearms wish list.
The New Guns And Gear:
Citadel Levtac .410

Up to this point, Citadel's handy lever-action carbine family has been composed of pistol-caliber offerings. Recently, this has changed in a significant way. Moving the Levtac series into the scattergun realm, the company unveiled a .410 mode of the handy little iron. In addition to being a nifty option for general shooting, the 18-inch barreled Levtac has practical applications—be it self-defense or a fast-shooting turkey gun. Furthermore, the lever gun comes with some desirable features, including a lightweight synthetic stock, oversized Model 92-style loop, modular M-Lok forend and a Picatinny rail on the receiver. Boasting a 4+1 capacity, the carbine should prove a unique addition to most shooters' collections.
MSRP: $899
---
Savage Arms 110 Carbon Predator

The Savage 110 Carbon Predator gets its name from its Proof Research carbon-fiber-wrapped stainless-steel threaded barrel and carbon steel receiver. Barrels are either 18 or 22 inches depending on the rifle's caliber. Chambering options for the Carbon Predator include 6mm ARC, .22-250 Remington, .223 Remington, .300 AAC Blackout, .308 Winchester and 6.5 Creedmoor. 6.5 Creedmoor is the only caliber option that's available with either an 18- or 22-inch barrel, giving the 110 Carbon Predator a total of seven different models to choose from. With weights ranging from about 6.5 to 7.2 pounds, it's an ideal rifle for your next backcountry adventure.
MSRP: $1,695
---
Gatorz Limited-Edition Skyhook Frames

Eye protection is imperative, but that doesn't preclude it from being fashionable. Gatorz hit the mark for safety and style with its Skyhook Frames. Known for its sleek look, the Skyhook is built for everyday wear and offers full coverage polycarbonate lenses, giving more of an aviator look. Furthermore, the aircraft-grade aluminum frames are the lightest the company offers and finished in a dashing gunmetal Cerakote. Impact-resistant, mirror-blue lenses and durable overall construction protect your peepers and keep you looking good in the process.
MSRP: $270
---
Hornady 7.62x39mm 255-grain Sub-X Subsonic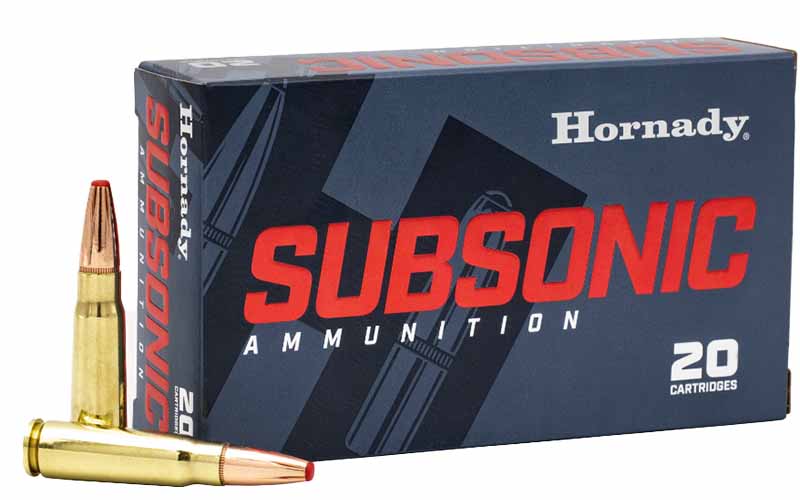 If it isn't on your radar, it should be—the good old Soviet-era 7.62x39mm is eminently suppressible—a nice thing, especially if you favor pint-sized AK-47 pistols and the like. Hornady aims to hasten this Russian relic's hush with a brand-new load designed to take away the cartridge's bark … but not its bite. Expanding its Sub-X Subsonic line of ammo, Hornady offers up a 255-grain option that comes in just under the speed of sound and offers up a ton of downrange performance. The Sub-X bullet hits like a train, with grooves along its jacket and flat tip—with Flex Tip insert—ensuring its soft lead core expands ferociously and consistently—even at low velocities. Ideal for home defense and tactical applications, the 7.62×39 Subsonic is just the ticket for Russian gun enthusiasts who want to put a hush on their iron.
MSRP: $44 per box of 20
---
Holosun EPS and EPS Carry

Holosun's new EPS and EPS Carry optics are designed to be functionally identical, yet there's a big difference between the sights: size. Boasting different-sized windows, the red-dots are tailored to specific-sized firearms, besides their viewing window size and the class of handgun, they're intended to be mounted to. The standard EPS was made with competition shooters in mind, with its larger 0.9×0.63-inch viewing window. The EPS Carry instead features a 0.77×0.58-inch window, making it better suited for compact, carry-oriented handguns. Both models feature an enclosed aluminum housing around the emitter to protect it against the elements, as well as up to 50,000 hours of run life on a single battery.
MSRP: EPS $435, EPS Carry $459
---
Federal Ammunition Hevi-Bismuth

Upland or waterfowl, Federal Premium has an option so you hit them hard. Its new Hevi-Bismuth line of shells offers wing shooters a vast improvement over run-of-the-mill steel shot, loading up with heavy, yet environmentally safe material. Sourced from HeviShot, Hevi-Bismuth shot is 22 percent denser than steel, delivering more lethal energy downrange. Additionally, launched by the FliteControl Flex wad, the bismuth pellets have an extremely consistent pattern. Best of all, the metal's properties make it safe in both modern and classic shotguns. Available in 2¾- and 3-inch options in 12-gauge, and 3-inch in 20-gauge, with No. 3 to 5 shot loads, the line is set to tackle anything you put in the sky.
MSRP: Starting at $67, box of 25
---
Smith & Wesson Equalizer Micro Compact 9mm

An evolution of the company's line of EZ pistols, the Equalizer utilizes much of the same technology to help make a more user-friendly concealed carry gun. This includes an easy-to-rack slide and a single-action trigger with a terse take-up and a fast reset. Coming in at 6.75 inches long and 1.04 inches wide, the pistol is tailored for carry. Additionally, its manual, ambidextrous thumb safety and grip safety enable safe cocked and locked carry. Best of all, the textured polymer grip has an 18-degree angle for a natural point of aim.
MSRP: $599
Editor's Note: This article originally appeared in the February 2023 issue of Gun Digest the Magazine.
---
Get More Guns And Gear: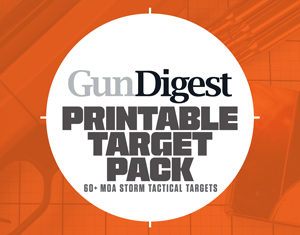 Next Step: Get your FREE Printable Target Pack
Enhance your shooting precision with our 62 MOA Targets, perfect for rifles and handguns. Crafted in collaboration with Storm Tactical for accuracy and versatility.
Subscribe to the Gun Digest email newsletter and get your downloadable target pack sent straight to your inbox. Stay updated with the latest firearms info in the industry.