Winchester Ammunition has just announced the XPERT line of rimfire ammo, starting with a 42-gr .22 LR load.
Designed to be the perfect match for the Winchester XPERT bolt-action rimfire of the same name, Winchester Ammunition has just announced XPERT .22 LR. The XPERT rimfire ammo line will likely be expanded in the future, but when launched it will initially feature a 42-grain .22 LR load that the company promises will be both extremely accurate and consistent.
This load of XPERT .22 LR features a 42-grain copper-plated hollow point projectile with an advertised muzzle velocity of 1,320 FPS. The impressive velocity should keep it relatively flat-shooting, making it easier to get good hits at increased distances, and it also helps the hollow point bullets achieve maximum expansion. That's another selling point of XPERT .22 LR, as Winchester says that the ammo would be an excellent choice for both target shooting and hunting.
Here's what Winchester Ammunition had to say about the new load:
Whether plinking targets at the range or pursuing cottontail rabbits along an oak covered ridge, XPERT .22LR is an excellent choice. Find XPERT, and the full line of quality Winchester products at an outdoor retailer near you and shoot with confidence this fall.
The new XPERT rimfire ammo will be sold in 100-round boxes, but an MSRP has not been published. Winchester says that it is shipping now and will be available soon.
For more information, please visit winchester.com.
---
More On-Target Rimfire Info: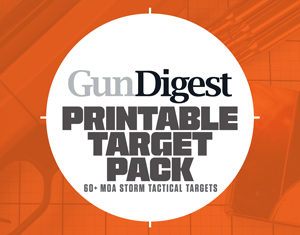 Next Step: Get your FREE Printable Target Pack
Enhance your shooting precision with our 62 MOA Targets, perfect for rifles and handguns. Crafted in collaboration with Storm Tactical for accuracy and versatility.
Subscribe to the Gun Digest email newsletter and get your downloadable target pack sent straight to your inbox. Stay updated with the latest firearms info in the industry.