Loaded for respectable velocity, Federal's 200-grain HST self-defense ammo should prove potent.
How Does The 10mm HST Measure Up As A Self-Defense Round:
1,130 factory-recorded muzzle velocity.
Reliably expands even when passing trough a variety of barriers.
Superior weight retention and excellent penetration.
Superior performance in FBI test protocol.
It's already proved a busy year for Federal Premium Ammunition. Early in the year, the company expanded its Hydra-Shok line with the additions of .40 S&W and .45 ACP loads. Now, it's turned its sights on its premium and fairly acclaimed line of HST ammunition. And this expansion is a doozy, especially if you're a fan of Col. Jeff Cooper's little gem.
Federal is adding a 200-grain 10mm load to the hollow point ammunition line, and it boasts some respectable ballistics. With a factory-recorded muzzle velocity of 1,130 fps, the round should live up to Federal's assertion it performed well all FBI Protocol tests. According to the company, the first stock has shipped to dealers. Presently, it has an MSRP of $34.95 for a box of 20.
ANOKA, Minnesota — Federal has combined the ultimate self-defense bullet and cartridge in its new Federal Premium 10mm Auto HST load. Shipments have been delivered to dealers.

Full-power loading makes the most of the HST bullet design, providing large, consistent expansion, optimum penetration and superior terminal performance. Its specially designed hollow point won't plug while passing through a variety of barriers, and the bullet jacket and core hold together to provide nearly 100 percent weight retention through even the toughest materials.

Features & Benefits

1130 fps muzzle velocity
Specially designed 200-grain hollow point expands reliably through a variety of barriers.
Expanded diameter and weight retention produce the desired penetration for self-defense situations without over penetrating.
Superior performance in FBI test protocol used by law enforcement officials to assess and select duty ammunition.
Bullet nose profile, nickel-plated case and Federal's unique primer provide the ultimate in function and reliability in semi-automatic handguns.
---
More Ammo Posts:
For more information, please visit www.federalpremium.com.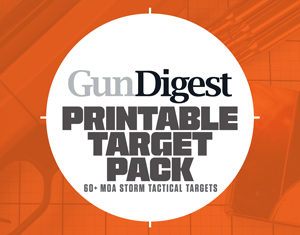 Next Step: Get your FREE Printable Target Pack
Enhance your shooting precision with our 62 MOA Targets, perfect for rifles and handguns. Crafted in collaboration with Storm Tactical for accuracy and versatility.
Subscribe to the Gun Digest email newsletter and get your downloadable target pack sent straight to your inbox. Stay updated with the latest firearms info in the industry.